Solan, a land named after goddess "Shoolini", is an attractive destination for holidaymakers. Located in the Solan district in Himachal Pradesh, Solan city fascinates its tourists with its several attractions. It is popularly known as the "mushroom city of India" as it is has a mushroom centre situated in Chambaghat. Solan city is ideally sandwiched between Chandigarh(Punjab) and Shimla(Himachal Pradesh). This city was established by the British during their hey-days in India. Perched at an elevation of 1467 m, Solan is a also known as the industrial hub of Himachal Pradesh. During the winters Solan takes on a new look altogether, to be more precise it looks like a celestial destination as it gets cloaked in snow. The area surrounding this wonderful city abounds in vegetables such as peas, tomatoes, ginger and beans.
Solan is a city and a municipal committee in Solan district in the Indian state of Himachal Pradesh. Named after the goddess Shoolini, it is known as the "mushroom city of India" because of the mushroom centre situated at Chambaghat. The district is better known for the Mohan Meakin's brewery (reputed to be India's oldest brewery) and the famous Old Monk XXX RUM, Solan No. 1 whiskey and Golden Eagle beer.
The town is situated midway between Chandigarh (joint capital of Punjab and Harayana) and Shimla (British summer capital of India).
Solan is situated midway between Kalka and Shimla. the fine climate of this place round the year makes it an ideal destination for all seasons. There is famous 'Mohan Meakin's Brewery' in Solan, set up in 1855 A.D. The mountains near Solan offer interesting trekking possibilities and its streams are well stocked with a variety of game fish. Solan district is covered by catchment areas of three important rivers, namely Satluj, Yamuna and Ghagar.
Blessed with a pleasant climate all the year round. Solan is a district headquarter and has the famous temple of Shoolini Devi and from Solan the Jatoli village (15 km) and the temple of Lord Shiva and on Rajgarh road the Buddhist Monastery (18 km) may be visited. Known as the "Mushroom city of India" Solan has an old brewery (11 km) and a sprawling horticulture and forestry university at Nauni (16 km). HPTDC hotel at Barog and other pvt hotels & restaurant are available at Solan.
Situated in the Shimla Hills, a part of the Mahasu district of Himachal Pradesh, Solan, now recently district headquarters by the same name, another small town developed by the British, is named after the Goddess, Sholoni Devi, whose temple is located in the southern end of the town. The district of Mahasu, the most developed of all in Himachal, thanks to the British, has a number of small towns to each of which practically, a cantonment is attached. Solan is well known for its brewery 4.8 km [3 miles] from town started in 1835 with Anglo-German co-operation, and known as Dyer-Meakin Brewery, producing excellent larger beer and quality whisky. In 1950, it was taken over by the late Major Mohan, renamed Mohan-Meakin Breweries in 1966. With an improved quality, the enterprise gives employment to thousands, both in Himachal and the plains. Chir pine clothes the Shimla Hills, which yields resin and timber while apricots and walnuts grow all over the hills, maize and paddy are the two leading grains Vegetables and Shimla variety of green chillies are extensively grown in the Shimla Hills to be sold to tourists and others. The area surrounding Solan in very rich in peas, tomatoes, ginger and beans. Connected to Kalka, broad-gauge railway terminus by a hill-railway, using diesel engines, and also by road, the holiday begins at Kalka. Situated midway between Shimla and Kalka, in the outer ranges of the Himalayas, Solan is at a height of 1,350 metres [4,432ft] and popular with those desire to spend more time in the hills. Coming from the parched planis, the first stop traditionally, is Barog, 37 km from Kalka, and 5 km from Solan, Barog, refreshingly cool spot in idyllic surroundings is a wonderful prelude to the holiday ahead. Along with the elegant Hotel Pinewood & Cafe, the Himachal Tourism Development Corporation has constructed a glass house for residential purpose.
http://www.flickr.com/photos/felixdance/5102379946/in/photostream/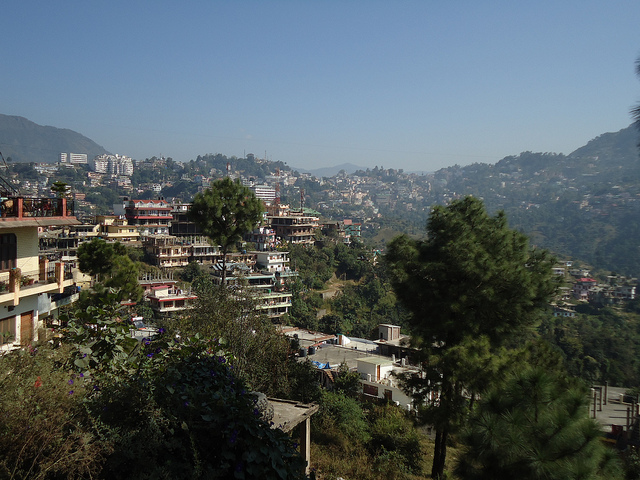 Accessibility
Air
Nearest airport is Chandigarh 48 km. and Shimla 68 km.
Rail
It is in the midway on Kalka-Shimla narrow gauge train.
Road
Almost each and every part of the state is linked by roads. The Himachal Road Transport Corporation is running its buses covering the whole state. There is huge network of HRTC to cater the needs of the people.
Distance
Delhi 315 km., Kalka 42 km., Chandigarh 68 km. and Shimla 48 km.
Termperature
Summer 15-30°C, Winter 0-25°C
Best time to visit
April to June & September to November