Kasauli, also known as "The Land Of Fascinating Vistas", is a charming hill station developed by the British before India gained its independence. The place is endowed with immense natural beauty with amazing churches and bungalows built during the British rule in India are some of the amazing attractions of Kasauli. It is a quiet little hideaway in the Shivalik Hills near Shimla, attributes its origin to the mythological tale which goes that the site of town was formed from the foot-print of Hanuman as he was leaping to pick the Sanjeevi Herb from nearby Sanjeevi hill.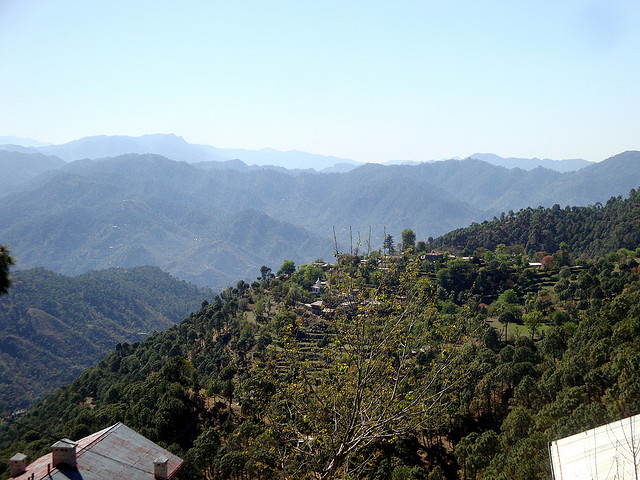 History
The calm and peaceful air of Kasauli belies any sense of history. Yet this region was in the thick of the westward Gurkha expansion, stemmed with some difficulty by the joint efforts of the British and some local chieftains, in 1814. The Gurkha ceded the fort at Sabathu and this was turned into a convalescent home for British nationals. Some time later the Governor-General, Lord Amherst, decided to develop Shimla Hills as a summer gateway for the British establishment and Col. Tapp, political agent at Sabathu, came to survey the Kasauli area.
The 1857 Indian War of Independence stirred the hearts of the Kasauli Guard, numbering about eighty Indian soldiers. Receiving news that the Gurkha Regiment at nearby Jutogh has also risen in revolt, the garrison at Kasauli set out to join them. Before the two could combine and pose a serious threat, the British agent talked the Gurkha Regiment into submission, on promise of a general pardon. The Kasauli Guard found themselves completely isolated. So far from being pardoned, they were severely punished for their insurgence.
Accessibility
Air: The closest airport is at Chandigarh, which is 67 km away. Taxis are available to Kasauli from Chandigarh and it cost about Rs 1500. Chandigarh is connected to many airports in India, including Delhi, Srinagar, Mumbai and Kolkata. International travelers have to get connection flights from Delhi International airport, which is nearly 300 km away from Kasauli.
Rail: The closest rail head is at Kalka, which is about 35 km away from Kasauli. Pre paid taxis costs about Rs 750 from Kalka to Kasauli. Kalka is very well connected with all major cities in India like Amritsar, Delhi, Kolkata and Mumbai.
Road: State owned transport buses connect Kasauli to many cities in and around. Super fast and super deluxe buses have stop at Kasauli, which are plying from Chandigarh to other major cities in the state.
Shopping
There is not too much shopping to be had here. In season buy the fresh fruit jams - plum, strawberry and cherry. Other than that there is a small Tibetan market where you can pick up bric a brac.
Locally made jams, pickles and preserves are available. Shawls, woolens and some handicrafts are sold in the shops above the bus stand.
Accommodation
There is a PWD rest house and a number of private hotels. There is also the HPTDC run Hotel Ros Common, which is very popular.
Kasauli is not as commercial as Shimla, so options for accommodation are relatively fewer in number. Kasauli has a few upmarket hotels like the Kasauli Resorts and a couple of others like the Baikunth Resort where tariffs range between Rs 2,500 and Rs 5,000 per night. There are also a number of mid-rung and budget properties. Many resorts and hotels in Kasauli offer highly discounted off-season rates.
Things to do
Camping
Kasuali has some camping sites for those who love the outdoors. At Dagshai there are such camps and it is an invigorating experience to get one with nature!
Nature Walks
For the not so adventurous traveller, explore the area around Kasuli by going for walks and taking in the scenic views. One of the delightful nature walks one could take would be from the Lower mall area to Kimmughat. If you want to go further afield, there is a trail that goes from Old Kasauli Road to Parwanoo. Ofcourse the 1.5 km long Sanawar-Mandudhar trail is the best walk in the vicinity as it goes through wooded areas and gives you panoramic views of the surrounding hills.
Paragliding
Paragliding At Dagshai 12 kms away from Kasuali it is possible to go paragliding - so get your adrenaline flowing and head to this old British cantonment for a bit of adventure!
Trekking
Kasauli has some great trekking routes for the energetic traveller. The trek from Kasauli to Jabli is 9kms long and will afford panoramic views of the hills around. There are a number of treks to Kalka and Garkhal too.
Birdwatching:
Termperature
Summer 8 to 30°C, Winter -10 to 10°C
Best time to visit
April to September