Gaya , situated on the banks of Falgu River (Niranjana, as mentioned in Ramayana), is an important religious place and considered the most sacred place for the Hindus, particularly for the ritual of Pind Dan. The place is surrounded by small rocky hills (Mangla-Gauri, Shringa-Sthan, Ram-Shila and Brahmayoni) by three sides and the river flowing on the fourth (eastern) side. The city has a blend of natural surroundings, age old buildings and narrow by lanes. It is a place sanctified by both the Hindu and the Buddhist religions.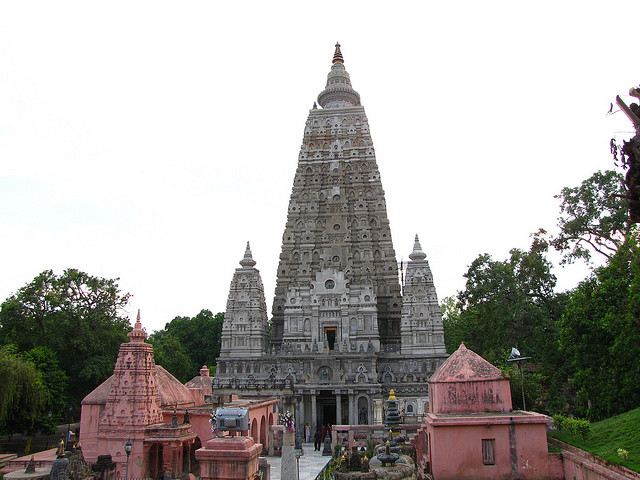 History
Gaya derives its name from the mythological demon Gayasur (which literally means Gaya the demon), demon (asur, a Sanskrit word) and Gaya. Lord Vishnu killed Gayasur, the holy demon by using the pressure of his foot over him. This incident transformed Gayasur into the series of rocky hills that make up the landscape of the Gaya city. Gaya was so holy that he had the power to absolve the sins of those who touched him or looked at him; after his death many people have flocked to Gaya to perform Shraddha sacrifices on his body to absolve the sins of their ancestors. Gods and goddesses had promised to live on Gayasur's body after he died, and the hilltop protuberances of Gaya are surmounted by temples to various gods and goddesses. These hilltop temples at Rama Shila, Mangla Gauri, Shringa Sthan and Brahmayoni are part of the pilgrimage circuit, and grand staircases have been built up to most of them.
Documented history of Gaya dates back to the enlightenment of Gautam Buddha. About 11 km from Gaya town is Bodh Gaya, the place where Gautam Buddha got enlightenment. Since then the places around Gaya (Rajgir, Nalanda, Vaishali, Patliputra) had been the citadel of knowledge for the ancient world. These centers of knowledge further flourished under the rule of dynasties like the Mauryans who ruled from Patliputra (modern Patna) and covered the area beyond the boundaries of the Indian subcontinent. During this period, Gaya was a part of the Magadh region.
Accessibility
Air
Gaya Airport is the only international airport in Bihar and Jharkhand taken together.
Rail
Gaya is the second most important station in Bihar after Patna. It is a junction and is connected to all the four metropolis New Delhi, Kolkata, Mumbai and Chennai through Important Broad Gauge Routes (direct trains). Now it is also directly connected to Guwahati (N-E India) and Chennai (South India). There is a direct non-stop train, Mahabodhi Express from New Delhi to Gaya daily. It takes around 15 hours to reach Gaya from New Delhi by train.
Road
The Grand Trunk Road (NH-2, which has undergone a revival under The Golden Quadrilateral project) is about 30 km from Gaya. Thus, Gaya is well connected to Patna, Ranchi, Jamshedpur, Bokaro, Rourkela, Hazaribag, Kolkata, Varanasi, Allahabad, Kanpur, Delhi, Amritsar, and to the Pakistani cities of Lahore and Peshawar. The highway connecting Gaya to Patna, Gaya to Nawada, Rajgir and Bihar Sharif are well maintained.
Accommodation
Gaya is dotted with a number of hotels and tourists lodge which offer comfortable accommodation at reasonable rates. Some of the popular hotels of Gaya include Hotel Lotus NICCO, Hotel Buddha, Hotel Surya, Ajatshatru Hotel, Buddha International Guest House, Vasundhara Hotel, The Royal Residency, Hotel Siddhartha Bihar, Amrapali Guest House, Anamika Hotel, Shashi International, Hotel Tokyo, Hotel Samrat, Hotel Sarkar, Vishnu International, Delta International etc.
There are several good hotels in Gaya and Bodhgaya ranging from star hotels to budget accommodation. Hotel Heritage Bodhgaya www.hotelheritagebodhgaya.comAjatsatru Hotel(https://sites.google.com/site/ajatsatruhotel), Hotel Vishal International, [1] Hotel Royal Residency and Hotel Sujata are some good hotels to stay in.
Attractions
Buddha Jayanti Festival : Every year in the month of May the Buddha Jayanti Festival is celebrated here. Buddha festival marks the appearance day of Buddha, the day he attained enlightenment and the day he left his body.
Location
100 kms from Patna, Bihar
Best time to visit
October to March