Bodhgaya, about 12 Km from Gaya City, is a religious site and place of pilgrimage associated with the Mahabodhi Temple Complex. It is the place where the quest of Prince Siddharth was fulfilled after years of seeking the truth and saga of Buddha began where Gautama Buddha is said to have obtained Enlightenment (Bodhimandala).
The two major sacred sites in Bodhgaya are the Mahabodhi Temple and the Bodhi Tree, around which many other temples and monasteries of various Buddhist traditions (Japanese, Tibetan, Bhutanese and others) have been built.
Image Credit: http://www.flickr.com/photos/verkhovensky/2394596196/
http://www.flickr.com/photos/princeroy/93461293/in/photostream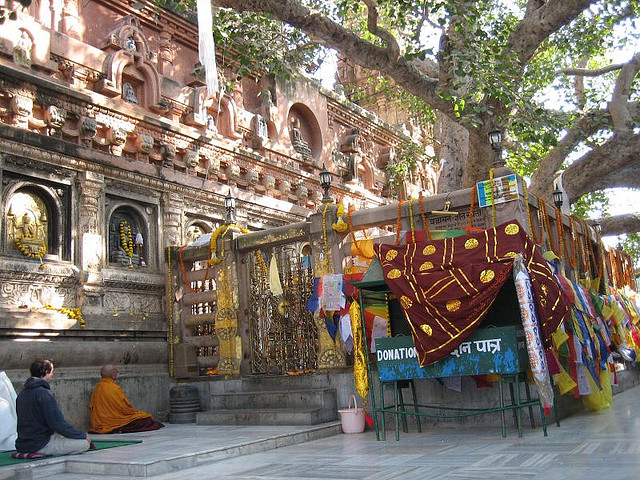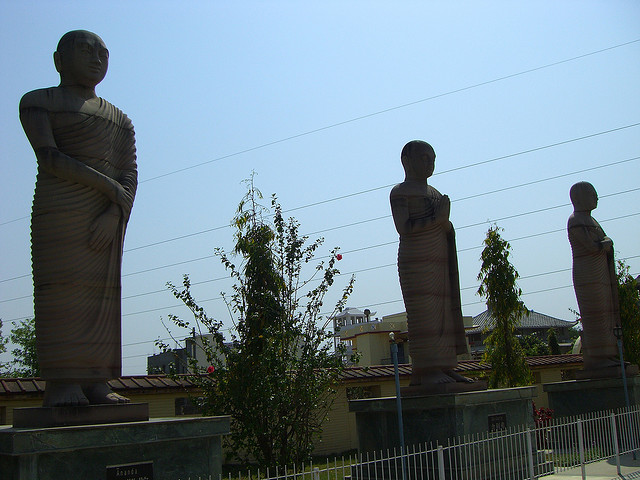 History
Situated by the banks of River Phalgu, Bodhgaya is the holiest of all Buddhist pilgrim destination in entire world. It was here an entire new religion was born out of one man who went on to be known as Lord Buddha and the religion was called Buddhism. Prince Siddhartha who renounced all worldly connections and set out in search of truth, attained enlightenment under the Bodhi tree here. The entire life of Bodhgaya revolves around this most revered tree in the world. A huge complex containing many international monasteries and temples have come up around the tree. Bodhgaya acquired importance during the period of Lord Buddha itself, but the temples started coming up only in the 7th century. During the 16th century, Buddhism here started declining. But once the excavations were started by British archaeologists and its true significance was established, Buddhist pilgrims from all over the world started visiting Bodhgaya. Thus making it the most important pilgrim site of international Buddhism.
The best time to visit Bodhgaya is between November and February when thousands of exiled Tibetans come here to attend the ceremonies and lectures under the Bodhi Tree. Buddhist monks from other Buddhist countries too come here during this period. And if one is looking for some solitary and peaceful holidays, then there is no place better than Bodhgaya for the purpose.
Accessibility
Air
The Airport in Gaya is about 14 km away from city center. Taxi charges about Rs 250. This domestic airport connects to Calcutta, with less frequency. Kolkata is the major Airport available nearby, which is about 485 km away. Kolkata is well connected to many foreign cities and to most of the Indian cities.
Rail
Gaya Junction is the nearest railhead, which is 15 km away from Bodh Gaya. Gaya junction is connected to major cities in state by rail. Taxi charges for travel from railway station to city is about Rs 300.
Road
BSTDC runs regular buses from Patna to Bodh Gaya. Bodh Gaya is connected to Gaya, Nalanda, Patna, Varanasi and Rajgir. Taxis and luxury buses connect Bodh Gaya with Kolkata. Luxury buses costs about Rs 1500, while Taxi charge is about Rs 5000 or more.
Accommodation
Bodhgaya offers a fairly extensive range of accommodation facilities which includes three star hotels, budget hotels, and a number of guesthouses and tourist bungalows. In addition to the regular accommodation offered by commercial establishments, rooms (or beds) are offered by some monasteries in Bodhgaya. These come minus the frills, but are usually comfortable and clean enough, besides being fairly cheap. Do note, however, that monasteries usually offer first preference to pilgrims of their own country.
Termperature
Summer 25 to 45°C, Winter -1 to 28°C
Best time to visit
October and March
Famous For
Bodhgaya- famous for being the place of Buddha's attainment of Enlightenment!