Thiruvarur is a temple town in Tamil Nadu. It has been renowned as the cultural center for many centuries. This ancient town is located in the centre spot of Chola Region. The town is famous for the temple known as Sri Tyagaraja temple. The annual chariot festival in this temple town attracts thousands from all parts of the state. As per history, the main temple in Thiruvarur was established by Muchukanta Chola. Mentions of Thiruvarur are seen in the legendary works of Saints Thirugnana Sambanthar and Tirunavukkarasar lived during 7th century.
This place was ruled by Chola Kings during 9th to 12th centuries. Many of the temples in this holy town were constructed during the Chola regime. Chola king's patronage helped the Thiruvarur town to gain highest status during the foregone centuries. The architectural marvels from Chola period are still preserved in this temple town. Superb structures, intricate wood carvings, immaculate paintings and im posing style in construction make the monuments in Thiruvarur a class apart.
Thiruvarur was blessed as the birthplace the trinity of Carnatic Music Tyagaraja, Muthuswami Dikshitar and Syama Sastri. Apart from Thyagarajaswami Temple, there are numerous temples in the city. Thiruvarur has credited with the biggest temple chariot in Tamil Nadu. Tourists can also enjoy the amazing option of boating at the Kamalalayam Temple Tank. Thiruvarur also offer scenic locations apart from religious destination for those interested in spending vacations. The city garden in Thiruvarur is one of such places offering secluded atmosphere.
http://www.flickr.com/photos/srinig/4815209220/
http://www.flickr.com/photos/srinig/4834722288/in/photostream/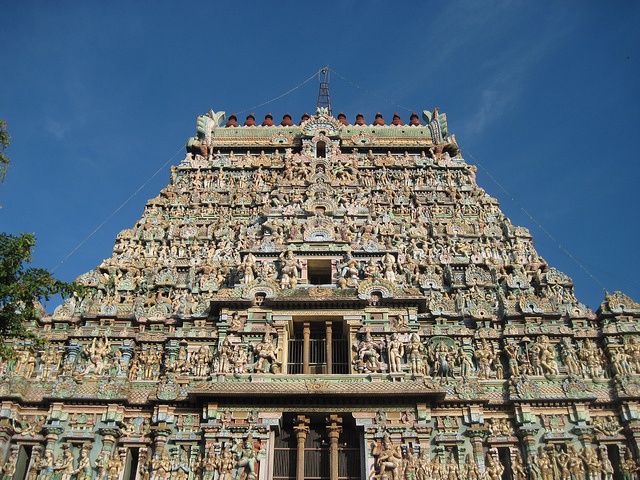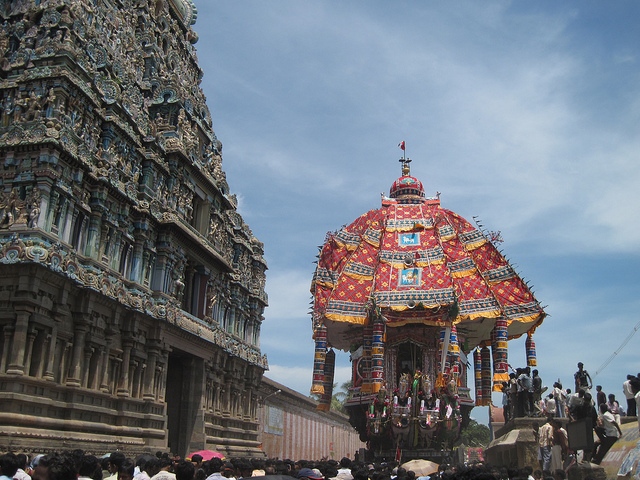 Accessibility
By Air: Nearest airport to Thiruvarur is at Tiruchirappali (Trichy) at distance of about 150 kms. It is well connected to Chennai airport by regular flights.
By Rail: Nearest railhead to Thiruvarur is at Nagapattinam, which is 24 kms away from Thiruvarur. Nagapattinam is well rail connected to all major cities in India through Chennai and Tiruchirapalli.
By Road: Thiruvarur is connected by buses to all the major towns and cities in Tamilnadu and also connected to cities in Kerala, Karnataka and Andhra Pradesh. Nagapattinam (24 kms) and Tanjavur (56 kms) are connected to Thiruvarur by frequent bus services.
Termperature
Summer 23-37°C, Winter 17-30°C
Best time to visit
Oct - Mar