Thiruvannamalai is a famous holy town perched on a hill (malai) in the district of Thiruvannamalai of Tamil Nadu state of India and is the most scared pilgrim center of Hindus in the region. The region was known as 'Thondai Mandalam' in the ancient period. This holy town is the home of highly revered ashram of the mystic saint Sri Ramana Maharshi and the famous Arunachala temple. The city has about 100 temples. The city and the Arunachaleswara temple had long history beginning from 750 AD. It is one of the five Panchabhoota (five elements wind, water, fire, earth and space) Stalams. This is the abode of the fire, one of the five elements constituting the whole life as per Hindu mythology. This temple has imposing Gopurams and inviting architectural beauty.
Thiruvannamalai is a city with historical backgrounds. This region had witnessed many battles during the 15th century. Apart from Arunachaleswarar Thirukoil and Sri Ramana Ashram, Yogi Ram Surathkumar Ashram and Sri Seshadri Swamigal Ashram are also very attractive religious spots in Thiruvannamalai. Sathanur Dam and Sad-at-Ullah Khan Mosque, Tandarai and Tirukkoyilur are other nearby attractions witnessing huge inflow of tourists.
Thiruvannamalai is believed to be the Samadhy (salvation) place of Bhagwan Ramana Maharishi, the revered mystic saint. The legends say that Saint Ramana Maharishi had received his vision of the Supreme Truth at Arakandanallur, a place nearby to Thiruvannamalai. This place has an ancient temple dedicated to Lord Shiva and houses caves carved by Pallavas. Thiruvannamalai goes into vibrant mood during the Arunachaleswarar temple festrival days. The most of the travelers to this town are the pilgrims intended to visit Arunachaleswara temple.
http://www.flickr.com/photos/bradfordcoy/6427563833/in/photostream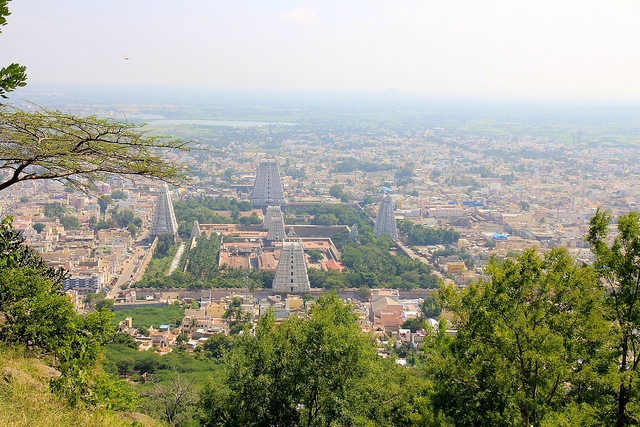 Accessibility
By Air: The nearest major airport is Chennai International airport which is located at a distance of about 185 km from Thiruvannamalai.
By Rail: The Thiruvannamalai railhead is just one km away from the heart of the town and is located in the rail route between Madurai and Tirupathi.
By Road: Thiruvannamalai town is well connected by Tamil Nadu Road Transport Corporation buses. Regular and frequent bus services are available from Thiruvannamalai to Madurai, Tirupathi and Chennai.
Termperature
Summer 23-37°C, Winter 17-30°C
Best time to visit
Oct - Mar