Nalanda, lies about 100 kms south-east of Patna, is believed to have been one of the greatest centers of learning in the ancient times. It is also one of the important Buddhist pilgrimage centre as Nalanda was frequently visited by Lord mahavira and lord Buddha in the 6th century BC. It is also supposed to be the birthplace of Sariputra, one of the Chief disciples of the Lord Buddha.
The place was founded in the 5th century AD and is famous as the ancient seat of Buddhist learning. It is believed that 2,000 teachers and 10,000 monks from all over the Buddhist world lived and studied here. The ancient past of Nalanda stands proud today though in ruins.
http://www.flickr.com/photos/princeroy/93462777/in/photostream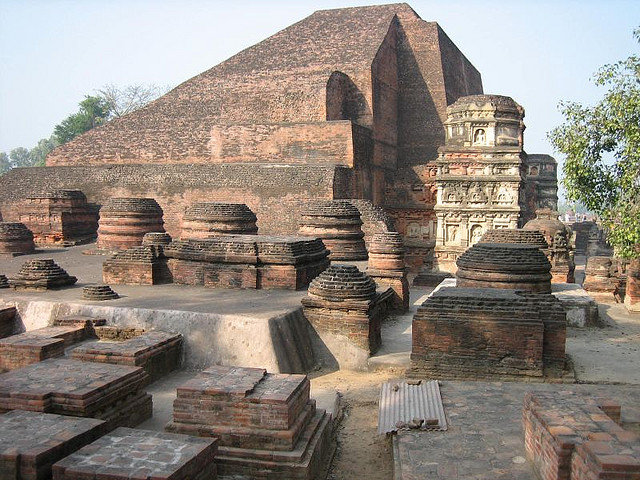 History
The history of Nalanda is deeply connected with the Buddhism during its early stages. Buddha himself visited Nalanda several times.
THE history of Nalanda, the ancient university town of Bihar, goes back to the days of Buddha and Mahavira in the Sixth Century B.C. The town was home to Nalanda Mahavihara, a monastic university of international repute.
There are many versions of what the term nalanda means. One is that nalam (lotus) and da (to give) combine to mean "giver of the lotus". Since the lotus is supposed to represent knowledge, Nalandameans "giver of knowledge". The university of Nalanda, a suburb of Rajgir in ancient times, is just off the main road from Rajgir to Patna.
Both Buddha and Mahavira often stayed at Nalanda during the rainy season. Buddhist scriptures reveal that they once stayed at Nalanda at the same time, but there is no record of them meeting one another.
Ancient Buddhist sources say that Asoka, the Mauryan emperor (Third Century B.C) built a temple at Nalanda. It was a flourishing hub where the philosopher and alchemist, Nagarjuna, studied and taught in the Second Century A.D. However, excavations have not revealed anything to suggest that the site was occupied before the Gupta period (Fifth Century A.D.), the earliest finds being a copper plate of Samudragupta and a coin of Kumaragupta (414-455 A.D.). Fa-Hien who visited in the Fifth Century A.D. makes no mention of the massive monastic establishments at Nalanda. But Hiuen Tsang who came in A.D 637 during Harsha's reign (606-647 A.D.) refers to the great monastery that Harsha endowed with liberal grants.
Modern District of Nalanda with HQ Biiharsharif was established on Nov 9, 1972. Earlier it was Biharsharif sub-division of Patna district.
Accessibility
Air
Lok Nayak Jayaprakash airport at Patna is the nearest airport, which is 100 km away from Nalanda. This airport is connected to major Indian cities like Mumbai, Delhi and Kolkata. Taxies are available from the airport to Nalanda and fare is about Rs 2000.
Rail
Rajgir is the nearest railway station which is 12 km away from Nalanda. Regular train services are available from this station to all part of India. Taxis are available from the railway station and cost about Rs 300 to Nalanda.
Road
Nalanda is connected to other cities by state owned public bus services. Bihar Tourism and Development Corporation provide bus services from Patna to Nalanda, and also from cities like Bodhgaya and Rajgir to Nalanda. Tourist buses charge about Rs 400 from Patna to Nalanda.
Accommodation
Patna is the ideal base to visit Nalanda, which is dotted with a number of good hotels including deluxe and budget hotels. Equipped with all the necessary amenities the hotels in Patna provide a pleasant stay to guests.
Deluxe Hotels : Hotel Maurya Patna (South Gandhi Maidan) and Hotel Chanakya (Beer Chand Patel Marg).
Standard Hotels : Pataliputra Ashok (Beer Chand Patel Marg), Samrat International (Fraser Road).
Location
Nalanda The site of Nalanda is about 55 miles south east of Patna.
Termperature
Summers 20-44°C, Winters 4-28°C
Best time to visit
October to March
Famous For
Ruins of Nalanda University (5th to 12th centuries A.D).