Manali, once called the "end of the habitable world," is an important hill station of northern India spread along the banks of the river Beas. The place derived its name from Manavalaya meaning the abode of Manu or "Home of Manu" and here, the temples are treated as pilgrimages. anali is also famous for adventure sports like skiing, hiking, mountaineering, para gliding, rafting, trekking, kayaking, and mountain biking.
http://www.flickr.com/photos/felixdance/5175832276/in/photostream
http://www.flickr.com/photos/rvirdi/183128169/in/photostream/
http://www.flickr.com/photos/rvirdi/183128170/in/photostream/
http://www.flickr.com/photos/rvirdi/182314128/in/photostream/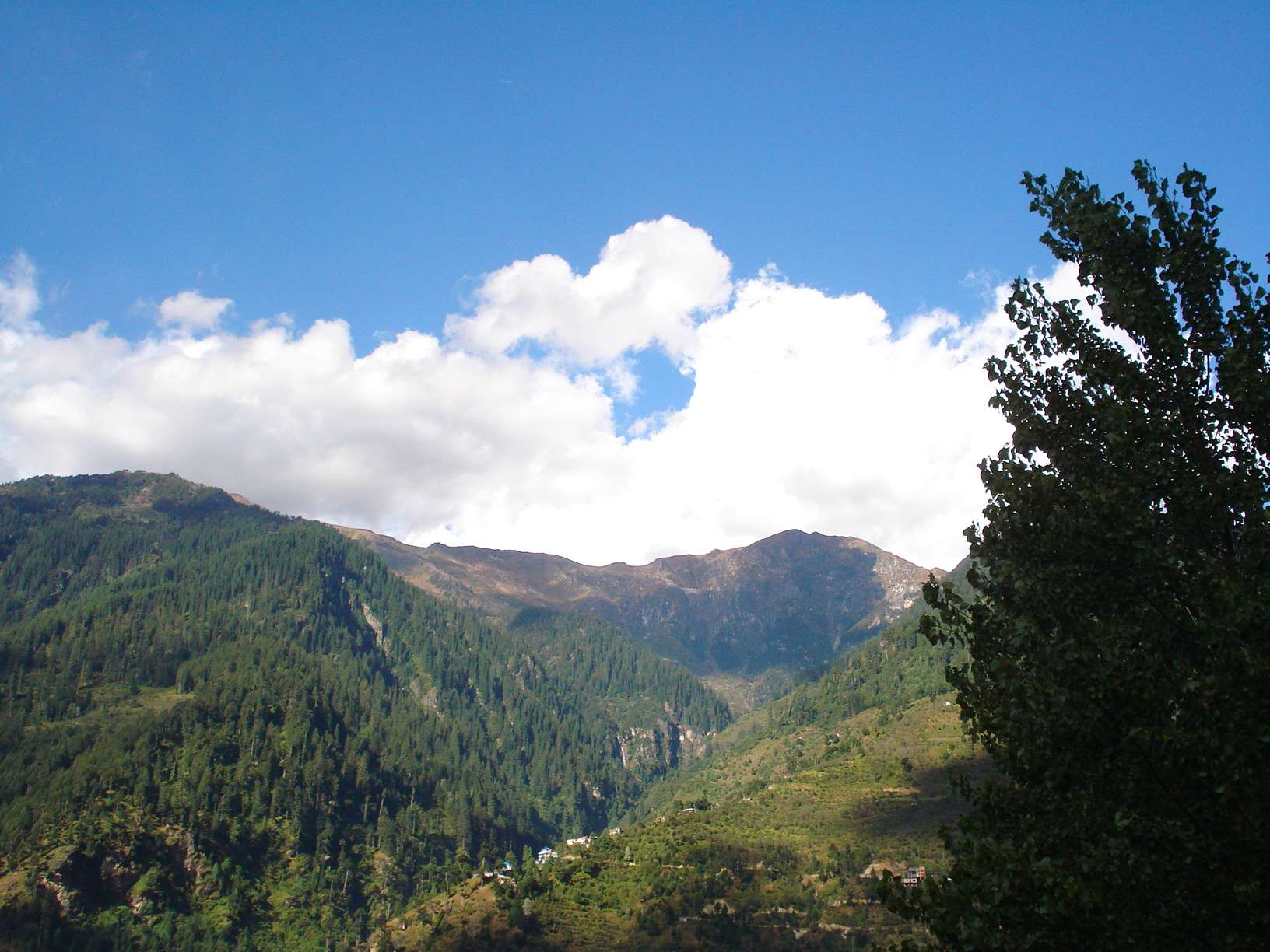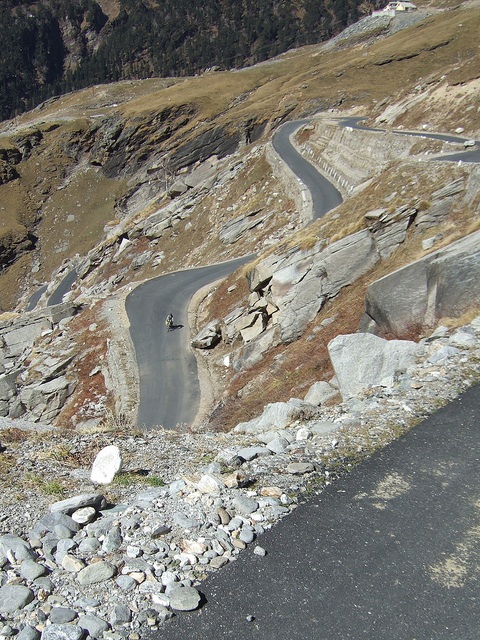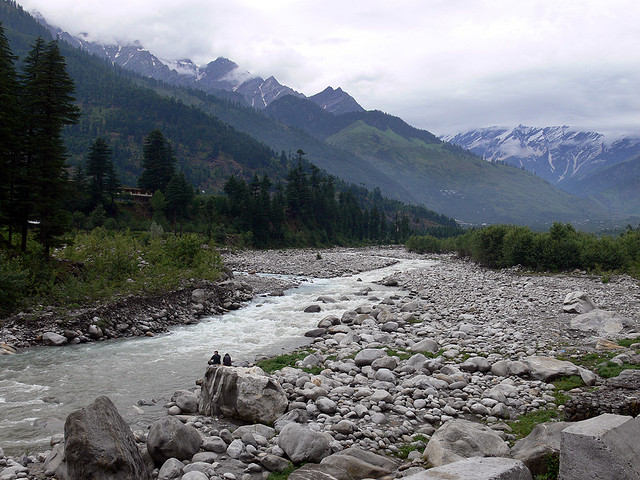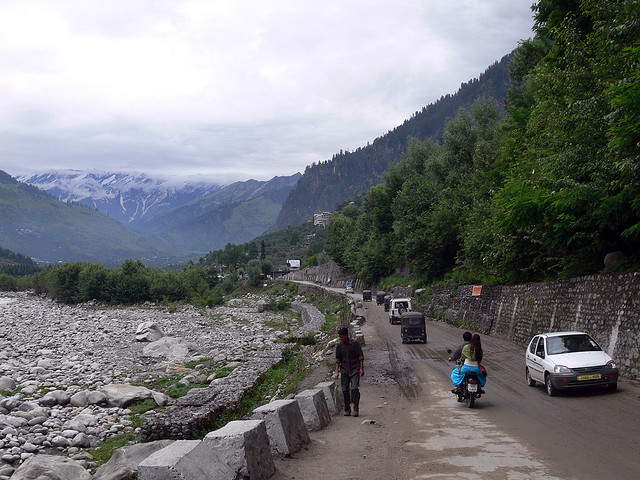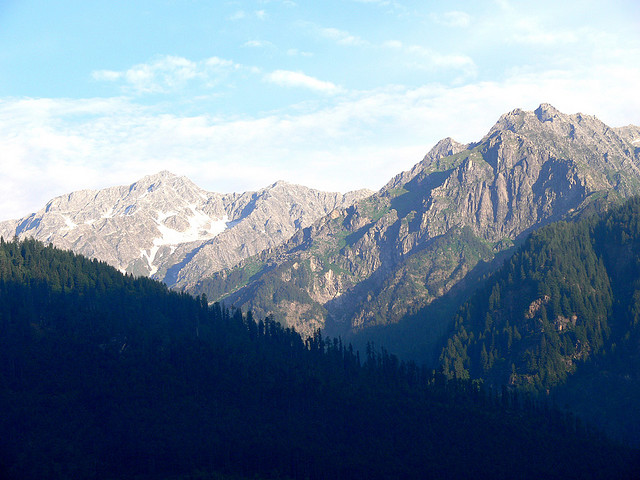 History
According to the Hindu mythology, Manali was the home of the lawgiver Manu (after whom the town is named). Legend has it that when a flood deluged the earth, Manu and the gods were towed to dry ground by a giant fish, which was the seventh `avatar'' of the god Vishnu.
Manali has a pre-historic legend behind its name. Vaivasvata, the seventh incarnation of Manu, the first creation according to Hindu mythology, found a tiny fish in his bathing water. The fish told him to look after it with devotion, for one day it would do him a great service. The seventh Manu cared for the fish until it grew so huge that he released it into the sea. Before departing, the fish warned Manu of an impending deluge when the entire world would be submerged and bade him to build a seaworthy ark. When the flood came, Matsya (fish), the first avatar of Lord Vishnu, towed Vaivasvata and the Seven Sages to safety. As the waters subsided, the seventh Manu's ark came to rest on a hillside and the place was named Manali after him.
Accessibility
Air: Bhuntar, which is 52 km away from Manali, is the nearest airport. Taxi services are available from Bhuntar to Manali, which costs about Rs 1000. Bhuntar is connected to Delhi by air. Delhi is the major nearest airport, which is about 565 km away from Manali. Delhi airport is well connected with all major cities in India and many cities abroad.
Rail: Joginder Nagar is the nearest railway station to Manali, which is nearly 50 km away. Joginder Nagar is well connected to all other Indian cities via Chandigarh. Taxi fare from Joginder Nagar to Manali is about Rs 1000.
Road: Manali is well connected to other tourist destinations near by in Himachal by private deluxe bus services. State owned services are also available connecting Manali to other cities.
Shopping
The Mall is the main shopping area, selling local Kullu and Kinnauri shawls, rugs, caps and footwear, imported goods, besides a range of Tibetan handicraft items. It is more of a busy commercial street with modern concrete blocks of hotels that spill over with tourists in the peak season. Other shopping zones in the Mall include- Hong Kong Market, Thai Market, Tibetan Market, Dragon Shopping Complex, Lama Underground, Shangri La Shopping Complex, New NAC Market and Snow Lion Underground Market. The Himachal Handicrafts Emporium and Bhuttico weavers' co-operative (+91 1902 260 079) in the main Manali Mall are good for local handicrafts. Handcrafted shawls and rugs are the major and the most popular buys here. The Tibetan Bazaar and Tibetan Carpet centre run by the refugee community sells thangkas, rugs, local tweeds, Buddhist paintings, bamboo souvenirs, Chinese goods (electronics, shoes, clothes etc), silver and turquoise jewellery and prayers wheels amongst other things. The place is overcrowded with tpurists in the summers. If you are interested in buying more hippie and junky stuff, then
the Old Manali market is a must visit. You could even pick up fresh fruit jams, jellies and pickles from the market and take them back as souvenirs. All the shops are open from 10 am to 7 pm. Bargaining is a must here as most shops tend to quote a higher price.
Apart from a popular hill resort, Manali is also a paradise for shoppers. Manali is the perfect destination for those who love handicrafts and traditional items. Of the variety of items available in Manali markets, the locally made woollen products are a must buy for you. Check out the famous Kullu cap and Kullu Shawals with delicate, bright borders.
After buying the woollen items, head towards the local Manali market to shop for some exotic handicrafts and hand-woven goods. Local specialties are Himalayan handicrafts, which extensively assort Tibetan curios such as prayer wheels, amulets, dorjes, masks, musical instruments and thangkas. You can definitely opt a few items from the Manali markets to keep as souvenir of the visit to this charming destination.
For a discerning shopper, it is impossible to return from a tour without shopping in Manali.
The region has a rich tradition of handicrafts and handlooms, which make for pleasant shopping in Manali.
Like all hill regions in India, Manali too has a vast forestland, which produces huge timber. Wood has traditionally remained a favorite item for handicrafts. A variety of utilities and objets d'art would catch your eyes while shopping in Manali.
Another popular item for shopping in Manali is heavily embroidered woolen shawls. Woolen garments are widely available in Manali. You may choose to pick up pullovers, local tweeds and rugs while shopping in Manali.
Tibetan handicrafts find their way in the markets in Manali. Check out curios, antiques and knickknacks for your home interior, gifts or souvenirs. Some firans and inlaid silver jewellery in turquoise and coral may also feature in your shopping cart in Manali.
The mall Road is the best place for shopping joints in Manali. There are numerous private outlets alongside the government run emporia. Hang out here to engage in a pleasant shopping spree in Manali.
Accommodation
Plenty of accommodation options are available in Manali that range from five-star luxury hotels to cheap hotels. Hotels are located within the walking distance from the Manali bus terminal.
5 Star Hotels : Span Resorts.
4 Star Hotels : Timber Trail, Vacred Manali Resorts, Hotel Manali Ashok, Piccadily Hotel, Ambassador Resort, Sagar Resort, Snowcreast Manor and Holiday Inn Manali.
3 Star Hotels : Shingar Regency, The Manali Inn, Banon Resorts, Kanishka Hotel, Hotel Chandramukhi, Ram Regency Honeymoon Inn, The Confier Hotel, Glacier Resorts, Manali Resorts, Out Town Hotel, Hotel Regent Centre Point, Deluxe Luxury Cottages, D'Chalet, Manali Heights and Hotel Snow Princess.
Attractions
Hadimba Devi Festival
The Hadimba Devi Festival is also a big colourful affair in Manali and people come in from the neighbouring places to be a part of the fair which is organised by the temple complex. This fair is held every year in the month of May.
Things to do
River Rafting: Snow-fed riverbed of the enchanting River Bias put forward incredible chances for the demanding activity of rafting. The thrilling sport of River Rafting in the untamed Bias River offers a magical feeling of intense and unbounded pleasure. Bias River proffers one among the best rafting fields in the entire Himalayan brooks and with its much staircase rapids it dares the mind and carcass of the rafter.
This river cuts against the wobbly caches, collide into rocks, fissures and flouting into white water rapids, fluffing, swirling, and declining in a deafening ruckus presents a delightful rafting bed to the water enthusiasts. The vast expansion of 20 km stretch of the river has exhilarating and great whitewater rapids. Besides a perfect rafting bed, Bias River is ideal for kayaking and canoeing too. The rafting from the Jhiri to Manaki in Bias river is the most popular rafting area wherein so many sporting events are conducted.
Jeep Safari in Manali : If you want to enjoy and experience the 'wonders' of Manali and the areas around, Jeep Safari is one of the finest ways for you. Of the various jeep safari routes in Himachal Pradesh, Jeep Safari from Manali to Leh is one of the most popular route with both the Indians as well as foreign tourists.
The 475 kms route will take you via Rohtang Pass (3,980 m) - Lahaul valley - Keylong - Darcha - Baralacha la (4,890 m) - Sarchu - Lachalang la (5,065 m) - Tangalng la (5,360 m) to Leh (3,505 m). Jeep Safari route from Manali to Leh remains open only for three months, from June to September every year.
You can also extend you trip to Nubra Valley across Khardungla pass, the highest motorable road in the world or to Srinagar (Jammu and Kashmir) after passing Zojila pass. Another option is also available, you can drive to Leh via Tsokar and Tsomoriri Lake. You can complete the Manali to Leh drive in two days with a overnight stay at Sarchu or Darcha.
During your Manali - Leh Jeep Safari trip you will cross the varied terrains. The terrains will surprisingly change their colour and nature, from lush green and foggy to the rugged brown, naked desert to the sprawling plain. In addition to these, you also get a good chance to observe the charming landscape, splendid valleys dotted with villages and beautiful monasteries from your jeep. Moreover, a lifetime's experience, Jeep Safari across Manali - Leh provides you a wonderful opportunity to meet and interact with the loving people of this beautiful land.
Mountaineering in Manali : Being the biggest range of mountains on earth, the Great Indian Himalayas has always lured the mountaineers across the world. Himachal's charming town, Manali makes an ideal base to undertake the adventure sport of mountaineering. The Himalayas in and around Manali offer a range of mountaineering options, from a short and easy climb to long challenges of the snowy peaks.
While mountaineering in Manali, you get to experience the magnificent views of the snow-clad lofty peaks, the lush meadows, green woodland and also exhilarating fragrance of orchards. In fact, Manali Himalayas' pristine beauty, vastness and a number of hidden jewells have an everlasting appeal for mountaineers, who explore the region by mountaineering.
Snow Skiing in Manali : The beautiful state of Himachal Pradesh lies amidst the Himalayan ranges of Shivalik, Pirpanjal and Dhauladhar. Most of its higher reaches remain snow-covered for a lrge part of the year. The Manali region in Himachal Pradesh is bestowed with some very fine slopes. From professionals to novices, Manali offers excellent opportunities for everyone to enjoy the winter sport of snow skiing. Thus, you can undertake the adventure sport of snow-skiing in Manali at any time to any altitude.
In Manali, training courses and facilities for snow skiing are offered by the Directorate of Mountaineering and Allied Sports. You can hire skiing equipments from HPTDC office at a very reasonable cost. You must be physically and mentally fit to take up skiing, trained guides are always there to help you out during any difficulty. You must remember that snow covered areas are very much accident prone, so you should make a complete enquiry before taking the sport. Close to Manali, Solang is one such place where skiing courses are conducted and it also organizes annual skiing competition.
Termperature
Summer 14 to 20°C, Winter -7 to 10°C
Best time to visit
May To October