Ambaji is an important temple town in the beautiful backdrop of Arasur Hills and one of the most important Shaktipith of India and dedicated to the temple of the Mother Goddess, Amba. It is a picturesque spot located among the Aravalli and attracts scores of thousands of devotees around the year.
The main attraction in Ambaji is the Ambe temple and the most unusual feature of the shrine is that it does not contain any idol. It only has a yantra, made of marble, which is engraved at a spot and that is supposed to be representative of the mother goddess.
Another highlight of this place is the large fair that is organized here during the Navratri celebrations.
Image Credit: http://www.flickr.com/photos/emmanueldyan/4587163815/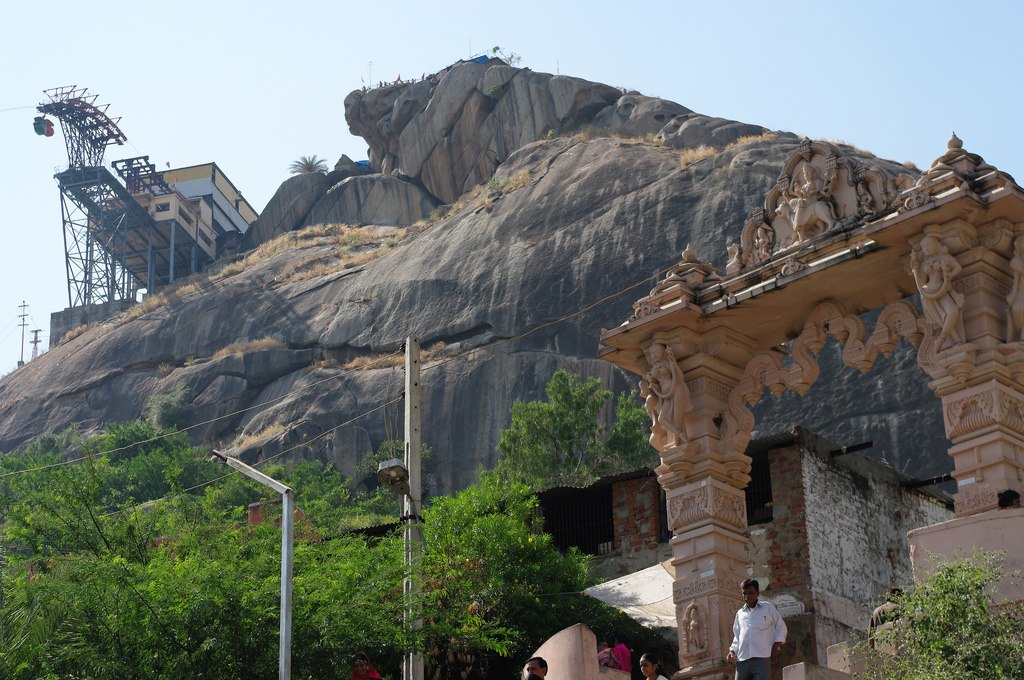 Accessibility
By Air: Nearest airport is Sardar Vallabhbhai Patel International Airport at Ahmedabad, at a distance of 180 km from Ambaji.
By Rail: Abu Road station is the nearest railhead, which is at a distance of 20 km from Ambaji.
By Road: State owned bus services are available from nearest cities to Ambaji. Amabji is connected to Ahmedabad (180 km), Abu Road station (20 km), Mt Abu (45 km), Delhi (700 km), Palanpur (65 km) and Himmat Nagar (110 km).
Accommodation
Hotel Akash Ganga
Phone: 02749-262764
Balaram Resort
Phone: 02742-84278
Attractions
Ambaji Badra Purnima
The Bhadrapadi Purnima is the main festival when a big fair of devotees is spontaneously organized at Ambaji and more than a million devotees gather together to worship Ma Amba on this auspicious day. Some of them form groups, which travel together to Ambaji from far off areas. Some of these groups are called padayatri sangh, which as a show of their faith and devotion to the Mother Goddess, walk all the way from different parts of the state to cover the distance to the Ambaji Mandir. Every year hundreds of such padayatris reach the Ambaji village to celebrate this religious fair dedicated to Mata Ambaji.
Maa Ambaji Udankhatola (Ropeway)
In order to develop Ambaji Pilgrimage, Shri Arasuri Ambaji Mata Devasthan Trust has installed and inaugurated Maa Ambaji Udan Khatola (Rope Way) on the mountain of Gabbar, with the help of Usha Breco Ltd, so that more and more pilgrims can visit and enjoy the beauty and holiness of Gabbar with ease and joy, just by reaching in time, without any trouble.
Maa Ambaji Udankhatola at Gabbar Hill is operational since September, 1998. The level difference in the upper and lower stations is about 140 mts. Pilgrims by Udankhatola can reach the hill top in about 3 minutes. Whereas, climbing by foot takes about 45 minutes covering a steep winding path. Udankhatola is a boon to the visiting pilgrims, old, infirm, children etc. to have a quick, safe and comfortable journey for the darshan of the Goddess Ambaji.
Rope way on Gabbar Hill has in fact encouraged more and more pilgrims, especially the aged and infirmed, senior citizens and people from all corners of the world come to visit the temple through the ropeway.
District
Banaskantha district
Termperature
Summer 26-46°C, Winter 10-36°C
Best time to visit
November to March
Famous For
It is one of the 51 Shakti Peethas, Maa Ambaji temple