Alibag or Alibaug is a coastal town in the the Konkan region, servers as the gateway to many beaches ahead like Akshi Beach, Nagaon Beach, Kihim Beach, versoli Beach etc. The town and its surrounding villages are the historic hinterland of Bene Israeli Jews and there is a synagogue in the "Israel Ali" area of the town. The town is also a frequent getaway for people in Mumbai owing to its proximity to the city
Image Credit: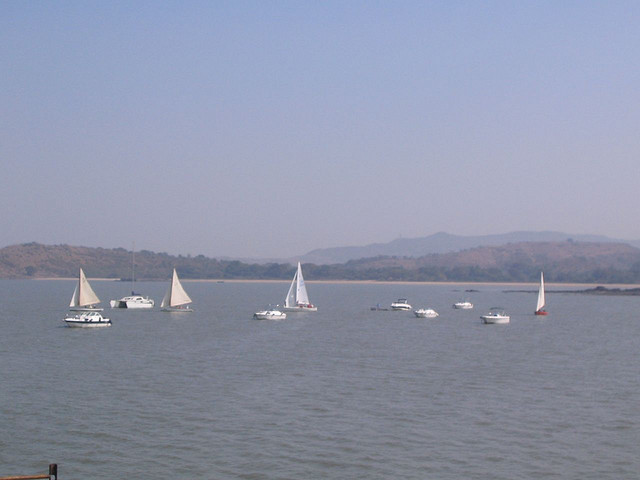 History
Alibaug is about 300 years old city. Alibaug was developed in the 17th century by Sarkhel Kanhoji Angre , the Naval chief of King Shivaji's kingdom.Alibaug is a town on the Konkan coast of Maharashtra near Bombay. It's best known for its historic marine forts, fine beaches and clean water.Alibaug used to be the headquarters the great Maratha Admiral, Kanhoji Angre and has the famous Kolaba fort in the sea. Kanhoji Angre created the town of Alibaug towards end of 17th century.
Legend has it that a wealthy Muslim named Ali Owned many plantations, which gave the town the name Alibaug. Alibaug is the seat of District Administration of Raigad (formerly Kolaba) district since 1852. The name Kolaba is attributed to a Sea Fort Kolaba built by Shivaji the great, in 1680 to fight the mighty naval prowess of the Siddis' (Abyssenians) of Janjira and the British of Mumbai. Kolaba fort is famous for many battles, between Siddis and Kanhoji Angre, the British and the Portugese.
Accessibility
By Air: The nearest airport is of Mumbai, 113 km from Alibag.
By Rail: The nearest railway station is Pen, which is 28 km away from Alibag city.
By Road: Alibag is well connected to Mumbai and Goa through the junction Pen.
By Ferry: Mandawan is the nearest jetty and of course the original oldest one that is Rewas, which is built by British from where catamaran/ferry services are available to Gateway of India, Mumbai.
Shopping
Alibaug is hardly an hour from Mumbai hence whatever you can shop in Mumbai is available in Alibaug,too. Ofcourse variety is not much on the offer. Normally people do not go there for shopping. Ofcourse people do shop but they buy agro based items like fresh vegetables, pulses, rice, spices, fresh fruits etc in Alibaug. And if you are based in Panvel, going all the way to Alibaug for shopping is not advisable. Mumbai is a better choice for you - well connected by railways ( local trains every 20 minutes or so) as well as road ( lots of buses ply to Mumbai). Even New Mumbai is an option for you.
Accommodation
Situated at the south of Mumbai, Alibaug is a tranquil coastal town in Maharashtra. Renowned for its sandy beaches, magnificent churches, synagogues and beautiful St Barbara tower, Alibaug remains a favorite weekend hideaway amongst Mumbaikars and Puneities. The town also draws a large number of business travellers who prefer to organize meetings and conferences in the calm and quiet environs of Alibaug.
From budget class hotels, guesthouses to deluxe hotels, Alibaug offers a wide range of accommodation options to leisure travellers. The hotels in Alibaug are mainly located near to the lovely beaches and tourist spots. Apart from the star category hotels in Alibaug, one can also choose to stay in the MTDC resort that offers comfortable rooms and tents at an affordable price. The economy hotels in Alibaug offer very basic facilities however, the services and the warm hospitality of the hotel staff assure you a comfortable stay. The luxury and deluxe hotels in Alibaug are endowed with best of the facilities. From multi cuisine restaurants to well stocked bar and gymnasium, the deluxe hotels in Alibaug offer all essential amenities to its guests.
Location
113 kms from Mumbai
Best time to visit
Oct - Mar
Famous For
known for its historic marine forts, fine beaches and clean water.