Rudranath is a very important site of pilgrimage, the face of Shiva that is paid homage as Neelkanth Mahadev. It offers some of the finest sceneries of the snowy peaks of the Himalayas.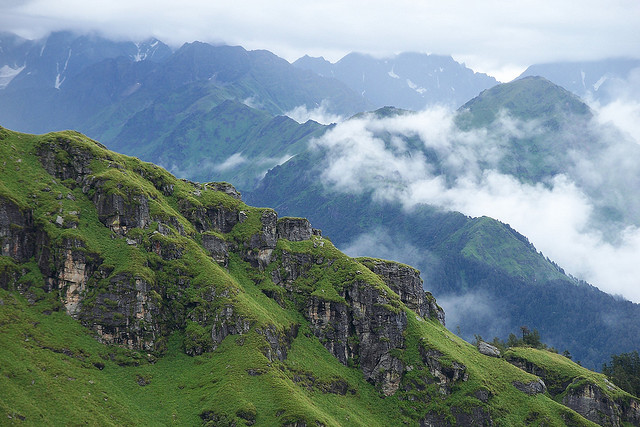 History
The Rudranath temple is believed to be established by the Pandavas, the heroes of the Hindu epic Mahabharata. Legend has it that the Pandavas came to the Himalayan mountains in search of god Shiva, to redeem them of the sins of killing in the epic Kurukshetra war. God Shiva did not want to meet them and escaped in form of a bull in the ground and reentered in parts in the Panch Kedar places: the hump raising in Kedarnath, the arms appearing in Tunganath, the navel and stomach surfacing in Madhyamaheswar, the face showing up at Rudranath and the hair and the head appearing in Kalpeshwar.[3] In winter, a symbolic image of Shiva is brought to Gopeshwar for worship.
Accessibility
Air: The nearest airport is Jolly Grant Airport in Dehradun, which is about 230 km from Rudranath. Jolly Grant Airport in Dehradun is a domestic airport located at about 20 km away from city center of Dehradun. Taxi cabs are available from Dehradun airport to Gopeshwar, which is about 23 km from Rudranath and cost about Rs 3,500. The airport operates daily flights to Delhi. Nearest International airport is Delhi.
Rail: Nearest railhead at Rishikesh, 215 km away from Rudrarnath. Prepaid taxi services are available in the railway station to Gopeshwar with a charge of about Rs 3,000.
Road: Gopeshwar is well connected through road. Rudranath can be accessed by foot from Gopeshwar. Gopeshwar is connected by state buses to Rishikesh, Dehradun, Kotdwara, Haridwar and other hill stations of Kumaon and Garhwal Hills. The bus charges are not fixed. It will vary depending on season.
Termperature
Summer 22-35°C, Winter 15-25°C