Tirupati, one of the most ancient and sacred pilgrimage spots in India, is known as the abode of the 'Kaliyuga' deity Lord Venkateswara popularly known as Balaji and is famous for the Venkateswara temple in the sacred Tirumala hills. It comprises seven peaks, representing the seven hoods of Adisesha, thus earning the name Seshachalam. The seven peaks are called Seshadri, Neeladri, Garudadri, Anjanadri, Vrishabhadri, Narayanadri and Venkatadri.
The name 'Tirupati' means the "Lord of Lakshmi, draws thousands of pilgrims and common tourists from all over the world every year. The hill near the temple is called 'Tirumala' or the "sacred hill." The temple here is said to be the busiest in the world, eclipsing even Rome, Jerusalem and Mecca in the number of pilgrims visiting it. The town is bestowed with many temples, shrines and dharamshalas.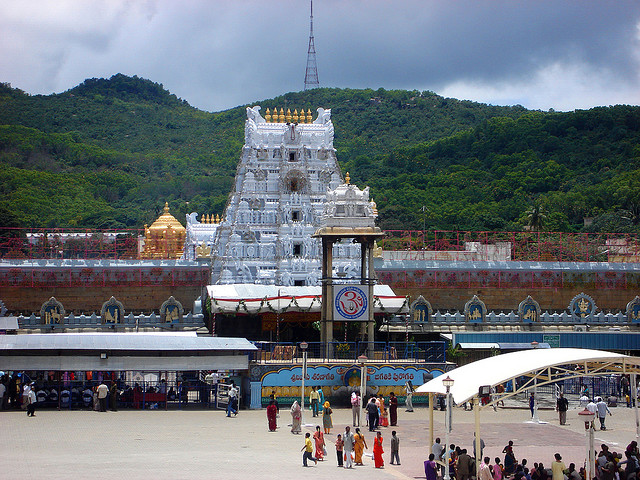 History
Legend has it that the rulers of Kancheepuram the Pallavas patronnized this shrine way back in the 9th Century AD the temple shot into fame with contributions started pouring in only during the time of Vijayanagara dynasty in 15th Century AD. From the year 1843 till about 1933, the administrative activities of the Tirumala temple were overseen by Mahants of the Hatiramji Mutt. The Tirumala Tirupati Devasthanam was formed in 1933 and this autonomous body looks after the functioning of the temple complex even today.
Accessibility
By Air: Tirupati airport is 15km from the city.
By Rail: Tirupati railway station is in the centre of the town. Good rail links with Mumbai, Chennai, Hyderabad etc.
By Bus: APSRTC (Andhra Pradesh State Road Transport Corporation) buses run from all the important places in the south and between Tirupati and Tirumala.
Shopping
Within the temple complex you can buy various figures of the deities and CDs that recite the various shlokas. You could also take some ''prasadam'' or 'laddu' for your family and friends back home.
Accommodation
At Tirupati a number of hotels, guest houses and tourist lodges are available at cheap rate near the railway station and bus stand. You may also stay in the Dharamshalas, located near the temple complex. Some of the famous hotels and lodges of the town are New Bhimas House, Bhimas Paradise, The Bhimas Hotel, Indira Rest House, Vasantha Vihar Lodge, Gopi Krishna Deluxe Hotel, Hotel Vishnu Priya, Hotel Mayura, Oorvasi International Hotel, Raghunadha etc.
Attractions
Brahmotsavam festival
The Brahmotsavam festival celebrated in the month of October is performed over nine days and is one of the most important and auspicious events in Tirupati. Legend has it that this celebration was started by Brahma, the creator God, who first conducted this festival to Sri Balaji at Tirupati as a thanksgiving for the Lord's protection of mankind.
District
Chittoor district
Location
Located at the foothills of the Eastern Ghats at a distance of 550 kilometres (340 mi) south of Hyderabad, the capital of the state and 150 kilometres (93 mi) north of Chennai.
Termperature
Summer 23-43°C, Winter 10-15°C
Best time to visit
September to February
Famous For
Famous for the Venkateswara Swamy temple dedicated to Lord Venkateswara