Siliguri is located in the Siliguri Corridor or Chicken's Neck — a very narrow strip of land linking mainland India to its north eastern states. It lies at the foot of Eastern Himalayas providing some exceptional views of the snow clad mountains. It is the commercial nerve center of North Bengal. It is also the transit point for air, road and rail traffic to the neighboring countries of Nepal, Bhutan and Bangladesh.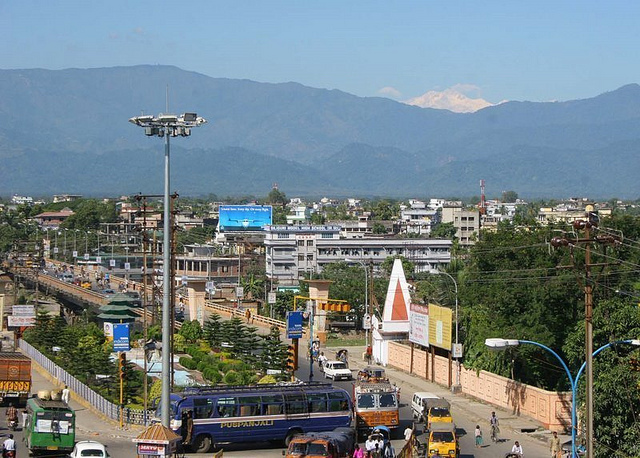 History
Siliguri is not a very old city. At the time of Indian Independence in 1947, it was a small village. But the partition of the country and creation of Pakistan increased the importance of the place. A large number of migrants from Bangladesh settled in this hamlet at the time of partition. Over the next half a century the town has grown by leaps and bounds to become the second most important town in West Bengal after Calcutta.
Accessibility
Air: Siliguri domestic airport is located at Bagdogra at a distance of 12 km from the heart of the city. Siliguri is air linked to Delhi, Kolkata and Mumbai. Siliguri is connected to Gangtok by helicopter services. Taxi fare from airport to city is about Rs 250. International travels get connection flights from Kolkata which is nearly 600 km away. Kolkata is connected to all major cities in India by air and is connected to many cities abroad.
Rail: New Jalpaiguri railhead is the nearest railway station to Siliguri, which is 16 km away. Jalpaiguri Station is connected to all major stations in India including Delhi and Mumbai.
Road: Public road transport buses offer services from many cities in West Bengal to Siliguri. There are regular daily bus services to Kolkata. Private tourist buses also connect many cities in North East to Siliguri.
Shopping
Siliguri also offers great shopping opportunities: genuine and fake-labelled garments can be bought here. The local speciality is cane ware – letter racks, sofas et al. Some of the good places to go shopping in Siliguri are- the Hong Kong Market, Bidhan Market, Seth Srilal Market, Hill Cart Road and Sunflower Shopping Mall. All the places offer wide array of inexpensive Chinese and imported products at competitive prices.
The best buy in Siliguri is loose tea, available almost everywhere. With the Nepal and Bhutan borders being near, a certain amount of smuggled goods are also available. All the better markets/shops are located on either Hill Cart Road or Sevoke Road. Excellent cane furniture is available.
With rising demand from locals and visitors, all the upmarket goods with international labels are now available in Siliguri.
Best time to visit
April-June and September-December