Renuka is a sacred place that attracts tourists and pilgrims alike in Himachal Pradesh, famous for enchanting Renuka Lake. Acoording to a local legend, when the evil Sahasarjuna killed sage Jamadagini and attempted to abduct the latter's wife, Renuka, she threw herself into these waters. The gods brought her back to life, and consequently, this lake is considered to be her embodiment.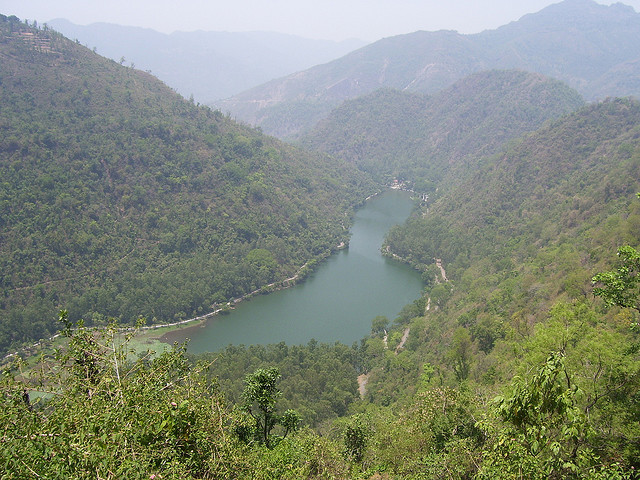 History
Renuka got its name from the Renuka Lake, which is located in this place. The Renuka Lake is considered as the embodiment of the wife of sage Jamdagini and the mother of Parashurama, Renuka ji. The mythological story goes that the devil Sahasarjuna had killed the sage Jamdagini and tried to abduct his wife Renuka. She flung into the water to save herself from the devil. The gods later restored her and the lake is regarded as her embodiment. The lake, with a profile of a woman, has a circumference of 2.5 km. It is the largest lake in Himachal Pradesh. The lake is fed by the underground springs.
Accessibility
Air: The nearest airports are at Chandigarh (95 km), and Dehradun(126 km). The nearest airport in Himachal is Jubbarhatti 158 km.
Rail: The nearest railheads are at Ambala (95 km), Dehradun, and Chandigarh. Nearest broad guage line is Yamunanagar 106 km.
Road: Renukaji is 335 km from Delhi. Taxis/buses are available for Renukaji at all places.
Distances : Nahan 36 km., Shimla to Renuka 165 km., Delhi to Renuka Lake 315 km. Chandigarh to Renuka Lake 123 km.
Accommodation
There are ample accommodation options available in Renuka. There are the standard hotels as well as the economy hotels to cater to the accommodation needs of the tourists to Renuka. Other options like the resorts and forest rest houses are also available at Renuka. The Himachal Pradesh Tourist development Corporation also caters to the needs of the tourists.
Attractions
Renuka Fair
The reunion of mother and son is celebrated at the annual Renuka Fair in November where people come to seek the goddess' blessings for a happy and prosperous family life. Caps and turbans are exchanged as symbols of brotherhood. Processions of twelve local gods visit the Devi's temple during the fair. A number of food kiosks and entertainment pavilions are also set up for visiting pilgrims.
Things to do
Lion Safari: Directly adjacent to the zoo is the Lion Safari, a large enclosure. An armoured van is the preferred means of observing these big cats, from a close range.
District
Sirmaur District
Best time to visit
April to June and September to November