Paonta Sahib is a bustling town situated on the bank of the river Yamuna, is famous for a Gurudwara dedicated to the tenth sikh guru, Gobind Sigh, who spent five years here. It recalls his presence even in the name of the city which is derived from Paonta meaning "foot", either because he set foot on this place or, according to an alternate story, he lost an ornament which he wore on his foot called "Paonta" while bathing in the Yamuna river.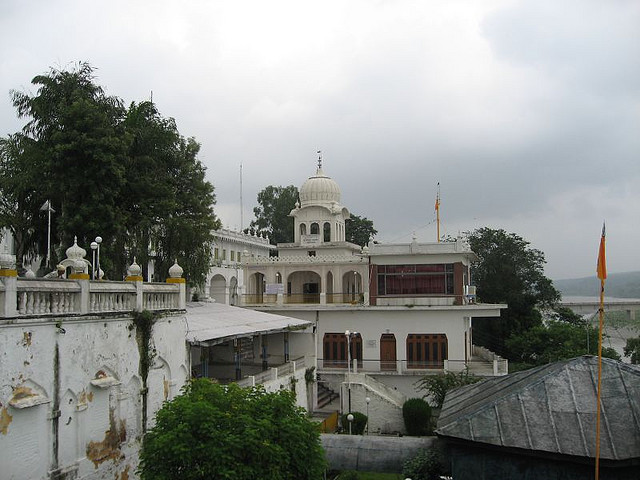 History
The land was discovered by the 10th Sikh Guru, Guru Gobind Singh, who was encouraged by Raja Maidini Prakash of Sirmour to leave his home town of Anandpur Sahib at the age of 16 to take up meditation in this place. He also taught many of his disciples here. A Gurudwara (called the Paonta Sahib Gurdwara) has been built over the very same spot on the banks of the river where Guru used to meditation. It is believed that the rushing waters of the Yamuna became silent while flowing by so that the Guru would not be disturbed.
Accessibility
Air: The nearest airport in Himachal is Jubbarhatti 145 km.
Rail: Nearest broad guage line is Yamunanagar 56 km.
Road: Almost each and every part of the state is linked by roads. The Himachal Road Transport Corporation is running its buses covering the whole state. There is huge network of HRTC to cater the needs of the people.
Distance: Nahan 45 km., Shimla to Paonta Sahib 258 km., Chandigarh to Paonta Sahib 132 km.
Things to do
Trekking
Trekking is a popular activity here. One of the more popular trekking trails include the scenic spot at Choordhar, meaning 'silver bangle mountain'. It is more than 3,600m above sea level. Equally interesting are certain other less traveled trekking routes, but are well accessed with the help of a competent guide.
Best time to visit
March to November
Famous For
Paonta Sahib is an important pilgrimage destination for Sikhs and Hindus.