Patna, once called Pataliputra, is one of the oldest continuously inhabited places in the world with unbroken history of many centuries as imperial metropolis. Many renowned personalities including famous astrologists and scholars Ashvaghosha, Vatsyayana, Chanakya, Aryabhatta, Sthalabhadra and Panini lived here. It has been a part of the Delhi Sultanate and the Mughal Empire, and has seen the rule of the Nawabs of Bengal, the East India Company and the British Raj. The modern part of the city lies on the southern banks of Ganga, while the old part of the city is called Patna City which is also an important trading center.
At present, Patna is an important business center of eastern India and most significantly, it is a gateway to the Buddhist and Jain pilgrim centres of Vaishali, Rajgir, Nalanda, Bodhgaya and Pawapuri.
Image Credit: http://www.flickr.com/photos/28028849@N02/3747115478/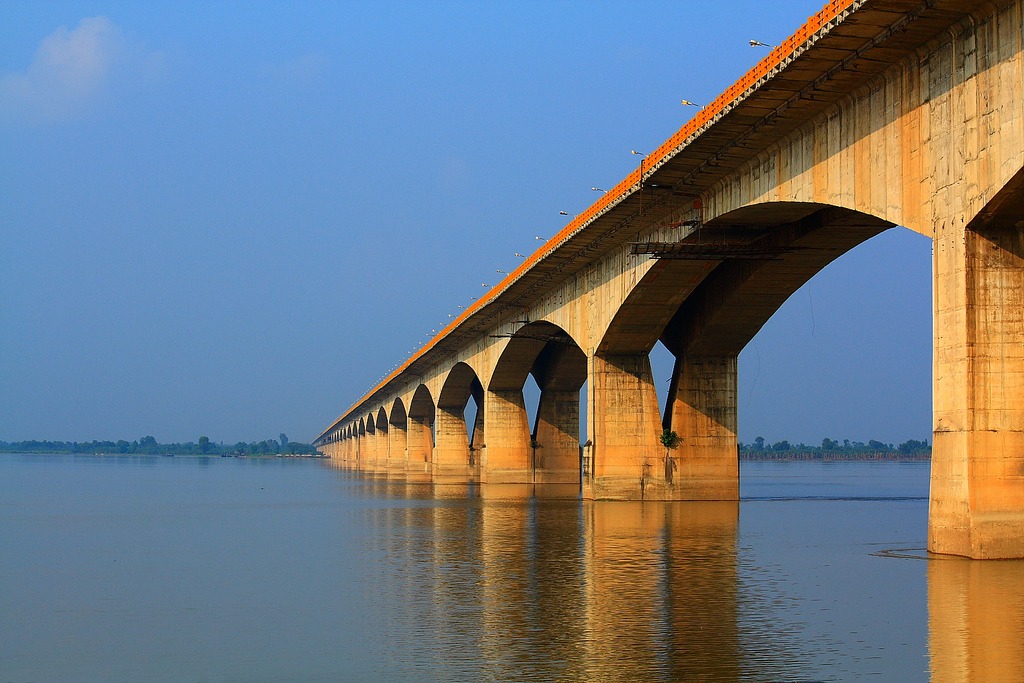 History
Records of the city date back to the 6th century, making it one of the oldest cities in India.
In ancient times the city was called as Pataliputra and held glory as a centre of the Magadhan and Mauryan Empire. However the most remarkable times of Patna were under the rule of Sher Shah Suri who revived Patna in the mid 16th century visualizing a town with a fort on the banks of the river Ganges.
Accessibility
Air
Sahara India and Indian Airlines flights connect Patna with Bombay, Calcutta, Delhi, Lucknow, Ranchi and many other major cities.
Rail
Patna is connected by rail to Bombay, Calcutta, Guwahati, Ranchi, Varanasi.
Road
All - weather motorable roads connect Patna with the rest of Bihar. There are also regular inter - state bus services.By road Patna to Nalanda-95 km, Rajgir-110 km, Pawapuri-90 km, Gaya-120 km, Bodhgaya-135 km, Raxaul-210 km, Ranchi-335 km, Muzzafarpur-78 km, Sasaram- 152 km, Vaishali-56 km, Calcutta-653 km, Delhi-997 km. Bus : Regular direct bus services connect Patna to Calcutta, Rajgir, Nalanda, Pawapuri, Vaishali, Gaya-Bodhgaya, Ranchi, Raxaul, Muzzafarpur, Sasaram
Shopping
Bihar is famed for its textiles, particularly its hand-woven raw silks called tussar. So do look forward to buying a lot of fabric. You will also get the Madhubani and Mithila style of paintings on paper, textiles and bedlinen, here in Patna. The Madhubani and Mithila styles owe their origin to the decorative wall paintings done on the mud walls of village houses by the women folk. These paintings almost always depict scenes from daily life, native flora and fauna, religious rituals and mythological gods and goddesses. Maurya Lok and Hathwa Market are busy shopping areas. New shopping malls have sprung up all over the city.
If you love shopping during any trip, then Patna is an ideal destination for you. Patna and the nearby region are known all over the country for a rich tradition of handicrafts. Madhubani painting is a famous handicraft of the state of Bihar and mostly practiced by the village women. The school of Madhbani painting represent mythological tales and incorporating figures of local deities and Hindu gods and goddesses as well. When you shop in Patna do not forget to pick some item of Madhubani painting. Over the ages the artisans of Bihar have perfected themselves in the art of stone and bead jewellers, stone pottery etc. these are very popular among the shoppers. Some of the famous artifacts include hand-painted wall hangings, miniatures in paper and leaves and appliqué work on fabric. In addition to these, wooden furniture and leather goods are other must buy in Patna. Maurya Lok Complex, Patna Market, Hathua Market are the most popular markets of Patna where you would be able to check out huge variety of artifacts and other items. Shops of Khadi Gramudyog and Bihar Handloom & Handicrafts Emporium also offers a wide range of Khadi garments.
The region of has a quite rich tradition of handicrafts. The skilled artisans of Bihar have over ages perfected the art of Stone and bead-jewellery, Stone pottery etc. these are quite popular with those who go for shopping in Patna.
Check out artifacts like: hand-painted wall hangings, miniatures in paper and leaves, appliqué work on fabric while shopping in Patna. Wooden stools, Leather goods should also feature in your shopping cart in Patna.
There are a number of shopping areas in the city that make for fantastic shopping in Patna. Hang out at Maurya Lok Complex, Hathua Market, Patna Market where you would be able to able to explore the large variety of artifacts and compare the prices. The shopping outlets of Khadi Gramudyog and Bihar Handloom & Handicrafts Emporium nearly dot over the cityscape.
Accommodation
A few deluxe hotels available in Patna but there are large number of good hotels in the city. Hotels in Patna offer comfortable and pleasant stay at reasonable prices. Almost all the hotels in Patna have furnished rooms, all state of the art facilities, multi-cuisine restaurants etc.
Deluxe Hotels : Hotel Maurya Patna (South Gandhi Maidan) and Hotel Chanakya (Beer Chand Patel Marg).
Standard Hotels : Pataliputra Ashok (Beer Chand Patel Marg), Samrat International (Fraser Road).
One can stay in western style air-conditioned and non-air-conditioned hotels. There are also a number of moderately priced hotels around the railway station and the airlines office. Tourists can also stay at the Tourist Bungalow (Kautilya Vihar) of Bihar State Tourism Development Corporation.
LUXURY HOTELS IN PATNA
Maurya Patna
Hotel Chanakya
BUDGET HOTELS IN PATNA
Hotel President
Patliputra Ashok
Attractions
Pataliputra Mahotsav
Patna comes alive every March to the Pataliputra Mahotsav , which features parades, sports, music and dancing. The other festival celebrated here with gusto are the Rajgir Mahotsav and the world famous Sonepur Animal Fair held in October/November.
Termperature
Summer 28-40°C, Winter 12-33°C
Best time to visit
October to March