Munnar (Malayalam: മൂന്നാര്) is a town located in the Idduki district of India's Kerala state, situated in the south Western Ghats of India, the name Munnar usually refers to the whole tourist area of the Idukki District of which the town forms only a small part.The name Munnar is believed to be derived from the Malayalam/Tamil words Munu (three) and aaru (river), referring to the town's strategic location at the confluence of the Muthirappuzha, Nallathanni and Kundaly rivers. The Munnar panchayat in the Devikulam block is the largest panchayat in the Idduki district having an area measuring nearly 557 km². Essentially a pass ; the area around Munnar is surrounded by vast jungles and remains wet and cold during most of the year. The entire area of Munnar officially belongs to the government of Kerala; though the Poonjar royal family (its pre-independence owners) have made claims to the contrary. Sprawling tea plantations, picture book towns, winding lanes, trekking and holiday facilities make Munnar a unique experience for the tourist and traveller. Munnar is essentially a tea town. There is a large population of people from Tamil Nadu.
Munnar is one of the most beautiful hill stations of Kerala. Nature blossoms and thrives in full form in Munnar. Munnar is located at the converging point of three mountain tributaries namely, Mudrapuzha, Nallathanni and Kundala. Nestled between beautiful hills and lush green valleys is the scenic locale of Munnar. Your Munnar travel will be definitely worth the time and efforts you are devoting. Anyone visiting India must travel to Munnar, Kerala. This place was a favorite among the British when they ruled India. In fact, the bungalows they lived in so many years back are still maintained properly and people still live in them.
Munnar is famous for its tea gardens and plantations. So much that it has an entire tea museum dedicated just to the refreshing beverage, tea. This museum houses some fascinating antiques and artifacts related to the growth and evolution of the tea plantations in Munnar. The highest peak of south India lies in Munnar and is called Anaimudi. It goes upto a height of approximately 2700 meters. This lovely peak is a favorite place of those interested in trekking and rock climbing. Also, one can go for long walks on the undulating pathways of the hills.
A popular hill station in Munnar is the Devikulam hill station. The name literally means "pond of Goddess". The place has some breath taking locales and the scenery is enough to make you miss a heartbeat. Munnar is often referred to as "Switzerland of India" because of the beautiful locales and scenic landscape. Make it a point that you visit Munnar while your travel to Kerala, India. We assure you it will be worth every minute you spend there.
One of the most popular hill stations in India, Munnar is situated at the confluence of three mountain streams - Mudrapuzha, Nallathanni and Kundala. 1600m above sea level, this was once the summer resort of the erstwhile British Government in South India. Sprawling tea plantations, picture book towns. winding lanes, trekking and holiday facilities make Munnar a unique experience. Among the exotic flora found in the forests and grasslands here is the Neelakurinji - a flower which blooms every 12 years and bathes the hills in a blue hue. The Neelakurinji, will bloom next in 2006 AD. Munnar also has the highest peak in South India - Anamudi - Which towers over 2695 m and is an ideal spot for the enthusiastic mountaineer.
Image Credit: http://www.flickr.com/photos/jocalling/9913947/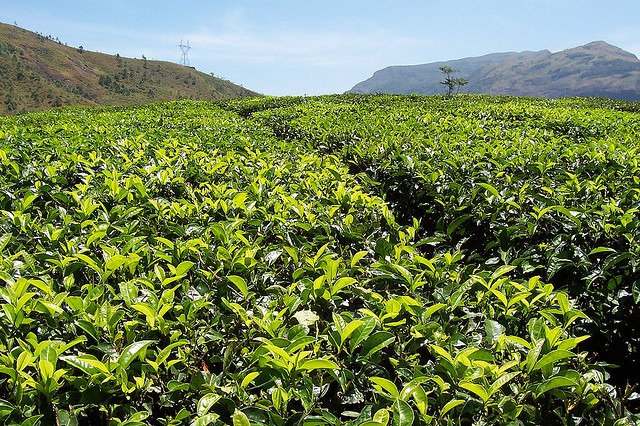 History
In both Malayalam and Tamil, the word 'Munnar' means three rivers, as it is merging place of three mountain streams. The Duke of Wellington was the first prominent person to visit Munnar.
Munnar was once the summer capital of the British in southern India. Munnar was developed to cultivate tea plants by British although it was first discovered by Scottish planters. In the early developmental stages only Tamilians worked ther as few Malayalis inhabited in that area Munnar.
But later more and more Malayalis were recruited as employees to work in plantations and bungalows, that were build for estate managers of British origin. They occupied most of the top posts. Some of the bungalows that were build for them is still in good condition and being used.The local people here speak Malayalam, the official language of Kerala and since there are a lot of Tamilians, the second language is Tamil.
Munnar has an ancient history and prehistoric relics that can be dated back to Stone Age civilization. The written history begins only from 10th century. In the early 19th century, the headman of the villages of Anchanad, Kannan Thevar, held lands to the north of the high ranges, which belonged to the local Rajah of Poojar.
According to record history, the first tea sapling was planted by A.H. Sharp at Parvathi, part of the present Sevenmullay estate, consisted of 50 acres of land in the surrounding jungle.
J D Munro, a British lawyer and tea planter leased close to 600 sq. km of land around Munnar, which was then covered with thick jungle, from the Poonjar chief, a subordinate of the Maharaja of Travancore. He then cleared the jungle for Tea plantations. This land was later known as Kannan Devan (Kannan Thevar) Concession Land.
Later in 1895, Messrs Finlay Muir & Company bought Munro's land and in 1976 Tata-Finlay Ltd. purchased it. Then in 1983 James Finlay Group sold their remaining share holdings and the company became known as Tata Tea Ltd., the largest integrated tea company in the world.
Accessibility
Air: Nearest major airport is Cochin International airport which is about 125 km away. Taxi services are available from airport to Munnar which cost about Rs 3000. Cochin airport is well connected with all major cities in India and many cities abroad.
Rail: Nearest rail head is Angamaly or Alwaye, both are nearly 120 km away from Munnar. Angamaly is an important rail junction in Ernakulam – Trissur route and is well connected to all cities in India. Taxi from Angamali to Munnar costs about a minimum charge of Rs 2500.
Road: Munnar is connected to other cities in Kerala and Tamil Nadu by state government public transport buses, but are less frequent. Many tour providers arrange packaged bus tours to Munnar from Cochin. The charges will be about Rs 1000 per head.
Shopping
Munnar''s greatest buy is, of course, tea. Tea is in fact, probably one of the few things that are really worth buying from Munnar. In Munnar you can also buy luscious strawberries and locally produces spices but nearly all other so-called souvenir items, such as coir or metal ware, are from another part of Kerala.
Munnar is essentially a hill station. Hence, there is hardly any scope for shopping in Munnar as such. In Munnar, shopping areas are limited to just small markets and shops that sell small items as souvenirs. You may not find information on where to shop in Munnar. So the question of what to buy in Munnar doesn't quite have an answer.
Munnar is famous for its tea and spices plantations. So if you want, you can buy different varieties of spices and different varieties of tea. You can get the spices packed in small transparent pouches and take them home. Better still, visit a factory and they will be all the more glad to give you free samples of their spices and tea leaves. Apart from that, you can always shop for small handicrafts and other knick-knacks that are easily available in the roadside shacks. While in Munnar, it is better if you look out for the small items that can be given as souvenirs than hunt for branded stuff that are available all around the world.
Accommodation
Accommodation at Munnar is provided by a range of hotels including expensive hotels and low budget lodges. Some known accommodation providers in Munnar include :
Expensive Hotels and Resorts - Windermere Resort, Mahindra Resorts, Sterling Resorts, Hi-range Club.
Budget hotels and lodges - Issac's Residency, Edassery Eastend Hotel, Holiday Inn, Hill View, Marthoma Rest House.
The hill resort of Munnar attracts tourists who come here to spend a holiday amidst the beauty of Nature- the tea plantations and spice gardens. The hotels in Munnar accentuate the tranquility outside by offering a quiet and comfortable stay. Hotels in Munnar are symbols of elegance and hospitality. You can choose from a range of cuisine- South Indian, North Indian and Continental.
Some of the prominent hotels in Munnar are:
Five Star Hotels in Munnar
Club Mahindra Lakeview Resort
Four Star Hotels in Munnar
Best Western Fort
Three Star Hotels in Munnar
Sterling Day's Inn
Tall Trees
Edassery Eastend
Resorts in Munnar
Abad Copper Castle
Attractions
Nehru Trophy Boat race
The most popular festival in Munnar is the Nehru Trophy Boat race . It''s a much anticipated festival held in the month of August. The race begins with a colourful procession of decorated boats and floats with people performing on them. The audience enjoys the race from pavilions set up on the banks as well as in the middle of the lake.
Things to do
Rock Climbing and Rappelling: Rock climbing is rightly done as places in and around Munnar is ideal for such activities. Extreme sports lovers can enjoy the rock faces and daring youngsters can enjoy their venture by rock climbing and rappelling.
The invigorating rock climbing sessions is conveniently possible with the assistance of the tourism promoters as they offer details regarding the depth and its dangers. Walking or bicycling setting off for a stroll gives an appetite to explore this unique and serene place amidst the foothills.
More than a venture it is a pleasure to go for rock climbing in the steep hills and aroma of tea.
Termperature
Summer 20-36°C, Winter 16-32°C
Best time to visit
September to May
Famous For
Tea and Coffee gardens, Eravikulam National Park