Kovalam, a small town located 16km from Thiruvanathapuram is famous for its beautiful beaches. Its sandy beaches are lined with palm-fringed lagoons and rocky coves. Kovalam with its unique and wonderful beaches is a sheltered bay and is endowed with unusual natural beauty. The Arabian sea coast at many places is lined with beautiful patches of coral reefs. An hours drive from the capital, it is the most famous south Indian beach, popular for sunbathing.
It was during the 1930's, that the potentiality of Kovalam beach as a tourist destination was discovered by the European guests of the then 'Travancore' kingdom. But the real fame as an ideal beach resort was won later for the Kovalam beach in the early seventies with the arrival of masses of 'Hippys'. In the seventies Kovalam became a hippy idyll, a fishing village providing fresh fish, fruit and toddy (coconut bear) nestling a picture perfect tropical beach. Later it developed into a laid back tourist hangout with a few basic but comfortable lodges and makeshift restaurants. But today this tiny beach is ferrying thousands of tourists from all around the world and has a wide range of accommodation for the budget as well as luxury tourists.
Kovalam consists of three adjacent coconut palm fringed crescent beaches separated by rocky promontories. The southern most beach, marked by a prominent red and white striped Light House, known as the Light house beach, is the most popular of the three. It is lined with cafes/restaurants serving delicious seafood especially prawns and lobsters, bars and vendors selling clothes, crafts, carpets, fruits etc. Further south beyond the light house, is the small village of Vizhinjam. Vizhinjam, scarcely visited by tourists is a major centre for fishing. It has a beach of its own.
The northernmost beach is the Samudra, dotted with traditional fishing boats and is least affected by the changing times. In between lies the Hawah or the Eve's beach. North of the Eve's beach on a rocky promontory lies the award winning resort, the Ashoka beach resort which divide the beaches into north and south sections. The resort has its own small section of private beach and provides windsurfing and sailing boat facilities. Its a 15min. walk between the Ashoka and the Light house.
The beaches are generally safe and clean. The best season is from December to March. There are life guard patrols on the beach, but you still need to be careful when swimming. It is safest to swim between the flags in the area patrolled by the life guards. Besides swimming and sunbathing, the natural bay is ideal for kayaking, surfing and skiing. Surfboards and boogie boards can be hired on the Kovalam beach. Marine Angling for deep-sea fishing is also available at the beach. The sunrise and sun set cruises in country rafts or on logs of lashed woods on catamarans, provided by local fishermen are quite popular.
Beyond the season from between April and October the powerful Arabian Sea can roughen with swells of up to 6m. From May the sea level rises removing the beach completely in places and swimming can become very dangerous.
Kovalam is also a centre for the traditional Ayurvedic treatment. Many hotels offer complete health and revitalization packages. Apart from Oil massages, intensive treatments that last up to 21 days including special diet's and daily massages are offered. Yoga schools offering meditation and yoga classes, are also plenty in and around Kovalam beach. Cultural programmes at the beach include performances of the traditional Kerala art form, Kathakali and ethnic martial art, Kalarippayattu.
Image Credit: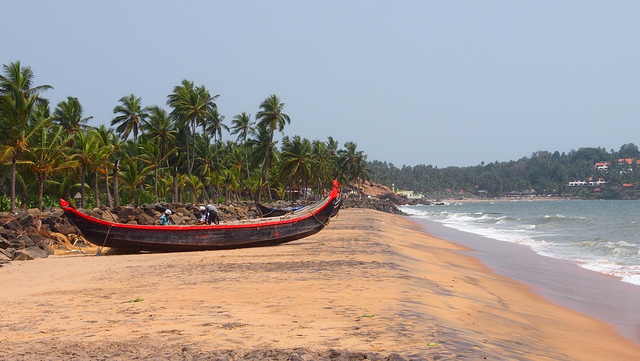 History
Kovalam in Kerala is one of the hottest tourist destinations of the country. The Kovalam Beach lies very close to Thiruvananthapuram with a distance of only 16 Kilometers. The much publicized beach of today was once a tranquil village along the coast line. The Kovalam History tells us the story of transformation of the serene hamlet into a vibrant tourism site.
The Maharajah of Travancore will always hold a significant part in Kovalam History. Impressed by the beauty of the place, the King used to spend his leisure time there. His European guests soon came to know about the spot from him and by the third decade of twentieth century, it was made popular by the European visitors.
The greatest boost in Kovalam's popularity came during the 1970s when the Hippies arrived in Kovalam. Enchanted by its beauty and relatively peaceful ambiance the Hippy community came in hordes and in the process made it even more popular.
Tourism in Kerala has reached its pinnacle in the recent years and Kovalam is an integral part of the success story.
Accessibility
Air: Nearest airport is Trivandrum International airport which is about 15 km away from Kovalam. Taxi fare from Airport to Kovalam is about Rs 300. Trivandrum International airport is connected to all major airports in India and it is connected to many cities abroad including Colombo, Singapore and many gulf cities.
Rail: The nearest rail head to Kovalam is Trivandrum Central (Thampanoor) railway station. It is about 15 km away from Kovalam. Trivandrum is well linked with all cities in India through rail. Taxi fare from Thampanoor to Kovalam is about Rs 300.
Road: Kovalam is well linked by the city bus services from Trivandrum and other main junction in the district. Tourist luxury buses are available from many cities like Bangalore, Chennai, Madurai and Nagarcoil to Trivandrum. City bus charges less than Rs 10 from Trivandrum to Kovalam.
Shopping
General stores stock everything that general stores anywhere would. Batik lungis or sarongs are sold on the beach by hawkers who also sell cheap sunglasses and beach equipment. Handicraft shops that sell `ethnic' stuff from Tibet, Rajasthan and Kashmir.
If you thought you could buy only sunglasses in a beach resort, then Kovalam defies your notions of beach shopping. Shopping in Kovalam can be fun if you are planning to carry home handcrafted items as souvenirs and gifts.
Kovalam is famous for statues made of teakwood and rosewood. There are a plethora of shops in Kovalam selling handicrafts, ranging from carpets to clothes. If you are looking for some ethnic clothes and fashion accessory you should check out the shops selling Rajasthani, Kashmiri and Tibetan items. You can also carry the aromas of this beautiful place in the form of spices.
Accommodation
There are a number of good places to stay at in Kovalam. In the high end category good options are the Taj Green Cove, a Taj property and the Leela Kempinski, Kovalam Beach. The Somatheeram Ayurvedic Beach Resort is a great spa retreat. In the mid range category, Travancore Heritage and Kadaloram Beach Resort are good options.
Kovalam is provided with all the arrangements that suit almost any class of the tourists. Located in the region are numerous resorts, premium hotels and economical class. Some known accommodation providers as such include :
Resorts : Somatheeram Beach Resort, Manaltheeram Beach Resort, Poovar Island Resort. Coconut Beach Bay Resort.
Premium Hotels : Surya Samudra, The Travancore Heritage, Swagath Holiday Resort, Taj Green Cove Resort and Spa.
Economy Hotels : Beach and Lake Resort, Palm Shore Hotel, Hotel Sea Face, Hotel Uday Samudra.
Kovalam conjures up before the mind's eye images of palm hemmed beaches, beautiful lagoons and coconut groves. To experience the sights and sounds of this beach getaway, check into the hotels in Kovalam and enjoy the pleasures of a paradise at least for a while.
Hotels in Kovalam range from the luxury hotels to the budget hotels, catering to the demands of all kinds of travelers. Rates are bound to be high during the peak season (December/ April-May) and during the off-season you might be lucky to avail discounts.
What better way to enjoy you r stay in the hotels in Kovalam than sunbathing by the beachside and sipping a cold drink or savoring the delicious seafood sitting amidst the coconut groves. Most of the hotels in Kovalam have facilities for adventure sports like surfing, scuba diving and so apart from swimming and angling.
Prices of the hotels in Kovalam are at the moderate level and are sure not to burn hole in your budget.
Food of course requires a special mention. There are good restaurants in the hotels in Kovalam. Whether a quiet breakfast on the terrace or a leisurely lunch in the mural-painted restaurant or a lavish dinner under the stars - each meal is a treat. If you can brave a little spicy fare, delicious local cuisine would tickle your taste buds.
Here are some select hotels in Kovalam
Budget Hotels
Wilson Beach Resorts
Hotel Uday Samudra
Star Hotels
Ashok Beach Resort
Hotel Samudra (KTDC)
Somatheeram Resort
Manlatheeram Resort
Attractions
Great Elephant Race
The Great Elephant Race attracts hoards of people. It is a splendid march of elephants that takes place in the month of January with 101 strikingly caparisoned elephants march from Thrissur to Thiruvananthapuram with the festival concluding on the Kovalam Beach.
Kerala Village festival
Another festival worth checking out is the Kerala Village festival , which is a ten-day affair during which fairs are held in the villages around Kovalam. The atmosphere is alive with music and folk dances. The festival occurs in the month of January.
Backwaters: A number of backwater cruises are available, you can ask your travel agent to book you one or you can also book one yourself once you arrive in the city. The cruise will take you to the ravishing backwoods or Kerala, you can enjoy the lush green forests besides the backwaters and enjoy splendid scenic views. Most of the hotel in Kovalam rent out Houseboats, catamarans and country boats to the tourists on very cheap rates. The beauty of Kovalam and its splendor can be best pictured in a backwater cruise.
Things to do
Yoga and Meditation in Kovalam
Ancient Indian wisdom has given the practical science of Yoga which provides mental peace, radiant health and spiritual fulfillment amidst modern life intense stress. As Yoga and Meditation is becoming Kerala's big tourist attraction, so a crop of ayurvedic ashrams, clinics, resorts, centres and spas have mushroomed all over the Kovalam town as well as Beach.
At Kovalam, almost all reputed hotels have their own Yoga and health centres where you can learn the intricacies and dynamics of Yoga and meditation taught by experts. Besides, there are several Yoga schools offering yoga and meditation classes, in and around Kovalam beach.
Some of the popular Yoga and Meditation centres in Kovalam include Somatheeram Ayurvedic Beach Resort, Kovalam Ashok Beach Resort, Ayushya Ayurvedic Centre, Franklin Ayurveda Centre, Hotel Samudra, Medicos and Gopals Ayurvedic Beach Resort.
District
Thiruvananthapuram
Termperature
Summer 20-36°, Winter 16-32°C
Best time to visit
October to March, for ayurvedic treatment - June to September
Famous For
Backwaters, Beaches