Kanchipuram is one of the most sacred Hindu pilgrimage sites in India and the seat of the Shankaracharya.
Situated 70 km from Chennai and located on Bangalore-Chennai highway, Kanchipuram,'The Golden City of Temple' is one of the seven great cities of ancient India and only one south city of Vindhyas. The city of Kanchipuram has served as a royal capital to the greatest empires for centuries and this is reflected in the many exceptional temples that are constructed in different styles by different rulers. Kanchipuram has a mention in the early Tamil literature and even in a Buddhist classic that describes the city the way it was in 2nd century which clearly shows that it served as an abode to Buddhist religion as well. In the present era, Kanchipuram is considered an important pilgrim destination for Hindus due to the cluster of holiest of temples. These temples also attract lots of tourist, as these temples are so magnificently build that they virtually take the travelers to the era in which they were built.
Kanchipuram is among one of the seven sacred cities in India. Located on the Palar River this temple town is known for its architecturally designed temples and its beautiful hand woven silk saris. The city of Kanchipuram or Golden City of Temples as it is commonly known has over one hundred temples.
Kanchipuram is regarded as one of the oldest cities in South India. It was a city of learning for both Tamil and Sanskrit scholars. The city was the capital of the Pallava rulers and these rulers built a number of temples during their reign. It is also believed that Buddha visited this temple town.
Robert Clive, of the British East India Company, is said to have given an emerald necklace to the temple which is still used to decorate the deity on occassions.
The city has also become famous as the Silk Town since it is home to the finest silk industry in India. Kanjeevaram silk woven out of pure mulberry is considered the best in luster, contrasting colors, and durability. Do visit any famous silk saree store in the city and choose your pick from the innumerable dazzling silk sarees that will give you a look into the world of Indian traditional wear. Kanchipuram through all these ages have been able to safeguard what it has got the most, Heritage and Chastity.
Kanchipuram can be visited anytime as the climate is bearable throughout the year. Though the temperature gets to high thirties in the mid-summer but the cool and refreshing wind blowing from the Bay of Bengal makes a walk even at noon time quite pleasant and delightful, and you actually consider the high temperatures as a boon in disguise. After exploring the thousand majestic temples that dot this land, and going through your shopping spree, if time permits, visit the sedate Vedanthangal and Karikili Bird's Sanctuaries that apart from giving glimpses of beautiful birds, provides the silence that we wish for embedded with the melodious chirping of birds. Come to Kanchipuram and discover a new way to lead your life.
http://www.flickr.com/photos/nimbupani/2347168211/in/set-72157604147998…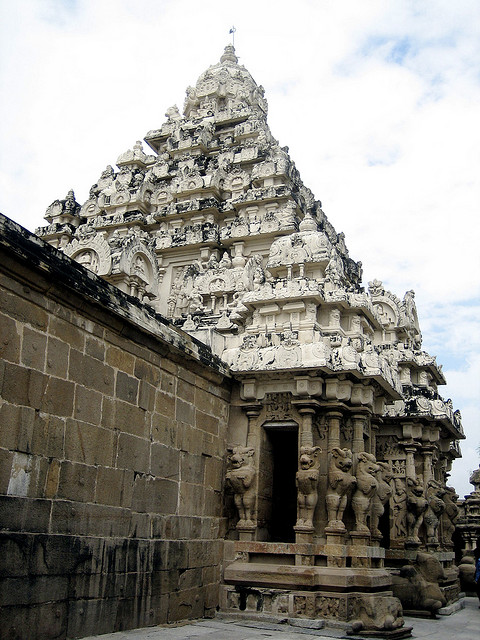 History
Kanchipuram or the Golden City of Temples is one of the most important centers of Hindu religion and also one of the most picturesque. The place is one of India's seven sacred cities and the second holiest after Varanasi.
The city was once the capital of the Pallavas, Cholas, and the Vijayanagar rulers. It was under the Pallavas from 6th to 8th century AD but, during that period, was also briefly occupied by the Chalukyas, and the Rashtrakutas. Many of the temples situated here are the work of the Pallavas and later Cholas.
The remains of a few Buddhist stupas are indication that Buddhism also prevailed here for a little while. One of the four seats of Sri Adi Shankaracharya (a great Hindu sage), the Kanchi Kamakotti Peetham is situated here. It has been a center for Tamil learning and culture for centuries and presents the glorious Dravidian heritage of the Vaishnavites (worshippers of Vishnu) and Shaivites (worshippers of Shiva).
Accessibility
Air: Nearest airport is Chennai International airport, which is 75 km away from Kanchipuram. Prepaid taxi fare is about Rs 1100 from airport to Kanchipuram.
Rail: Kanchipuram rail line is connected to Chennai, Pondicherry, Nagaercoil and Madurai. Only few trains run through Kanchipuram.
Road: Many buses are available between Kanchipuram and Chennai. State owned public transport system connects Kanchipuram to many cities in and around Chennai. Private tourist bus services are also available from Kancheepuram to Chennai and also to Bangalore. It costs about Rs 3 per kilometer.
Shopping
Kanchipuram is synonymous with silks and silks! The Kanjeevaram saris of Kanchipuram are the finest and the most beautiful in the world. In India they are usually passed on as heirloom from mother to daughter.
Kanchipuram has a history of weaving dating back to about 400 years with silk weavers settling in this temple town. Even today there are more than 500 families engaged in the exquisite art of weaving silk. Kanchipuram silks are woven from silk worms bred purely on mulberry. Kanchipuram silks saris are woven using a dazzling array of colorful threads and fine golden thread or zari into alluring patterns depicting traditional temple motifs.
Shopping in Kanchipuram for silk saris and fabrics can be done at handloom co-operatives who run their retail outlets. Besides silks, you can buy artifacts like fruit baskets, candle stands, and jewelry boxes and idols of gods and goddesses. These made of stone, bronze, brass, copper and jute make good gifts and souvenirs to carry home from Kanchipuram.
Accommodation
There are good hotel accommodations in Kanchipuram from deluxe hotels to the budget hotels. Hotels in Kanchipuram are known for their traditional warmth and hospitality. For those who enjoy south Indian cuisine, you can savor the range of delicious cuisine at the hotels in Kanchipuram.
Some of the prominent hotels in Kanchipuram are:
Jayabala International
T M Hotels
Babloo Soorya Hotels
M M Hotels
Attractions
Kanchipuram Silk Sarees
The temple city of Kanchipuram is also the silk city of India. It has a thriving handloom industry with an enviable reputation as the producer of the best silk sarees in India. The silk weavers of Kanchi settled more than 400 years ago and kept up an unflinching tradition of producing impeccable silk sarees.
Each of the Kanchipuram silk saree is unique in itself since it is entirely hand woven with dyed silk yarn with interleaved designs made with 'Zari' - a Silk thread twisted with thin Silver wire and then gilded with pure Gold.
Termperature
Summer 21-36°C, Winter 19-28°C
Best time to visit
Throughout the year
Famous For
Kanchipuram is one of the most sacred Hindu pilgrimage sites in India and the seat of the Shankaracharya.