Hampi is a small village in the northern Karnataka state, earlier being the capital of Hindu empire, Vijayanagara, who ruled south India during 14 th to 16 th century AD. The ruins of Hampi are an amazing treat full of history, architecture and religion. Hampi is a declared UNESCO's world heritage site. Hampi is spread over an area of 25 sq. kms packed with giant temples, palaces, market streets, aquatic structures , fortifications and an abundance of other ancient monuments.
Hampi is famous for its ruins belonging to the erstwhile medieval Hindu kingdom of Vijaynagar and it is declared a World Heritage site. The temples of Hampi, its monolithic sculptures and monuments, attract the traveler because of their excellent workmanship. The Hindu style of architecture found at Hampi reflects the splendor of the Vijaynagar Empire. The rugged landscape adds to the historic ambience of this site.
Located on the serene banks of Tungabhadra River, Hampi has in its proximity the city of Bangalore (353 kms), Bijapur (254 kms), Bellary (74 kms) and Hosapete (13 kms). The nearest rail head for Hampi is at Hospet.
Hampi is located in the central part of the state of Karnataka, in the southern part of India. It is 353 km from Bangalore, and 13 km from Hospet. It is located on top of a rugged terrain and is 467 m above sea level. Tungabhadra River flows through Hampi. It has a tropical climate with hot summers (April-June), and cool winters (October-February). It experiences the southwestern monsoon rains from June to August.
Saint Vidyaranya established the seat of Vijayanagara Empire in 1336 A.D, with the help of his devotee disciples Hakka and Bukka. The empire later became famous for its support towards renovation/reconstruction of temples through out India. It also became renowned for re-establishment of Indian culture, its support for music, art and literature. With the prime purpose of caring for the people and their welfare, this empire stretched physically covering Karnataka, Andhra and Maharashtra and became a by-word for golden rule.
HAMPI, the seat of the famed VIJAYANAGARA Empire was the capital of the largest empire in post-mogul India, covering several states. The empire reigned supreme under Krishnadevaraya, the Emperor. The Vijayanagara empire stretched over at least three states - Karnataka, Maharashtra, and Andhra Pradesh. The destruction of Vijayanagar by marauding Moghul invaders was sudden, shocking and absolute. They reduced the city to ruins amid scenes of savage massacre and horrors beggaring description.
Although in ruins today, this capital city once boasted riches known far beyond the shores of India. The ruins of Hampi lie scattered in about 26 sq. km area, amidst giant boulders and vegetation. Protected by the tempestuous river Tungabhadra in the north and rocky granite ridges on the other three sides, the ruins silently narrate the story of grandeur and fabulous wealth. The splendid remains of palaces and gateways of the broken city tells a tale of men of infinite talent and power of creativity together with his capacity for senseless destruction.
Hampi has been declared as a World Heritage Site by UNESCO. Hospet is the main town providing the gateway for Hampi.
http://www.flickr.com/photos/jonhurd/2359448303/
http://www.flickr.com/photos/kittell/6209828775/in/photostream
http://www.flickr.com/photos/kittell/6209854687/in/photostream
http://www.flickr.com/photos/kittell/6210354084/in/photostream
http://www.flickr.com/photos/kittell/6210446173/in/photostream
http://www.flickr.com/photos/kittell/6210454337/in/photostream
http://www.flickr.com/photos/kittell/6210981388/in/photostream
http://www.flickr.com/photos/kittell/6210778471/in/photostream
http://www.flickr.com/photos/kittell/6211541896/in/photostream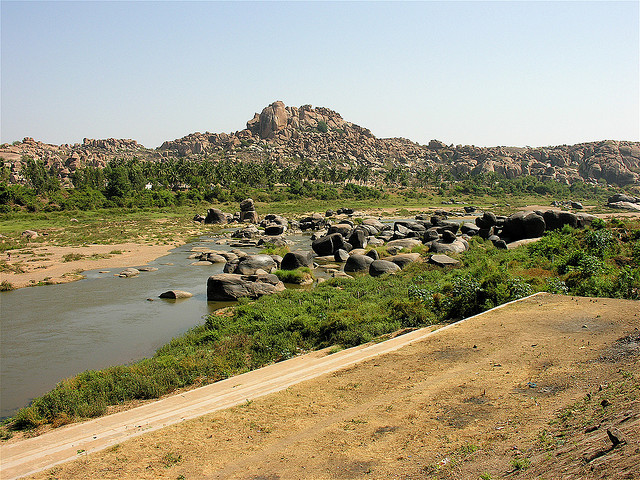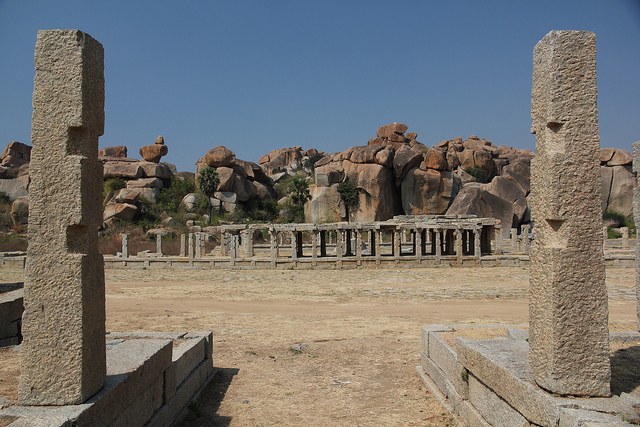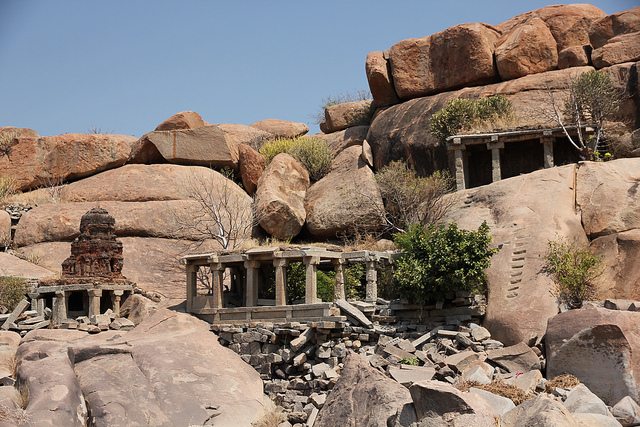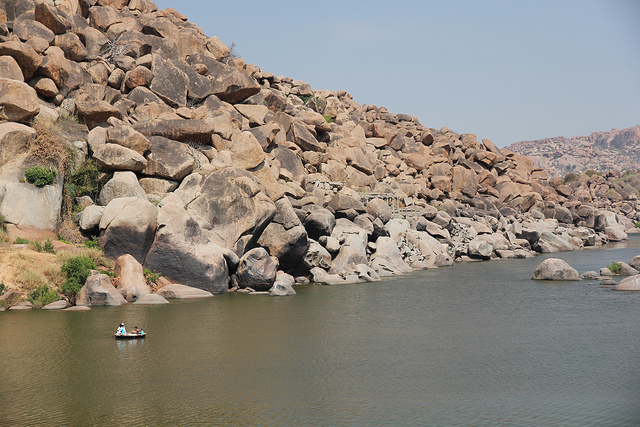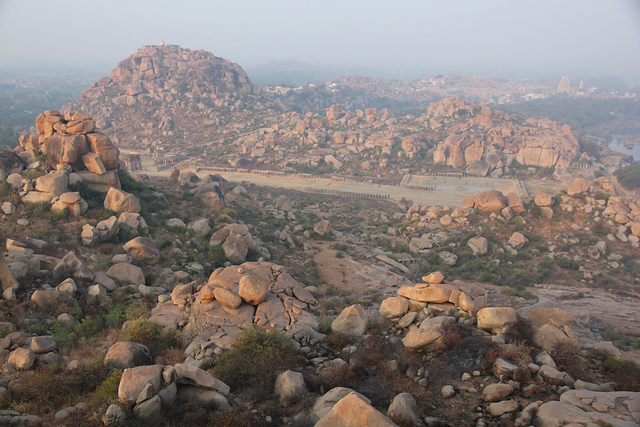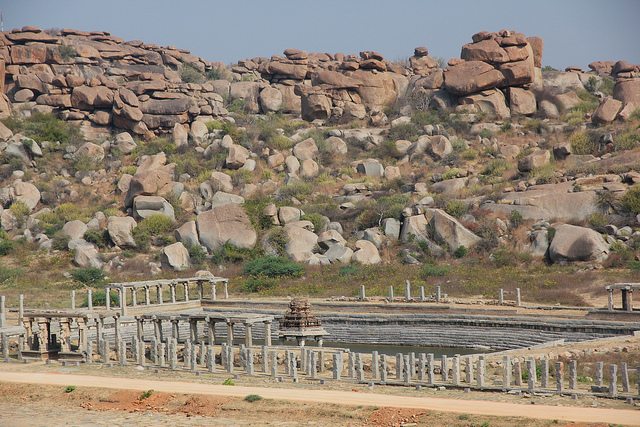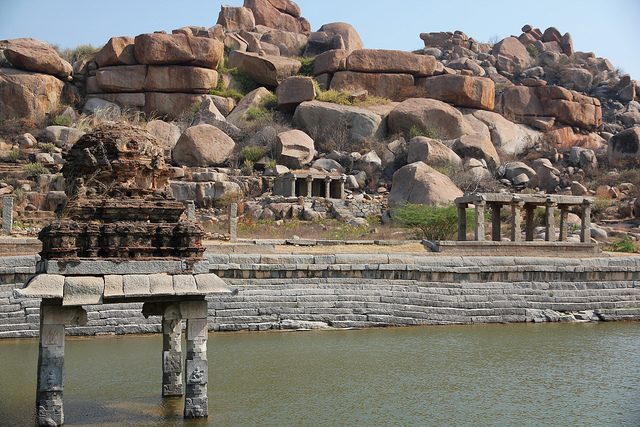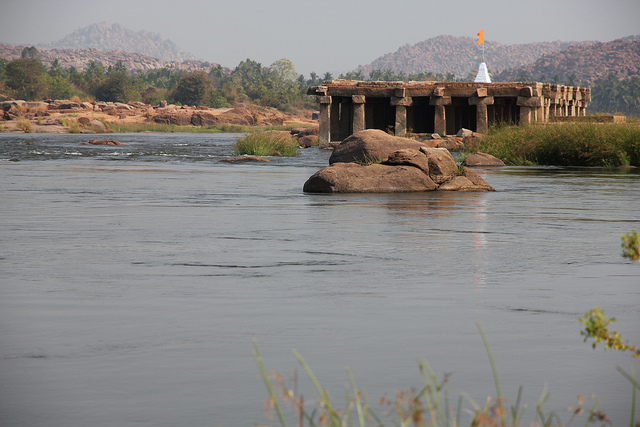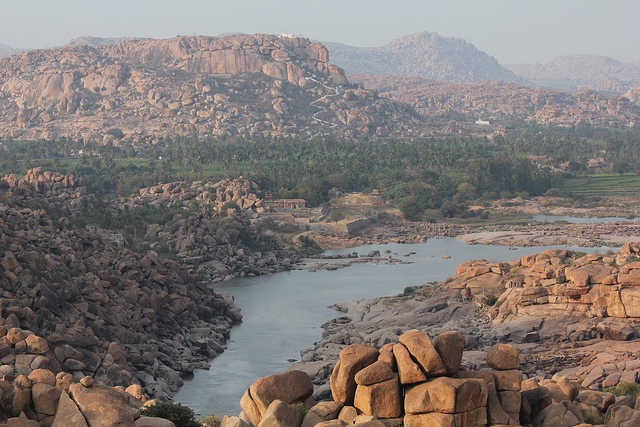 History
The first settlement in Hampi dates back to 1st century AD and a number of Buddhist sites belonging to that time have been found nearby. Hampi was the capital of the mighty Vijaynagar Empire. Vijaynagar was one of the largest Hindu empires in India. Two brothers, Harihar and Bukka founded it in 1336. Krishnadevaraya (1509-1529) was the greatest ruler and controlled almost all of peninsular India south of Tungabhadra River. The town of Hampi in 14th century had a population of half a million people. Seven concentric lines of fortifications protected the city. It maintained a huge army to protects it from other kingdoms. Vijaynagar Empire flourished, as it controlled both cotton and spice trade routes of southern India. Medieval historians refer to Hampi as an important center of trade. However, the glory of Vijaynagar was short lived. With the death of Krishnadevaraya, the combined armies of the five Muslim kingdoms-Bidar, Bijapur, Golconda, Ahmednagar and Berar-destroyed this mighty empire in 1565.
Accessibility
Air: Bellary is the nearest domestic airport, which is about 60 km away and Bangalore is the nearest international Airport, which is 350 km away. Taxi cab costs about Rs 1200 from Bellary to Hampi and Rs 6000 from Bangalore to Hampi. Bellary air terminal is connected to Bangalore. Bangalore airport is well connected to almost all airports in India. International flights to major foreign cities are also operated from Bangalore
Rail: Nearest railhead is Hospet, which is nearly 13 km from Hampi. Taxi cab will charge nearly Rs 200 from Hospet to Hampi. Hospet is well connected to Bangalore, Hyderabad and other major cities in Karnataka and neighboring states.
Road: Hampi is well connected by KSRTC bus services with all nearby cities. There are many private bus providers operating from Gokarna and many places in Goa to Hampi.
Shopping
Hampi, the ancient seat of Vijayanagar kingdom, lie frozen in time. The ruins of palaces, temples and many other royal paraphernalia from an old mighty kingdom lie scattered in and around Hampi.
Today it's like a deserted village. Do not look forward to plush shopping complexes built in glass and concrete or colorful shops overloaded with touristy souvenirs. In fact shopping in Hampi is not the focus of activity. This is the place to explore the ruins reminiscent of a splendid past and be fascinated.
But if you just cannot think of returning from a tour without shopping some souvenirs for your near and dear ones, Travel.Mapsofindia suggests you to shop at Bangalore. Bangalore is the capital of the state of Karnataka. Swanky commercial places, markets for buying souvenirs and local handicrafts abound in Bangalore and would supplement for the lack of shopping opportunity in Hampi.
Accommodation
Hampi does not have many hotels, but the tourist can find a number of lodges and guesthouses. Most of these are concentrated in Hampi Bazaar area near the main bus station and the Tourist Office. Travelers can also find lodges and guesthouses in the area north of the bazaar across the Tungabhadra River. Accommodation in Hampi is very cheap. The Karnataka State Tourism Development Council's hotel Mayura Bhuvaneshwari is located in Kamalapuram area to the southeast of Hampi Bazaar.
Here is a selection of hotels in Hampi:
Hampi Boulders
Mayura Vijayanagar
Hotel Mayura Bhuvaneswri
Hotel Priyadarshini
Attractions
Vijayanagar Festival : An annual festival, the Vijayanagar festival is organised by the Karnataka Government in December every year. The colourful festival recreates the grandeur of the bygone era. People of Hampi and nearby areas participate in this festival with great pomp and enthusiasm.
Termperature
Summer 27-40°C, Winter 20-26°C
Best time to visit
October to March
Famous For
Former Capital of Vijaynagar Empire