Faizabad, situated on the banks of River Ghagra (a small tributary of the Ganges), was founded in 1730 by the Nawab of Bengal, Ali Vardi Khan. Later Shuja-ud-daula declared it as the capital of the Kingdom of Awadh.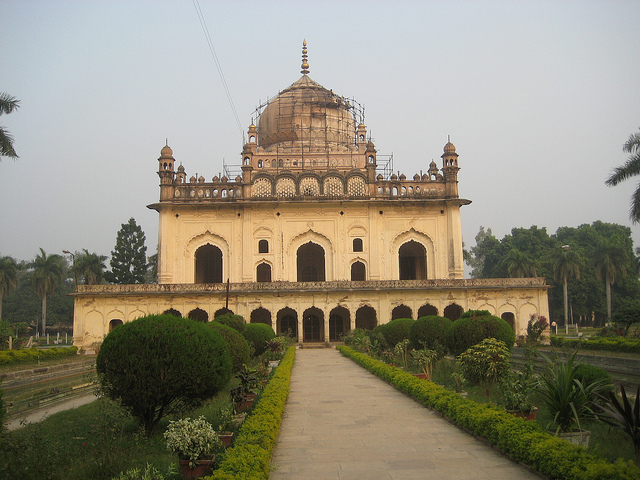 History
The earliest reference made to Faizabad is in the Ramayana, in which the city is referred to as 'Saket', the mythical private estate of King Dashrath, father of Lord Ram. However, more accurately, the reference is found in Medieval and Modern history, when Nawab Sa'adat Khan, Burhan-ul-Mulk was given the charge of the Subah (province) of Awadh (sometimes also spelled as Avadh) around 1722 by the Mughal Court. Nawab Sa'adat Khan made the first settlements along the banks of Ghaghra with a cantonment comprising of a fortress and mud barracks. Due to these temporary dwellings, Faizabad was first known as 'Bangla' (implied meaning- hutment). The city was developed later on by Sa'adat Khan's successor, Nawab Shuja-ud-Daula into a full fledged capital city, with gardens, palaces, markets , roads and other infrastructure. Under Shuja-ud-Daula's reign Faizabad achieved its culmination as an important centre of trade and commerce in northern India and attracted travellers, writers, merchants, artists and courtesans from sll over Europe and Asia. Shuja-ud-Daula also built a fortress on the banks of Saryu after he lost the battle of Buxar in 1764. however, this fort now is nothing more than a hummock.
Faizabad was also a centre of one of many battles of the Mutiny of 1857. A detailed history of Faizabad can be read in 'Tareekh-e-Farahbaksh', written by Mohd. Faiz Baksh, (after whom Faizabad is named) a courtier in the Shuja-ud-Daula's court. This book has been translated into English by Hamid Afaq Qureshi as 'Memoirs of Faizabad'. Faizabad also finds a prominent and detailed mention in 'Guzishta Lakhnau' written by Maulvi Abdul Halim 'Sharar'. The third nawab of Awadh, Nawab Asaf-ud-Dowlah (also, Asaf-ud-Daula), shifted the Capital of Avadh to Lucknow in 1775.
A section of people believe that the prominent Indian freedom fighter and revolutionary, Subash Chandra Bose spent his last days in Faizabad living icognito as a godman called 'Gumnami Baba'. This came under attention when 'Gumnami Baba' died in 1985 and was cremated secretively on the banks of river saryu (a memorial has been built at that place), in the dead of night, in the light of a motorcycle's headlight. Its also said that at the time of cremation his face was disfigured by acid to protect his identity. However, no government enquiry was launched into this matter and the identity of Gumnami Baba still remains an enigma.
Accessibility
Air: Nearest airport is Lucknow airport, which is about 130 km from Faizabad. It takes about Rs 2000 to cover this distance in a taxi. Lucknow is air connected with Delhi. Delhi is the major international airport nearby, which is connected many cities abroad.
Rail: Faizabad railway station is a major station connecting to Lucknow, Delhi, Varanasi and Allahabad. Faizabad is well connected by rail and any cities in India can be reached by trains from Faizabad.
Road: State road transport buses provide public bus facilities at a cheaper rate. Major cities like Varanasi (200 km), Allahabad (160 km) and Lucknow (130 km) are connected to Faizabad by private luxury buses, which charges about Rs 3 per kilometer distance.
Best time to visit
October to March