Coorg (1525 m above sea level), meaning dense forest on steep hill, is 252 kms from Bangalore on the Western ghats. Coorg is said to be Scotland of India, providing tourists view to misty hills, lush forests, coffee plantation, orange groves and breathtaking views. Coorg is a beautiful hill station set amidst verdant valley, surrounded by teakwood forests. The river Cauvery originates in Coorg at Talacauvery.
Birthplace of the River Cauvery and home of some of India's bravest soldiers, Kodagu is noted for its scenic beauty. Hiking, cross-country, or simply motoring down mountain trails in Coorg, the visitor encounters panoramic views of the morning mist rolling down thickly wooded hill slopes and the undulating paddy fields and neat rows of coffee bushes resplendent under the blue skies.
Now a flourishing agricultural center, Kodagu produces cash crops of coffee, rice, orange, pepper and cardamoms.
A friendly warning to all concerned: One trip to Coorg (Kodagu) and it'll haunt you for the rest of your life. You might leave Coorg, but Coorg will never leave you.
That's Coorg for you, incomparable scenic beauty, lush green valleys, coffee plantations, teak wood forests & majestic mountain ranges. Add to that- a strong, brave martial race of Coorgs (Kodavas) that reveres tradition, has a distinct culture and lives life to its fullest.
Coorg is situated on the Western Ghats of Karnataka in South India. For the adventurous at heart, it is an absolute treat. There are trekking, golfing and angling (Mahaseer too!) options available. Religious trips abound on Hindu and Buddhist circuits. Family getaways can be easily arranged. You can also relax your body and mind with special Ayurvedic massages. Coorg is also as trendy and happening as its close neighbour Bangalore.
But the predominant entity here is nature at its best. Coorg is like the dreamland of the philosopher. If you're the type who likes to mingle with nature, romance in the mountains, feel the tingle of the cool and gentle breeze, watch leaves flutter in dance-like movements and hear sounds of birds fill the air, then Coorg is just the place for you.
Image Credit: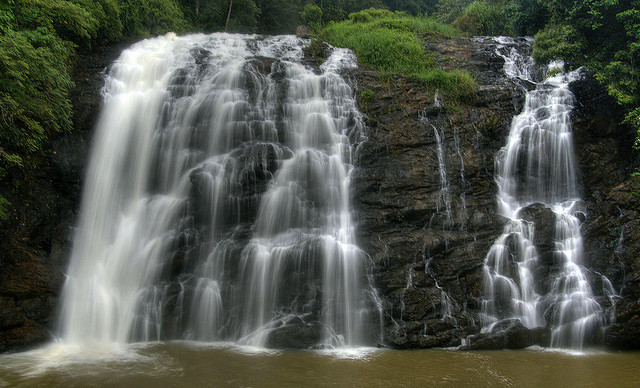 History
Inscriptions on stone and copper dating back to the 9th century provide valuable information concerning the early history of the place. Coorg was believed to have been part of the Ganga Kingdom between the 9th and 10th centuries, followed by a short spell under the Kadambas. During the 11th century, the Kodagu was under the reign of the Chola dynasty who ruled over it till the 12th century. The Kongalvas and Changalvas ruled briefly and subsequently Kodagu remained free till it came under the control of the Hoysalas in the 14th century, the Nayakas in the early 16th century and the Haleri Rajas in the middle of the same century.
Accessibility
Air: Nearest domestic airport is Mangalore, which is 160 km away and International airport is Bangalore which is 265 km away. Mangalore is connected by air to airports in South India, especially to Chennai and Bangalore. Bangalore airport is well connected to many gulf countries and other foreign cities. It takes about Rs 2000 for Taxi from Mangalore to Coorg and Rs 3000 from Bangalore to Coorg.
Rail: Nearest railhead are Managlore, Hassan, Mysore and Thalasserry. Mangalore is the major railway station close to Coorg, Mangalore is connected by rail to all cities in India.
Road: Coorg is well connected by K.S.R.T.C buses from all over Karnataka, particularly it is connected to the cities Mysore (125 km), Bangalore (265 km) and Mangalore (160 km). Deluxe bus services are available from these cities to Coorg. Deluxe buses charges about Rs 2 – Rs 3 per kilometer.
Shopping
Shopping in Coorg is not the focus of activity. This is a land of unspoilt natural beauty. You would not find swanky shopping malls, rising structures in glass and concrete and raucous buyers in Coorg. It is not a typical shopping destination.
But for some, returning from a tour without buying some souvenir for near and dear ones, is just impossible. Coorg has some good news for. Shop for the local produce here. Cardamom, pepper and honey should top your shopping list in Coorg.
You can also pick delicious oranges in seasons while shopping in Coorg.
What else but the natural produce can you get in a destination like Coorg were natural beauty is the highlight. Once you have come to Coorg, buy them to take back. Such things as fresh as here are hard to get in big cities.
Accommodation
With travelers thronging over this beautiful spot, locating a decent Hotel in Coorg is not tough, and that too definitely providing value for money. Look for hotels that shall offer you neat and clean accommodation, hygienic food, warm hospitality and reasonable rates.
Here is a selection of hotels in Coorg:
Orange County Resort
Hotel Coorg International
Club Mahindra Kodagu Valley
Kannika International
Hotel Coorg International, Madikeri.
Hotel Rajdarshan, Madikeri.
Orange Country Resort, Siddapura.
Hotel Chitra, Madikeri.
Capital Village, Madikeri.
Attractions
Coffee:
Coffee, the pause that refreshes is grown extensively in Kodagu on plantations that dot most of the hillsides, with coffee, orange, black pepper and cardamom at the bottom of the slopes, under canopies of huge trees.
Well maintained with modern curing and irrigation, these plantations exude a heady fragrance in April, when the coffee bushes blossom. Coffee picking time is from November to March.
District
Madikeri, Somwarpet, Virajpet
Termperature
Summer 22-40°C, Winter 10-32°C
Best time to visit
April to November
Famous For
River Cauvery, Coffee Plantations