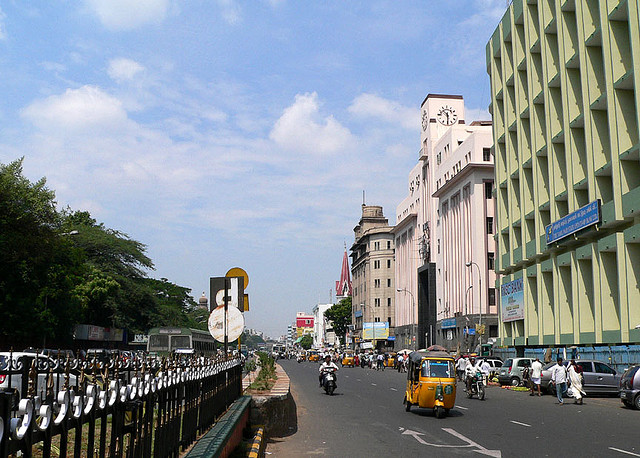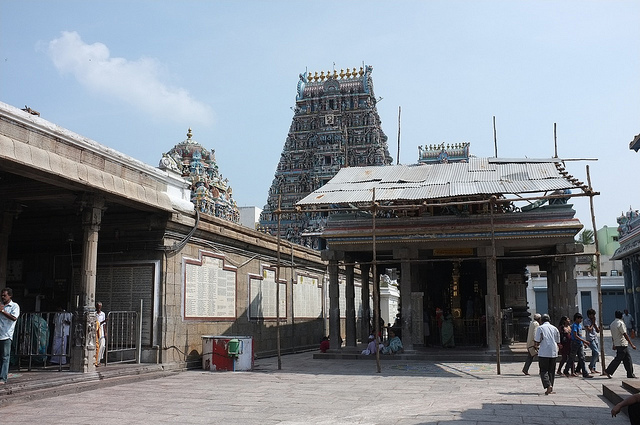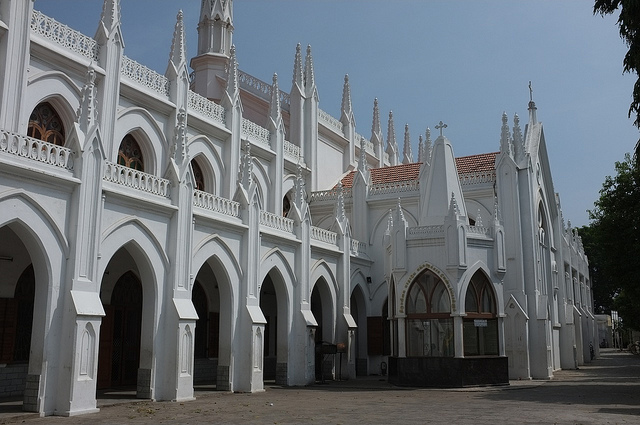 History
Chennai, formerly called Madras, has been present since times immemorial. Whatever is known about the capital city of Tamil Nadu, presently serves as the history of the modern city. Originally Chennai was a cluster of villages, perched amidst paddy fields, bordered by palm trees. The Pallavas, the Cholas, the Pandyas and the Vijaynagar Empire, all the popular dynasties of South India, have had an influence over the city. The origin of the metropolitan city started in 1639, when Francis Day and Andrew Cogan, two merchants of the East India Company, started a factory-cum-trading post here.
A settlement was built to serve as the control centre and it was completed on 23 Apr' 1640, St George's Day and was named as St George's Fort. The native town, officially called George Town, was established outside the ramparts of the Fort. George Town had several crowded lanes and each lane dealt in special trade, serving the British colonists. The Colonial decree made connections with the villages, together with the settlement at San Thome that was established by the Portuguese in the 16th century.
The 7th century Pallava Port, Kapalesvara Temple and Parthasarathi Temple are standing testimony to the fact that Chennai had been present since ages. In 1746, Chennai, along with Fort St George, came under the sway of the French, who ransacked the town and the nearby villages. The British again got command over Chennai in 1749, attributable to the Treaty of Aix-la-Chappell. They fortified the area so that this time no pirate could conquer it. By the late 18th century, they were able to overpower most of the region around Tamil Nadu, Andhra Pradesh and Karnataka and founded the Madras Presidency.
During the British rule, Chennai went under drastic changes, to become a prominent city, with strong naval base. With the introduction of railways in the late 19th century, Chennai got linked with other important cities like Mumbai and Kolkata. Facilities of trade and communication in the city boosted, connecting it with the hinterland too. Chennai was the only city of India that was attacked during the World War.
When India became independent in 1947, Chennai city was declared as the capital of Madras State, which was later renamed as Tamil Nadu in 1968. In 1997, the Government of Tamil Nadu officially changed the name of Madras to Chennai. However, it is the colonial rule which developed Chennai into a major commercial center. In the present day, George Town houses most of the pioneer business headquarters, while the State Government has its nerve centre in the Fort St George.
Accessibility
Air: Anna International Airport at Chennai is connected to many important cities in abroad including Singapore, Colombo. Kamraj Domestic Airport in Chennai is well connected to all major cities in India. All the major airlines provide their service from Chennai to other cities. Prepaid taxis are available and fare about Rs 250 to 300 from Airport to Chennai Central.
Rail: Chennai has 3 railway stations. They are Central, Egmore and Tambaram. Chennai Central is well connected to all the major cities in India.
Road: Chennai metro city is connected to all parts of the India by road. TSTC and other private bus services provide services to all cities in the state. Deluxe Volvo bus services are available from Bangalore, Hyderabad, Cochin and Coimbatore.
Shopping
Chennai is a good place to shop for a large variety of items-- traditional bell metal items, bronze icons, and stone sculpture, as well as other crafts of the southern region at the local shops of Chennai. Besides these, the city of Chennai is famous for the beautiful Kancheepuram hand woven silk sarees.
A wide range of craft shops and various government emporia along Anna Salai specialise in conventional souvenirs and handicrafts made of rosewood, sandalwood, ivory, bronze and silver. Leather goods, silk and hand-woven fabrics, saris and jewellery are available at most of the upmarket shopping centres. The Victoria Technical Institute, run by nuns on behalf of development groups sells traditional crafts, handmade clothing, batik greeting cards, embroidered upholstery and finely carved wooden furniture besides other items. One can visit the Central Cottage Industries Emporium in Temple Towers, Anna Salai, and Nandanam for the choicest arts and crafts. Superbly decorated, it has an excellent range of handicrafts from all over India. For exquisite silks and cottons the government - sponsored Handloom House in George Town, or the more expensive India Silk House on Anna Salai are the right choices. Locals and visitors alike visit Kumaran and Nalli silk stores. In George Town near the Parry's corner are the self-styled duty free shops, which sell electronic goods, sweets and chocolates. Footpath stalls along Anna Salai or in front of Egmore station, are excellent places to pick up cheap 'export reject' clothes.
Burma Bazaar: Chennai is one of the important trade centers of south India and is a good place to shop for a large variety of things. One of the famous shopping places is Burma Bazar, where one can find all sorts of imported goods ranging from electronic gadgets to readymade and perfumes. Trading in almost all kinds of goods from plastic goods to textiles and stationery, and from ready-made garments to household items can be had here for reasonable prices. There are many new shopping complexes that offer a large range of shopping to be done under a single roof, have come all over the Burma Bazar. This is shoppers' paradise.
Second Avenue: Avenue is a common name given to sector of a township, like Anna Nagar, KK Nagar, Besant Nagar etc., in Chennai. Second Avenue means second sector of the specified township. Second Avenue of Anna Nagar has blown up to very famous with its shopping markets. Anna Nagar today is a self-sufficient township with its family entertainment centers, clubs, super markets, restaurants, theatre in addition to religious abodes and the beautiful parks. Anna Nagar is a second hub in Chennai. The Second Avenue in Anna Nagar has converted itself into something similar to a high street. The national and multinational big companies that have put up shop in Second Avenue include Food World, Pizza Hut, Gautier, Crocodile, Hutch Shop and Damro Furniture. Second Avenue became a shopping paradise and all tourists prefer Second Avenue for their shopping in Chennai.
The Weaver's Centre: The Welfare centers for handloom weavers instituted to promote, advance and facilitate the continuous growth of the handloom industry to compete in the global market are the so-called Weaver Centers. Weavers' Service center in Chennai is one of the first four Centers initially established throughout India in 1956. This center is the Headquarters of the Weavers Service Centers in South Zone. Organizational philosophy is "Friend for guidance and partner in progress through skills & technological up gradation and product development" and this center is the symbol and flagship of the victory of cooperation and sincerity.
Accommodation
Chennai Hotels are a perfect blending of tradition and modernity. There are plenty of hotels in Chennai ranging from five star deluxe hotels to the economic budget hotels. There are also beach resorts in Chennai quite popular with corporate executives as they have a variety of stress busting and rejuvenation packages.
FIVE STAR DELUXE HOTELS
Park Sheraton and Towers
Le Royal Meridien
Taj Coromandel
FIVE STAR HOTELS
Chola Sheraton
Fisherman's Cove
Taj Coromandel
BUDGET HOTELS
Aadithya Hotel
Hotel Breeze
Quality Inn Sabari
Attractions
Cuisine - Delight For Tongue
South Indian cuisine from Chennai could be the best memory that you take away from here. From the idlis and vadas, to idiyappam and dosa, Chennai is so full of different delicacies that once you have a taste of them, you will be left asking for more. Having your lunch on a banana leaf might not be on your wish list before you come to Chennai , but after one experience, it will definitely be there on your favorite's list, right on top. For the best in town vegetarian, you can go to Madras Cafe or Raj Restaurant. And for sumptuous non-vegetarian Chettinad cuisine which is considered to be a specialty in Tamil Nadu, Sea food restaurant-Kayal is a great option. Tamil Nadu, especially Chennai, is famous for its filter coffee called as 'Kaapi' without which your trip to Chennai is not complete.
Termperature
Summer 38-42°C, Winter 18-20°C
Best time to visit
November to February
Famous For
Capital of Tamil Nadu. Gateway to South India