Naukuchiatal is small town located at the foothills of the Kumaon Mountains with a magnificent picturesque lake. It means "The lake of Nine Corners" and this lake is fed by an underwater spring and also holds the position of being the deepest lake in the Nainital district. It dates back to the times of Mahbharat, when the pandavas during their time of exile came to Naukuchiatal and Bhimtal.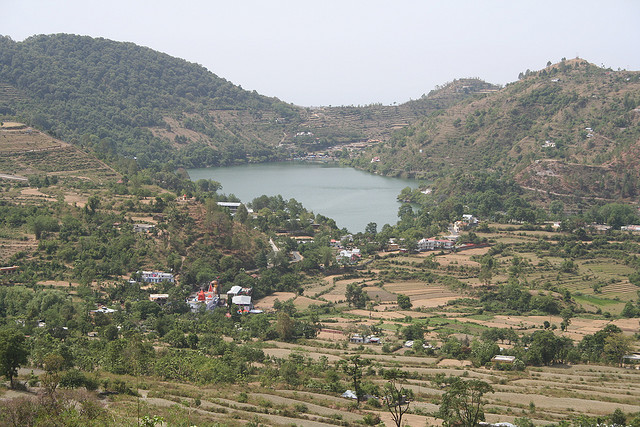 History
According to the Hindu Mythology the Pandavas are supposed to have bathed here. Legend dictates that anyone who spots all the nine corners of the lake at one go attains Nirvana.
Accessibility
Air: Delhi International airport is the nearest one, which is 320 km away from Naukuchiatal. Delhi airport is well connected with major cities within the country and abroad. Taxis are available from Delhi and it takes about 9 hours to reach Naukuchiatal and fare is about Rs 6500.
Rail: Kathgodam Railway station, about 35 km away from Naukuchiatal, is the nearest railhead. Pre-paid taxi services are available from Kathgodam to Naukuchiatal which costs about Rs 750. Regular train services are available from Kathgodam to Delhi and also to other cities in India.
Road: Naukuchiatal is well connected with nearby cities like Nainital (26 km) in the state. Tourist and State owned bus services are available from Delhi to Naukuchiatal.
Accommodation
KMVN Tourist Rest House
Naukuchiatal
Telephone: 05942 – 247138
Things to do
Go Trekking!
Like any other hilly region, Naukuchiatal also offers umpteen opportunities to trek through jungles and orchards. Starting from the lake, different treks are organized to Jandhidhar and Jugliagaon, which are approximately 8 kms from Naukuchiatal. These treks also offer the chance to savor the abundance of flora and fauna of Kumaon.
Try Fishing!
If you want to try your hand at fishing, then the silent Naukuchiatal Lake is the best option for you. However, before indulging in this activity, you are required to secure permission from the local authorities. Once done, you may head towards the lake for fishing.
Enjoy Horse Riding!
For proficient horse riders, Naukuchiatal offers some challenging trails to groom their skills. But here, a novice can also make a move to enjoy horse riding without any ado.
Go Paragliding!
Though here guys won't offer you many gadgets and all that, they have simple equipments which can definitely give you the pleasure of paragliding. So, if you want to fly for few minutes, this is for you to experience.
Happy Boating!
After all boating can be the best activity for anyone in Naukuchiatal. People who don't want to try anything else, they can do boating while enjoying the natural beauty of the surroundings.
Termperature
Summer 15-30°C, Winter 0-24°C
Best time to visit
March to August, October to December