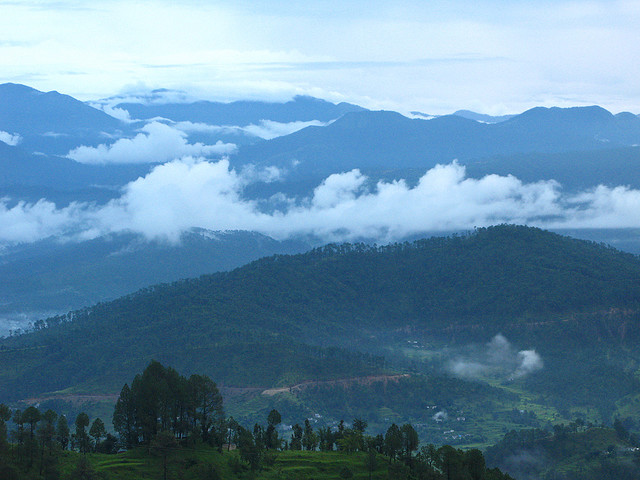 History
Originally this place was called Valna. Later, it was called Kasauni. According to historians, the place where Kasauni is situated, there was a flourishing kingdom called Kartikyapur. The remains and ruins of this kingdom, can still be seen here. As such, there isn't much of history connected with this hill town. In 1929,Gandhiji, spend 12 days here and he wrote his book Anashakti Yoga. Kausani is also the birthplace of poet Sumitra Nandan Pant.
Modern History
A picturesque hill station famous for its scenic splendour and its spectacular 300 Km-wide view of the Himalayas.Kausani also offers other scenic and beautiful spots for sightseeing. Snuggled amongst thick, dense pine forests, atop a narrow ridge, the view of the snow covered Trishul and Nanda Devi is so vivid, that one gets a feeling of the snow being within touching distance. Eulogized by poets and philosophers, this scenic and beautiful spot, offers the ethereal sunrise, that has attracted thousands of visitors to this place time and again. In 1929, Mahatma Gandhi stayed here at the Anashakti Ashram, and was greatly impressed by its environs. For Kausani has on offer, something or the other for every visitor from sightseeing, history, sport and pilgrimage to complete relaxation all year round.
Accessibility
Air: The nearest airport to Kasuni is Naini Saini in Pithoragarh, which is nearly 112 km away from the heart of the city. The major international airport near Kasauni is Delhi, which is nearly 425 km away from the city. Pre paid taxi charges nearly Rs 2500 from Pithorgarh to Kasauni and 8000 from Delhi to Kasauni. New Delhi is connected to all major cities in India and abroad by Air.
Rail: Nearest railway station is at Kathgodam. Kathgodam railway station to Kasauni city is about 142 km, which can be covered by nearly 4 hours and for a cab it costs about Rs 2800, one way. Kathgodam is connected to many cities in the state.
Road: Kasauni is well connected by state owned bus services. Bus services connect Kasauni to other hill stations like Almora, Ranikhet, Nainital and Pittorgarh. Many overnight tourist bus services run by private companies are available from New Delhi to Kasauni. The bus charge is around Rs 1200.
Shopping
Kausani is often equated with Darjeeling because of the high quality tea produced here. Buying some packets of tea produced here is a must for every tourist. The tea gardens here are mostly those of Girias Uttaranchal Tea.
Also, you can buy some 'Himalayan Fresh' organic products such as pickles, herbs, jams and honey, local grains like cholai and red rice, rhododendron and other squashes. Kausani grocers also keep local kumaoni products like nutritious madua flour and the gehat and dals that you can buy for a Kumaoni favour back home.
Things to do
Explore Tea Gardens
A trip to Kausani will be considered incomplete if you do not plan a visit to the tea garden in the area. Amongst the most famous tea estates of Uttarakhand, Giria Uttaranchal Tea Estate is located about 5 km from the town, on the Bageshwar Road. With an altitude of about 1200 to 1800 m above sea level, this tea garden provides you with some of the most spellbinding views of the valley below. Do not forget to take some tea from here, on your way back.
Nature Walks
If you love communing with the nature, Kausani will provide you many options to indulge in long, lazy walks, which take you across some of the most scenic vistas and let you explore the natural beauty of the hill resort at your own pace. You can stroll through tea garden herein or even take the trail to Lakshmi Ashram, behind the market (though not much explored, it is surely worth a visit). So, go ahead, enjoy the beauty of nature, while moving from one trail to the other.
Trekking
You name any hill station in India and it will provide you wonderful opportunities of trekking. Kausani is no exception to this rule. The hills around the place, covered with pine and oak trees, have many trails on which you will enjoy trekking with your companions. For instance, Kausani serves as the starting point for treks like Adi Kailash Trek, Base Kausani Trek and Bageshwar Sunderdhanga Trek. You can also trek to Kafni Glacier, which is situated at an altitude of 3853 m. On the way, you will witness several breathtaking views of the mighty Himalayan ranges.
Termperature
Summer 15-30°C, Winter 0-24°C
Best time to visit
April-June, September-November