Abbott Mount is a hill resort offerring panoramic views of Nepal and the snow-capped Himalayan peaks, from Gangotri cliff to the Dhaulagiri range. Apart from its Himalayan surroundings, the destination offers a variety of walkways and trails amidst the pine and deodar forests, with the view of various kinds of exotic Himalayan birds and butterflies.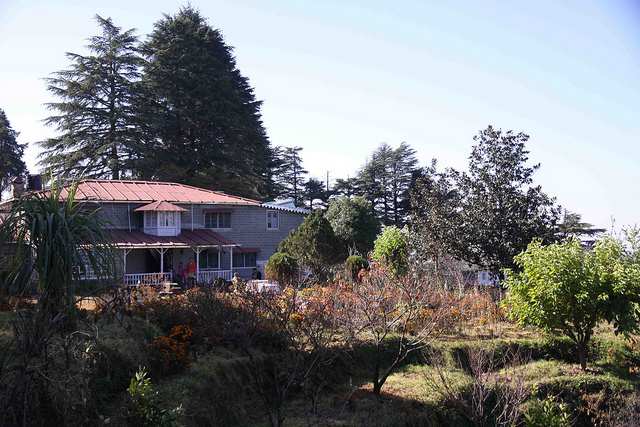 History
Abbott Mount was founded by and named after Mr. John Harold Abbott, a British entrepreneur.
An English businessman who wanted to start a hill station for the European community at the turn of the 20th century. Unlike many Indian hill stations Abbott Mount has changed little since its inception. There are only thirteen secluded cottages spread over this private hill. There is a picturesque church set amidst the forest and and a ancient cricket pitch with an unsurpassed view of the mountains.
Accessibility
By Air: Nearest airport is Naini Saini Airport, about 40 km at Champawat.
By Rail: Nearest railway station is Kathgodam, 163 km away from Abott Mount.
By Road: Many road routes are available from Delhi to reach Abott Mount. Tourist service providers arrange taxi facilities from Delhi.
Shopping
Lohaghat Bazaar is just 6 km away and an easy walk from Abbott Mount. The bazaar with its old silver smiths, local handicrafts and small eating places is worth exploring.
Attractions
Mountain Vistas
From Snow View cottage you can get great views of the peaks of Trishul, Maiktoli, Nandakot, Nandaghunti and Nanda Devi.
Things to do
Fishing
The stretch between Marchula till downstream is a permits site for fishing. This area is famous for Masheers and catfishes. From October to till mid December and then mid February to June are considered as the best season for fishing. Though quite tricky, fishing the Masheers is classy and exciting spot, which give sheer enjoyment. People visiting Abbott Mount never fails to have their luck in fishing.
Location
435 km from Delhi and 9 km from Lohaghat.
Termperature
Summer 17 to 25°C, Winter -5 to 15°C
Best time to visit
Throughout the year
Famous For
An old Bungalow and abundant scenic beauty