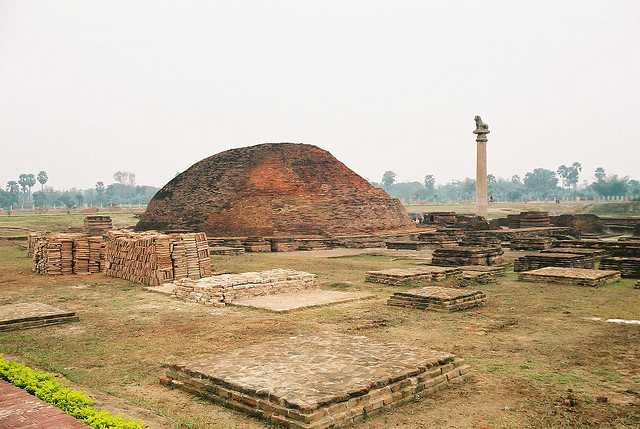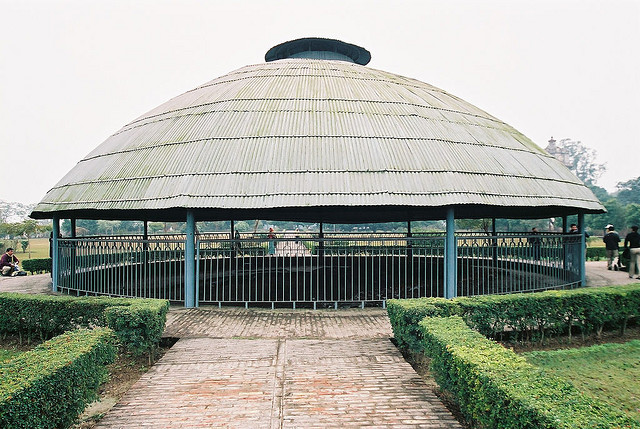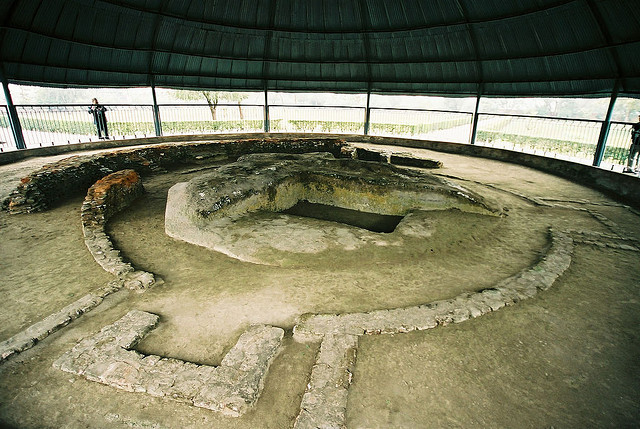 History
The history of Vaishali is very ancient, and finds mention in the Indian classic Mahabharata, as well as in Buddhist and Jain tradition.
Vaishali derives its name from King Vishal of the Mahabharata age. Even before the advent of Buddhism and Jainism, Vaishali was the capital of the vibrant republican Licchavi state since before the birth of Mahavira (c. 599 BC), which suggests that it was perhaps the first republic in the world, similar to those later found in ancient Greece. In that period, Vaishali was an ancient metropolis and the capital city of the republic of the Vaishali state, which covered most of the Himalayan Gangetic region of present-day Bihar state, India. Very little is known about the early history of Vaishali. The Vishnu Purana records 34 kings of Vaishali, the first being Nabhaga, who is believed to have abdicated his throne over a matter of human rights and believed to have declared: "I am now a free tiller of the soil, king over my acre." The last among the 34 was Sumati, who is considered a contemporary of Dasaratha, father of the Hindu god, Lord Rama.
Numerous references to Vaishali are found in texts pertaining to both Jainism and Buddhism, which have preserved much information on Vaishali and the other Maha Janapadas. Based on the information found in these texts, Vaishali was established as a republic by the 6th century BC, prior to the birth of Gautama Buddha in 563, making it the world's first republic.
In the republic of Vaishali, Lord Mahavira was born. Gautama Buddha delivered his last sermon at Vaishali and announced his Parinirvana there. Vaishali is also renowned as the land of Ambapali (also spelled as Amrapali), the great Indian courtesan, who appears in many folktales, as well as in Buddhist literature. Ambapali became a disciple of Buddha.
Accessibility
By Air: The nearest airport is Patna, 56 Km.
By Rail: Hajipur on the North Eastern Railway is the nearest railway station, 35 Km.
By Road: Vaishali is well connected by road to Patna (56 Km), Muzzaffarpur (36 Km) and Hajipur (35 Km).
Shopping
Bihar although has rich tradition of art and craft, Vaishali the site of an ancient civilization, it offers little for shopping in Vaishali.
A hundred kilometer or so from Vaishali, Madhuban is a place famous for painting. The skilled artisans of this area practise a school of painting that is known for its style, motifs and colors. The Madhubani paintings have already earned worldwide fame.
Accommodation
Although Vaishali is an interesting destination with lot of historical interest, there are not plenty of hotels in Vaishali. Vaishali does not have any deluxe hotel, but a number of good accommodation options are available. You may stay at Tourist Bungalow (Ambapali Vihar) and Youth Hostel which offer A/C and Non A/C rooms and other contemporary facilities.
In fact Vaishali lies close to other major destinations in Bihar, like Patna, Bodhgaya from where one can easily visit the destination in a day long excursion. Naturally very few tourists look for hotels in Vaishali.
Still if you need there are a few Tourist Bungalows, which are run by the state government. The accommodation available in the area is chiefly economy class and moderately priced offering decent arrangements.
Except for the Government run hotels in Vaishali, there is a Youth Hostel also where basic amenities are available.
Attractions
Vaishali Mahotsava
Vaishali Mahotsava is an important festival of Vaishali which is held to celebrate the birth anniversary of Lord Mahavir. It is celebrated on the full moon day of Hindu month 'Vaisakh', usually falls in mid- April.
Sonepur Fair
Just 35 kms away Sonpur is situated on the confluence of the river Ganga and Gandak. The town is host to one of Asia's biggest cattle fair which starts from full moon day of Hindu month 'Kartik' (October - November). Millions of visitors come to this fair which lasts for almost a fortnight. During the Sonepur Fair, Bihar State Tourism Development Corporation offers Swiss Cottages with attached baths in the temporarily erected Tourists Village.
Location
55 kms from Patna, Bihar
Termperature
Summer 32-40°C, Winter 19-30°C
Best time to visit
October to March