Thiruthani, a holy village where Lord Muruga rules, is one of the six abodes of Lord Muruga and is located in the District of Tiruvallur of Tamil Nadu State. The famous Subramanya Swami Kovil (temple) in Thiruthani attracts thousands of Hindu devotees to this abode.
The temple is perched on a hilltop approachable through 365 steps, representing each day in a year. A small holy river known as Nandi river flows through the town in its northern part. Kumara Teertha, also popular as Saravana Poikai, is a holy tank in Thiruthani. It is located at the foot of the hill housing the Subramanya Swami Kovil (temple). It is believed that the water in this tank has amazing curative powers. Thiruthani temple has a shrine dedicated to Lord Ganesha, also known as Abath Sahaya Vinayagar
Thiruthani is the home of one of the one of the Arupadaiveedu temples, the six abodes of Lord Muruga or the six battle places where Lord Muruga won over the evils. The other five holy abodes are Palani Dandayudhapani Swamy Temple, Tiruparamkundram Subramanya Swami Temple, Tiruchendur Senthil Andavar Temple, Palamudhircholai Subramanya Swamy Temple and Swamimalai Swaminatha Swami Temple. Religious tour to all these six temples is believed to be very important to gain the blessings of Lord Muruga and exit from the sins in the life.
Santhana Venugopalapuram, earlier known as Nimbaka Kshethram, is a nearby attraction to Thiruthani. The temple enshrining Lord Santhana Venugopalan is the prime attraction in this place. Veetrirunda Perumal Temple is one other religious attraction near to Thiruthani. This 9th century temple located at Nemili is dedicated to Lord Vishnu.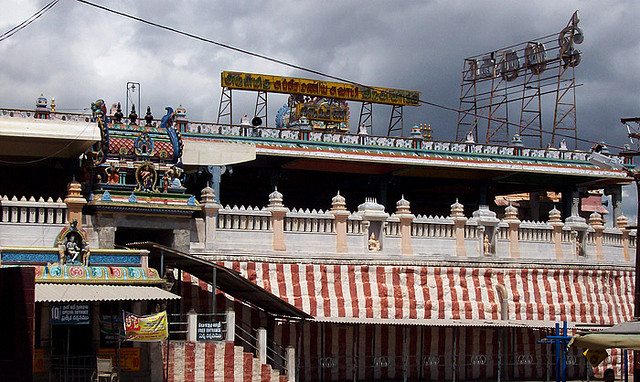 Accessibility
By Air: The nearest airport to Thiruthani is Chennai International airport which is located at a distance of about 75 km.
By Rail: Nearest major railheads to Thiruthani are Arakkonam junction and Chennai, which is well connected to all major railway stations in South India.
By Road: Thiruthani is well connected by Tamil Nadu state transport corporation buses. It is connected to Tirupathi (56 km) and Chennai (70 km) with regular frequent bus services.
Termperature
Summer 23-37°C, Winter 17-30°C
Best time to visit
Oct - Mar