Srikalahasti, located on the banks of the river Swarnamukhi (tributary to Pennar), is one of the ancient and most important Kshetras (spiritual abodes) of Lord Shiva. It got its name from the three words 'Sri' meaning a spider, 'Kala' meaning a serpent, and Hasti meaning an elephant, as these three creatures are believed to have worshipped Lord Shiva at this place and attained salvation. The place is also known for its Kalamkari art, an art form which is used for painting on cotton textiles such as saris.
Image Credit: http://www.flickr.com/photos/kalyan3/1372646890/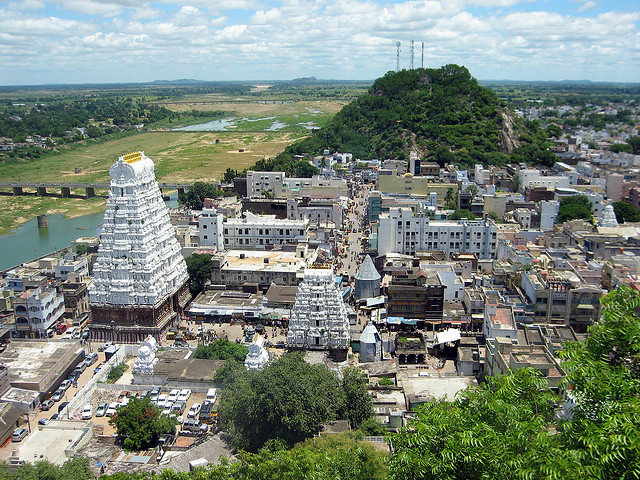 History
Legend has it that Lord Shiva, while disguised as Vayu ("Air") observed that a Spider ("Sri"), a Cobra ("Kala") and an Elephant ("Hasti") each worshipped Him very devotedly at this location. Lord Shiva rewarded them for their penance and relieved them from a curse they had suffered and helped them attain salvation. As a result of this legend, the place came to be known as Srikalahasti.
The historical reference to Srikalahasti occurs in the works of Nakkeerar, a Tamil poet in 3rd Century BC during the Tamil Sangam Dynasty. Nakkeerar referred to Srikalahasti Temple as the Southern Kailash and is said to have composed hundreds of stanzas in praise of "Srikalahasteeswara". Another Poet, a Telugu named Dhoorjati, who was born in Srikalahasti and was part of Emperor Krishna Deva Raya's (Hampi) court also composed hundred stanzas in praise of the deity at the Srikalahasti temple.
Srikalahasi is also one of the "panchabhoota sthalam" which represent the five basic elements of life. The town is said to represent "Air" or "Vayu Sthalam" based on the earlier legend related to Lord Shiva. The remain Pancha Bootha Sthalams are at Tiruvannamalai (Thejo sthalam - Fire), Kanchipuram (Prithvi sthalam - Earth), Tiruvanaikaval (Appu sthalam - Water), and Chidambaram (Akasa sthalam - Space).
Accessibility
Air
Nearest airport is located at Tirupathi at a distance of 60 km from Srikalahasti. Tirupathi is connected to Madurai, Chennai, Hyderabad and Bangalore. Taxi services are available from Tirupathi to Kalahasti and the fare is about Rs. 750. Chennai International airport is the major closest airport to Srikalahasti.
Rail
Srikalahasti is on Tirupati-Vijayawada broad gauge rail route and all express trains have stop at Srikalahast. It is well connected to all major cities in South India directly.
Road
State owned buses ply from all nearby towns like Vijayawada, Tirupati, Bangalore, Chennai, Nayudupet and Nellore. The Andhra Pradesh State Road Transport Corporation is operating number of buses from different routes to reach Kalahasti.
Shopping
Famed for the ritualistic painting style by name Srikalamkari, Kalahasti offers you one of the most venerated styles of artistic expressions. What makes this painting so special is the fact that it is done with natural dyes, which are not only harmless but also exquisitely beautiful. You will get these paintings from the shops at BP Agraharams and Sriram Nagar Colony.
Since the temple of lord Shiva is the major attraction here, all artifacts that we get from here show a religious inclination. Although the Holy Scriptures inspires these objects, they would be a valuable treasure and hence it is advisable to have some of them as your shopping itineraries.
District
Chittoor district
Location
Sri Kalahasti is a temple town. Its about 38 km from Tirupati
Best time to visit
September to March
Famous For
Sri Kalahasthi is famous for Kalamkari paintings.