Srikakulam, formerly called as Gulshanabad (Garden city) during Muslim rule, is located on the banks of river Swarnamukhi and has the longest coast line in the state of Andhra Pradesh. the place was renamed as Chicacole by British colonial rulers and after independence, it was renamed as Srikakulam.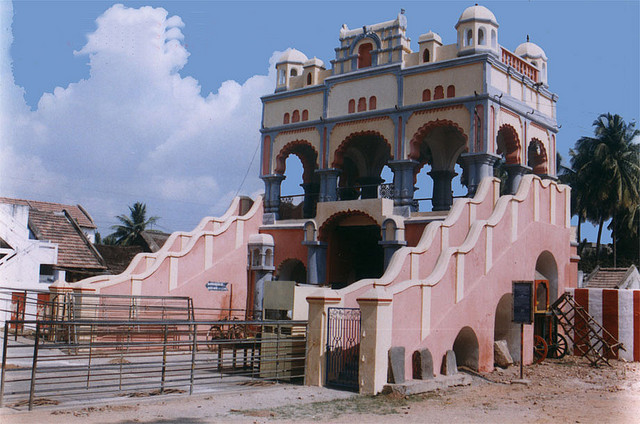 History
This region of Andhra Pradesh was part of Kalinga region at first and later a part of Gajapati kingdom of Orissa up to mediaeval period.It was in the 'Kutubshahi' ruling in 1687 Srikakulam (Gulshanabad) was a village and formed as fauzdhari-center for their money transactions for the areas of Srikakulam, Vizianagaram, Vishakhapatnam, and some parts of Orissa. The word Gulshanabad derives from Persian words Gulistan\Gulshan that means Rose garden and abad (creation). It was developed as town in the Muslim ruling, even today you can find more than 10,000 Muslims living in this town following their culture,tradition and values. Srikakulam has also been head quarter for revenue collection under Nizam state of Hyderabad since 1707. Nizams of Hyderabad assigned Gulshanabad (Srikakulam), Rajahmundry, Eluru and Mustafanagar (Kondapalli) districts to French India in 1753. French imperialists were driven out from these districts by British imperialists in 1756 during Anglo-French wars.
In 1759 the Fauzdhari ruling was ended and British ruling started, and Srikakulam town has been made part of Ganjam district and Palakonda and Rajam areas were included in Vizag district in the undivided Madras province. In 1936 the combined Madras-Orissa state was divided to Madras and Orissa and Parlakimidi Taluk was separated from combined Madras state, hence the Srikakulam was remained as Srikaklam taluk, Srikakulam town as Srikakulam municipality since 1857 under British rule. In 1947 after Indian independence, many including Potti Sriramulu fought for separate Andhra State. In 1948 many demanded for Srikakulam district as it was in combined vizag district. First 'chintada' village was proposed as district head-quarter by some central leaders. It was on 17 July 1950, a representation was given by Challa Narasimhu naidu, an eminent leader, Pullela Vemkataramanayya (P.V. Ramanayya), who was an Eminent Advocate and Public Prosecutor and also a Freedom Fighter to the then Revenue Minister H. Sitaramareddy on his visit to this area, and requested to select Srikakulam as District head-quarters at his camp office in Vizianagaram. Minister H. Sitaramareddy personally saw some places in srikakulam for selection. Then MLA of this area Garemalla Kumaraswami gave a speech on the dias of the meeting arranged on honour of the minister indicating that many important towns and capitals in the world were situated on the banks of rivers like England (Thames River), Srirangam (Kaveri), Agra (Yamuna), Kashi (Ganga), Rajamundry (Godavari), Vijayawada (Krishan) etc., and for Srikakulam it is Nagavali and convinced the minister Sitaramareddy. Along with Rokkam Ramamurty, Pullela Venkataramanyya (P.V. Ramanayya), Pasagada Suryanarayana, Baratam Venkataramanayya, Mangu Raghavarao followed Garemella Kumaraswami as group to convince and represent the request memorandum. The minister decided and selected Srikakulam as head-quarters after reaching Madras then state capital. Kimidi Kalavenkatarao ex-revenue minister in the combined Madras state had done a lot for formation of this District, who was the grandfather of present Vunukuru MLA Kalavenkatarao. On 15 August 1950, at about 4.00 p.m. the district was announced with Srikakulam town as headquarters and with three revenue divisions Palakonda, Srikakulam and Tekkali. At first, Parvatipuram revenue division was part of Srikakulam district and later transferred to Vizianagaram district. Mr. Night was the then collector in the combined Vizag Srikakulam and Mr. Janab Shek Ahammadh appointed as first district collector for separated Srikakulam. On 3 January 1951, the first District Board was formed and Rokkam Laxmi Narasimha Dora was elected as president.
Accessibility
Air
The nearest airport is located in Vishakapatnam, some 106 km away from Srikakulam.
Rail
Srikakulam is well connected by railway lines to all the major cities and states in south India.
Road
Srikakulam is well connected by road to all the major cities and states in south India. Seikakulam is located 745 Kms from Hyderabad & 120 Kms from Vishakhapatanam & is well conencted by rail & road.
District
Srikakulam district
Termperature
Summer 28-40°C, Winter 25-30°C
Best time to visit
October to March