Sravanabelagola, a renowned Jain pilgrimage center, is revered as a holy place. It is located in the Hassan District of Karnataka state. There is a beautiful in the heart of the town. The name Sravanabelagola is derived from this. In Kannada, belagola means white pond. There are two picturesque hills in this town, namely Chandragiri (Chikkabetta) and Vindyagiri. It is believed that Bhadrabahu Swami and his disciple King Chandragupta Maurya meditated in these hills.
The prime attraction in this place is the Bahubali statue, world's tallest monolithic statue of the Jain Saint Lord Gomateswara. This 17 m ( 57 ft) tall statue is the real specimen of architectural and sculptural mastery under famous Gangas of Talakad. It has many religious inscriptions carved on the outer surface.
Mahamastakabhisheka is an astounding celebration here. It is celebrated once in 12 years. The last Mahamastabhisheka was celebrated with pomp and show in February 2006. The next ceremony will occur in 2018. Thousands of devotees from all over the world and from all religious faith witness the celebrations. This festival has been celebrated since 981. The saints use 1008 consecrated pots of water together with plenty of quantities of milk, milk products, sandal and saffron pastes, honey and ghee for bathing the Bahubali statue.
There are many tourist attractions in and around Sravanabelagola. Bhandari Basti, Chandragupta Basti and Chandragiri Hills are few of the attractions. The 57 feet wonder, the monolithic statue of the Gomateshwara, is situated at the scenic land on the Vindyagiri. The base of the statue has many inscriptions praising the Ganga king and his general Chamundaraya.
,br>Chandragupta Basadi, a Jain temple dedicated to Emperor Chandragupta Maurya, was believed to be built by Emperor Ashoka during 3rd century BC. Chandragiri hills houses monuments to numerous monks and shravakas. Legends tell that these monks meditated at this hill.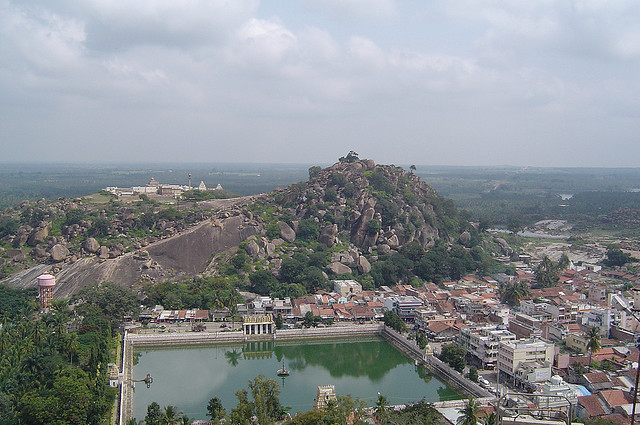 Accessibility
Air: The nearest airport to Sravanabelagola is Bangalore International airport. It is at a distance of about 170 km away. Taxi services are available from Bangalore airport to Sravanabelagola. Taxi fare is about Rs. 2000. Bangalore is well air connected to all major airports in India and many airports in abroad.
Rail: Nearest railhead is at Hassan and is located about 52 km from the heart of Sravanabelagola. Hassan is a major railhead and is well connected to other cities in the South India. Taxi services are available from Hassn to Sravanabelagola for a charge of about Rs. 800.
Road: KSRTC (Karnataka State Road Transport Corporation) buses operate between Shravanabelagola and other major cities in the state. Private luxury buses are available from Bangalore to Sravanabelagola (160 km).