Puttaparthi, surrounded by the arid and rocky hills bordering Karnataka, is famous for its Sathya Sai Baba Mandir which is one of the famous religious tourist destinations of the world. It is believed that the present Sai Baba is the reincarnation of the former Sai Baba of Maharashtra popularly known as Sai Baba of Shirdi. The tourists can have a glimpse of the celestial soul and get mesmerized by the serene beauty of the region.
http://www.flickr.com/photos/miran/59375021/in/set-72057594088954148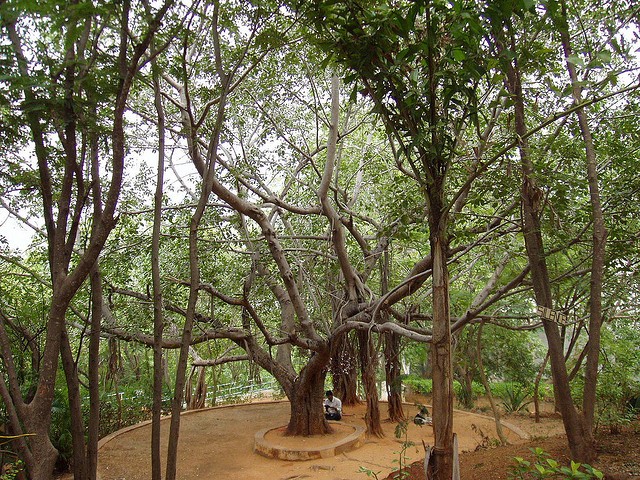 History
The history of Puttaparthi, as far as the world is concerned, began on November 23, 1926. Until then it was an obscure speck in the Anantapur district of Andhra Pradesh State. Set in a narrow farming valley, the village was apparently called Gollapalli, the home of cowherds, before it became Puttaparthi.
Satyanarayana Raju was born in Puttaparthi on 23 November 1926. Since his childhood, he is said to have shown prodigious talents, unusual purity and compassion. Having been pronounced to be possessed by the divine, at the age of fourteen he calmly announced that he was the new incarnation of Sai Baba, who died eight years before Sathya was born.
With the passing of time, the fame of Sathya Sai Baba spread all over the world. Eventually a large group of followers grew. In 1950, the ashram was inaugurated. Now, through his miraculous powers, including the ability to materialize vibhuti or the sacred ash, with curative properties, Sai Baba has millions of devotees worldwide.
Accessibility
Air: Puttaparthi has a local domestic airport known as Sri Satya Sai Airport, which is at a distance of 4 km from the Satya Sai Ashram. The airport is connected to Mumbai and Chennai by bi-weekly flights. Major nearest International airport is Bangalore which is at a distance of nearly 250 km. Pre-paid Taxi services are available from Bangalore to Puttaparthi, and it costs about Rs 4500.
Rail: Sri Satya Sai Prasanthi Nilayam railway station, which is nearly 8 km away from Ashram, links the Puttapathi with the major cities of India, including Mumbai, Visakhapatnam, Hyderabad, Bubhaneshwar and New Delhi. Dharmavaram is the nearest major railhead, which is about 45 km away. Taxi fare from Dharmavaram to Puttaparthi is about Rs 900.
Road: APSRTC buses connect Puttaparthi with other cities in Andhra Pradesh. Super deluxe buses regularly have trips from Bangalore (250 km), Hyderabad (400 km) and Chennai (450 km) to Puttaparthi. The bus fare is about Rs 3 - Rs 4 per km.
Shopping
Puttaparthi is known for its handicrafts and silk fabrics. Some of the shopping outlets in the town are Ancient Arts and Crafts, Winsome Silk Emporium and Sai Maruti Textiles. Shops that sell memorabilia in the form of books, CDs and music cassettes etc abound in this little town.
Attractions
Birthday of Bhagawan Sri Sathya Sai Baba
The birthday of Bhagawan Sri Sathya Sai Baba is celebrated on 23 Nov every year in grand style at the Ashram. The celebrations last a week and a whole lot of special events are held to mark the occasion.
District
Anantapur District
Location
400km from the city of Hyderabad by road and about 156 km from Bangalore.
Termperature
Summer 23-41°C, Winter 15-30°C
Best time to visit
October to March