Palampur, popularly known as the tea capital of North India, is a beautiful hill station located in the Kangra valley, near the Dhauladhar ranges. The place derived its name from the word 'Pulum', meaning plenty of water and was once a part of the local Sikh Kingdom and later came under the British rule. It is a fascinating spot in the Kangra Valley, surrounded on all sides by tea gardens and pine forests.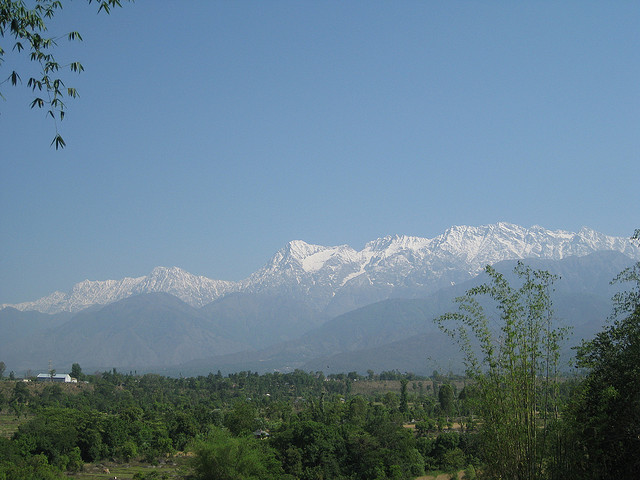 History
Palampur got its name from the word pulum that means abundant water. It was a part of the local Sikh kingdom and later came under the British rule.
Palampur once formed a part of the local Sikh Kingdom but later it came under the British. The hillstation has some fine colonial architecture built during British times. Palampur came into being when an Englishman, Dr. Jameson who was the Superintendent of Botanical Gardens introduced the tea bush from Almora in 1849. The bush thrived and so did the town which became a focal point of the European tea estate owners. Since then the Kangra tea of Palampur has been known internationally acclaimed.
Accessibility
Air: Gaggal is the nearest airport to Palampur. Gaggal is about 35 km away from Palampur. Taxis are available from Gaggal to Palampur with a fare of about Rs 750. Gaggal is connected to Delhi and Mumbai by air. International travelers have to get flight connection from Delhi, which is 535 km away. Tourist taxi charges about Rs 10000 from Delhi to Palampur.
Rail: Broad gauge and narrow gauge are available nearby to Palampur. Maranda railway station 2 km away from Palampur is the nearest narrow gauge railway station. Nearest broad gauge railway station is Pathankot, which is 115 km away from the town. These stations are connected to other major railway stations. Taxis are available from the railway stations to Palampur.
Road: State owned public transport regular bus services are available from Palampur to major cities like Mandi, Pathankot, and Dharmshala. Public bus fare is less than Rs 2 per km.
Shopping
You can do quite a bit of it at Palampur! You simply must buy the delicate Kangra tea at Bharmour or the many factory outlets just outside Palampur. Other good buys are Tibetan handicrafts, carpets, woollens, thangka paintings and prints.
Though Palampur is not noted for its shopping activity, but still it has a lot to offer. The hunt will definitely begin with tea. Since it is illustrious as a tea state, so it is doubtless fact that the most important buy here will be the tea leaves. You can buy some in the markets or at Tea co - operatives Society's gigantic processing plants that you will come across while driving into the town. Other important things that you should not miss buying will be the local handicrafts and souvenirs, local handiwork, Tibetan carpets and winter clothing.
Go to Andretta, an Artist's village, from where you should buy recherches pottery. There is Andretta Pottery and Crafts Society from where you should buy artistic items. Another wonderful halt for shopping will be the Tashijong Monastery, where you can buy carpets with delicate weaves, Buddhist Thanka paintings and Tibetan artifacts.
Accommodation
Palampur has both budget and up market accommodations to chose from. One can check out Sai Garden Holiday Resorts and Country club and Taragarh Palace.
Termperature
Summer 8 to 30°C, Winter -10 to 10°C
Best time to visit
March to November