Nainital is an absolutely beautiful and tranquil hill station situated amongst the seven hills and one of the most popular hill stations in North India. The town is situated all around the beautiful Naini Lake, which is said to be the result of Goddess Durga's fallen charred eye resulting in a lake. The place has been mentioned many a time in ancient Indian texts such as the Manas Khand of the Skand Purana. It is also famous for the British made residential schools which dot the entire Nainital scene.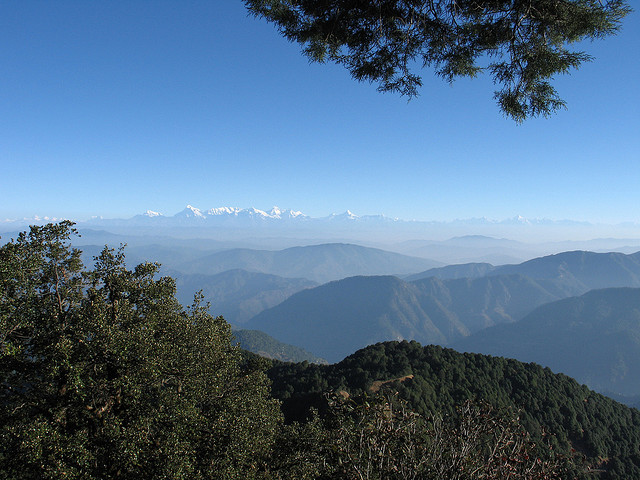 History
It is believed that Nainital figures in some ancient myths of India. In the Manas Khand of the Skand Puranas, Nainital Lake is called Tri-Rishi-Sarovar, hinting at the story of three sages (or rishis), Atri, Pulastya and Pulaha, who, upon finding no water in Nainital, dug a large hole at the location of the present day lake (sarovar = lake) and filled it with water from the holy lake Manasarovar in Tibet. According to lore, a dip in Naini Lake, "the lesser Manasarovar," earns merit equal to a dip in the great lake.
It is also believed that Naini Lake is one of the 64 Shakti Peeths, or religious sites where parts of the charred body of Sati (Parvati) fell on earth while being carried by Lord Shiva. The spot where Sati's eyes (or Nain) fell, came to be called Nain-tal or [lake of the eye.] The goddess Shakti is worshipped at the Naina Devi Temple on the north shore of the present day lake. The temple however is a post 1885 construction, evident from the photographs of that era.
Accessibility
Air: Pantnagar airport is situated at a distance of 71 km away from Nainital. This is connected to Delhi International airport. Taxi services are available from airport to Nainital costing about Rs 1500. Delhi is the nearest international airport (350 km), which is well connected with other cities in India and abroad.
Rail: Kathgodam is the nearest railway station, which is 35 km away from Nainital. Lucknow, Agra and Bareilly are directly connected with Kathgodam by rail. Taxi fare from Kathgodam to Nainital is about Rs 600.
Road: Nainital is well connected to other cities by state public transport buses. Deluxe and semi deluxe luxury buses ply from Delhi (350 km), Almora (70 km), Ranikhet (60 km) and Badrinath (340 km). The bus charge varies between Rs 3 to Rs 4 per km.
Shopping
Mall Road is the main shopping area in Nainital, which houses many good shops, where you can buy a range of items. Amongst the variety of items, main items you can buy here are the woollen garments, candles and decorative items made from wood. The decorative colourful candles are very popular among tourists and you will surely take back some beautiful candles. Bohtia Bazaar is famous for the woollen garments while the Mall Road and the Mallital market are good places for candles and wooden items.
Shopping in Nainital is a delightful experience. For a discerning shopper, it is impossible to return from a tour without shopping in Nainital.
Fabrics and woolen garments are the most popular items for shopping in Nainital. Most of such woolens are woven by the women of Almora. A variety of sweaters, cardigans, caps and shawls in exquisite designs and brilliant colors would arrest your eyes.
You can also pick up intricately carved cane sticks and multicolored candles in unique designs while shopping in Nainital. Like all hill stations, beautiful wood-carved utilities and objets d'art are also huge hits for shopping in Nainital.
In the fruit market in Nainital, you can buy fresh-from-the-orchard apples, peaches and cherries.
Nainital is also famous for handmade candles, home-made jams, squashes, juice concentrates and fruit preservatives. One can buy all this and more from authentic shops in Bara Bazaar, The Mall Road, Bhotia Bazaar and Mallitaal. One can also buy fresh Cherries, Apples, Strawberries, Mulberries, Peaches and Blueberries. Don't forget to pick up some beautiful eco-friendly candlesticks and masks for your home décor.
Bara Bazaar: Mallital and Tallital are two busy areas of Nainital. A highly vibrant and happening market, the Bara Bazaar is a very famous area in Mallital and also serves as an excellent landmark. Nainital is very popular for the variety of different beautiful candles available. Do not miss to buy candles and cane sticks from Bara Bazaar. The other traditional buys include scarves, shawls, woodcrafts, cardigans and so on.
The Bara Bazaar in Mallital area also houses a lot of restaurants, which serve good food at reasonably cheaper rates. Once you have shopped enough for the variety of handicrafts and even freshly prepared jams from Bara Bazaar, you can be satisfied about having purchased the specialties of Nainital.
The Mall: The Mall road which runs along the side of the lake, is now known Govind Ballabh Pant Marg. The Mall road is a busy area lined up with shops, restaurants, travel agents, and business concerns such as banks and offices. The Mall road joins the two ends of Nainital, namely, Mallital and Tallital.
The Mall road also hosts two churches namely Methodist Church and Roman Catholic Church of St Francis. The Mall road is open to tourists interested in exploring the area on foot and takes the form of a walking street with the road closed for traffic in the evening hours during the months of May and June.
Tibetan Market: In addition to Bara Bazaar, one can shop extravagantly at the Tibetan Market. The Tibetan Market runs along the famous Naini lake of Nainital. This market is a shopper's delight, for you can shop for a variety of items under one roof. Scarves, shawls, woolen clothing, Himalayan bags, junk jewellery, watches and much more are available in the Tibetan Market.
If you have never bargained in your life, then this is the right place for you to get a feel of bargaining. For the experts, get your bargaining skills polished. A good bargain can get you a good deal of items.
Accommodation
From small inns to 5-Star hotels, there is a profusion of hotels in Nainital. Equipped with all the necessary amenities, the hotels in Nainital provide you a comfortable as well as a memorable stay.
Deluxe Hotels : Alka "The Lake Side Hotel" (Mall Road), Arif Castles (Mallital), Classic (Mall Road), Balrampur House (Mallital), Swiss Hotel (Mallital), Palace Resort (Mallital), Welcome Resort (Tallital), Manu Maharani (Mallital), Royal Hotel (Mallital) and Shervani Hilltop Inn (Mallital).
Other Hotels : Hotel Krishna (Mall Road), Hotel Shalimar (Mall Road), Hotel Payal (Tallital), Hotel Savoy (Tallital), Radha Continental (Mallital) and Pratap Regency (Mall Road).
Nainital is a picturesque hill station in the state of Uttaranchal. The beauty of this Himalayan retreat is an abiding lure for those who prefer to relax and enjoy their vacation in the tranquil serenity of the mountains.
Since it is a popular tourist destination, there are a large number of hotels in Nainital. Equipped with modern facilities, the hotels in Nainital offer comfortable accommodation.
Although you would not get five star luxuries in the hotels in Nainital, but deluxe accommodation is available here.
Some of the prominent hotels in Nainital are:
The Manu Maharani
Infinity Resorts
Vikram Vintage Inn
Arif Castles
Things to do
Trekking
Being a hill station, Nainital offers its visitors a large number of trekking options, amidst the scenic beauty of nature. The most popular trails include Nainital Betalghat Trek, Nainital Binayak Trek, Nainital Kainchi Trek, Nainital Kilbury Trek, Nainital Kunjkharak Trek, and Snow View Trek. The trek to Naina Peak is yet another one that is frequented by adventure lovers.
Trekking is the best way to take a tour of Nainital. All adventure enthusiasts and the exercise freaks will agree to the fact that there is nothing to beat a good walk, especially in the aura of Mother Nature. One can arrange a trek to Tiffin's Top or Dorothy's Seat, Naina/China Peak amongst the other hill tops present in Nainital.
A trek to the China Peak may take you around one hour depending upon your capacity to cover distances. Customized packages for trekking and camping can be arranged by the tour operators or the hotel travel desk, as per your convenience.
Boating & Yachting
Naini Lake, a natural freshwater lake in Nainital, provides the tourists opportunities of boating and yachting. A lunar-shaped lake, it is one of the four lakes in the Kumaon hills, with the others being Sattal Lake, Bhimtal Lake and Naukuchiyatal Lake. As you go boating and/ or yachting on the lake, the vistas of the three surrounding mountain peaks - Naina Peak, Tiffin Top and Snow View, simply take your breath away.
Wildlife Sighting
Located in the Nainital district of Uttarakhand, near Ramnagar-Kashipur highway, Jim Corbett National Park offers tourists the perfect opportunity to explore the wild creations of nature. The rich wildlife of the place includes tigers, leopards, sloth bear, Himalayan black bear, dhole, jackal, yellow throated marten, Himalayan palm civet, Indian grey mongoose, common otter, porcupine, and black naped hare, elephants, spotted deer, etc.
Nature Walks
When in Nainital, do not miss out on the opportunity of going on nature walks, with your loved ones. As you take a right turn just before Tiffin Top, you will find an excellent trail along the McDonald's Circular Road. If you are lucky, you might even spot the shy barking deer, plumaged khaleej pheasant and beautiful 'pyura' along the way. Other trails that are worth exploring include the one from Tiffin Top to Land's End and the other from Land's End to the Stables.
Horse Riding
A visit to Nainital cannot be complete unless and until you get a taste of horse riding, especially in the Mall area. Apart from that, you can also hire a horse or pony for going to Snow View Point, Tiffin Top, and Kilburi, from the Mallital area. Many people love to ride a horse to the Naina Peak as well, enjoying the views of the majestic Himalayas, covered with snow, and Nainital city, on the way.
Termperature
Summer 15-30°C, Winter 0-24°C