Maheshwar is a picteresque city situated on the banks of river Narmada, considered the cosmopolitan capital of Madhya Pradesh. It has one of India's best handloom industries.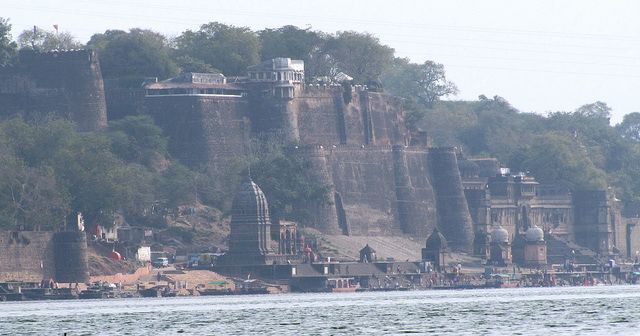 History
The history of Maheshwar goes back some 4000 years and finds mention in the Mahabharatha and Ramayana as Mahishmati and was the capital of king Kartavirya Arjuna. Akbar built the fort after he came into power in the year 1601. In the late eighteenth century, Maharani Ahilya Bai took over as the queen of Holkar Dynasty. She embellished the city with many buildings and public works, and it is home to her palace, as well as numerous temples, a fort, and riverfront ghats (broad stone steps which step down to the river).
Accessibility
By Air: Nearest airport is at Indore, which is at a distance of 91 km from Maheshwar. The nearest international airport is Delhi which is 895 km away from Maheshwar.
By Rail: Barwaha is the nearest railhead, which is at a distance of 39 km from Maheshwar. Indore is the main railhead nearby.
By Road: Regular public services are available from Maheshwar to many parts of the sate. Maheshwar is bus connected with Barwaha (39 km), Indore (91 km) and Khandwa (110 km).
Attractions
Maheshwari Sarees
Introduced into Maheshwar 250 years ago by Rani Ahilyabai, the sarees are renowned throughtout India for their unique weave. Woven mostly in cotton, the typical Maheshwari saree has a plain body and sometimes stripes or checks in several variations. The mat border designs have a wide range in leaf and floral patterns. The pallu is particularly distinctive with five stripes, three coloured and two white alternating, running along its width. Maheshwari has a reversible border, known as bugdi.
Termperature
Summer 33-44°C, Winter 10-27°C
Best time to visit
July to March
Famous For
Maheshwari Sarees