Keylong, lying on Indo-Tebetan Border, is situated on the main trade route between the Rohtang and Baralacha passes above the Bhaga river. The place is cut off from the outside world from November to April, due to heavy snowfall at Rohtang Pass. It faces the famous Kardang Monastery, the largest and most important monastery in Lahaul, of the Drukpa sect of Tibetan Buddhism, which is on a slope across the river from Keylong. It is an oasis of lush green fields and willow trees, water streams surrounded with beautiful brown hills and snow dressed peaks.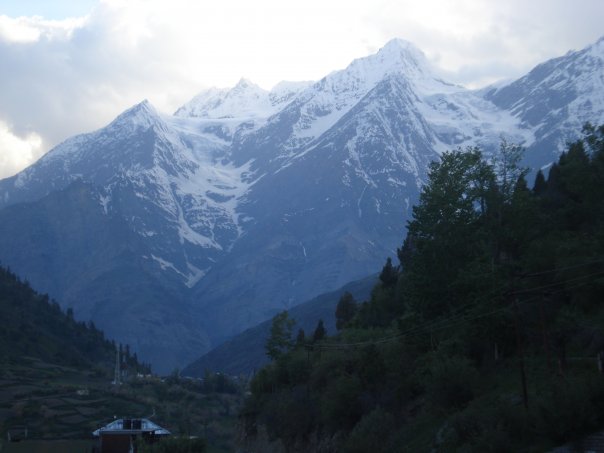 Accessibility
By Flight : Nearest airport is Bhunter, 165 km from Keylong.
By Trackways : The nearest railhead is at Jogindernagar, 280 km away. This connects Keylong to all the parts of the India.
By Roadways : Keylong is at a distance of 115 km from Manali. Due to heavy snowfall the Rohtang Pass remains closed from November to June. Buses, Taxis are available from Manali. HPTDC also provides regular buses to Leh via Keylong during season.
Shopping
Himachal Pradesh emporia has its branch at Keylong. Among its collection are the handicrafts of Himachal and Lahaul–Spiti.
Keylong is famous for fruits, rugs (namdas), footwear, tweeds, shawls, natural oils (olive and almond), metal craft, silver jewellery, bamboo products, woolen jackets and pullovers.
Keylong is the perfect place for shopping in Lahaul and Spiti. Woolen shawls, carpets, baby shawls, mufflers, ponchos, stoles, caps and handicrafts are the most preferential buys for tourists in Keylong. Keylong markets also include Angoors and pashmina shawls along with warm and classy woolen jackets and silver jewellery. The most frequented markets of Keylong are Himachal Emporium and Bhuttico. Here you can get quality products at affordable price. Himachal Emporium is sited in the mall Keylong; whcihc is popular for its handicraft and handloom materials. Bhuttico market is famous for its woolen garments and is located near D C office of Keylong.
Accommodation
Keylong has more to offer in terms of accommodation than any other place in Lahaul. Try the PWD rest house and the Tourist Bungalow run by HPTDC. The other reasonable hotels in Keylong are Lamayuru, Gyespa Hotel, Dekyid, and Hotel Gang Steng. Hotel Snowland is a little more expensive. You could even put up at one of the Swiss cottages.
There are some tourist facilities including a Circuit House, a P.W.D. (Public Works Department) Rest House, a Sainik Rest House, a Tourist Bungalow, and a number of small hotels.
The town has more to offer in terms of accommodation that any other place in Lahaul. You can try the PWD rest house and the tourist Bungalow run by HPTDC. The other economical hotels in Keylong are Gyespa Hotel, Lamayuru, Dekyid and Hotel Snowland and Hotel gang steng. You can even stay at one of the Swiss cottages.
District
Lahaul and Spiti district
Best time to visit
June to October