Kurukshetra, meaning "the field of righteousness", is an ancient holy pilgrimage place owing to sacred association with the Vedas and the Vedic Culture. It was here that the battle of Mahabharat was fought and Lord Krishna preached his Philosophy of 'KARMA' as enshrined in the Holy Bhagwad-Gita, to Arjuna at Jyotisar. It is intimately related to the Aryan civilization and its growth along the Saraswati river.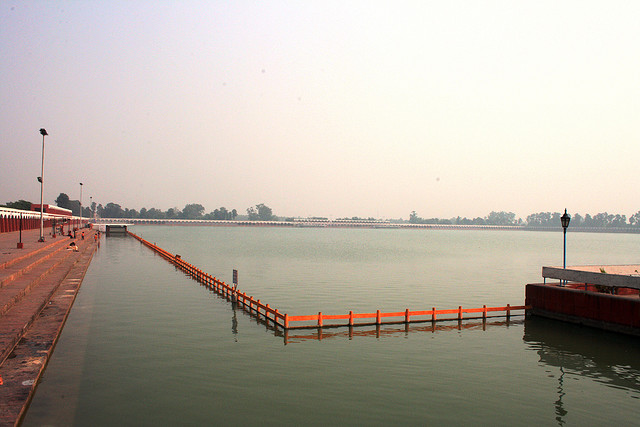 History
Kurukshetra was named after the adventurous King Kuru, the ruler of the Bharat dynasty and the ancestor of the Pandavas and the Kauravas. The famous battle of Mahabharata between the Kauravas and the Pandavas is believed to have been fought on the land of Kurukshetra. This town is the birth place of the Bhagwad Gita and has the imprint of Lord Krishna's footsteps.
Accessibility
Air: The nearest Airports are at Delhi and Chandigarh, which are connected to Kurukshetra by road and rail. Taxi services are also available from the airports. Delhi international airport is air connected to all major cities in India and abroad. Delhi is at a distance of 160 km from Kurukshetra, for which taxi charge is about Rs 2,000.
Rail: Kurukshetra is a major railway junction connected to all important railway stations in the country.
Road: Haryana Roadways Buses and other neighboring State Corporation buses connect Kurukshetra to other cities like Delhi, Chandigarh and other important places. Buses connecting to Delhi (160 km), Ambala (40 km) and Karnal (39 km) are frequently available. Private A/C buses charge about Rs 1,500 for Delhi-Kurukshetra trip.
Accommodation
One of the most valued duties of the host town of Kurukshetra has been to set up stations for halt of pilgrims.
Neelkanthi Krishna Dham Yatri Niwas:
This complex of Haryana Tourism is a recent construction and a few kilometres from the Railway Station as also a short drive from the National Highway#1.
Krishna Dham:
It has a central open courtyard, with guest rooms and dormitories built round it.
Panchayat Bhawan (Kurukshetra):
It also has accommodation wings.
Parakeet at Peepli:
Another tourist complex of Haryana Tourism where tourists may opt for air-conditioned accommodation is Parakeet at Pipli, some 5 km from Kurukshetra town. It lies on the National Highway number one, some 109 km from Chandigarh.
Attractions
Gita Jayanti Celebrations
Every year the birth of Srimad Bhagwad Gita is celebrated as the Gita Jayanti. A visit to Kurukshetra during the festival is an exhilarating and spiritual experience. The environment of the town is imbued with sanctity.
Celebrating this philosophy of selfless Karma, the Gita Jayanti presents Bhagwad Gita recitals, 'aarti' and 'deepdaan' at Brahma Sarovar, 'shloka' recital and quiz, 'shobha yatras' and seminars on the importance of Gita in today's world. Free medical camps, book exhibitions and 'bhajan' recitals in classical tradition are organized.
District
Kurukshetra District
Best time to visit
October to March
Famous For
Famous Hindu Pilgrimage