The village of Kumarakom in Kottayam District is a collection of a number of small islands on the Vembanad Lake. These picturesque islands are surrounded by mangroves and lush paddy fields, with a stunning maze of backwaters, rivers and streams winding through them. The verdant islands are covered with coconut palms and other trees, with small country boats plying through the waters between them.
Kumarakom town is on the mainland to the east of the islands, located conveniently close to the 'rubber and spice city' of Kottayam. The Vembanad Lake to the west leads to the beach and backwaters of Alleppey.
Kumarakom, situated on the banks of the Vembanad Lake is one the world famous Backwater destinations of Kerala. Fishing, Boating and visits to the countryside make this destination a unique place to look forward to. Kumarakom also has a small bird sanctuary where different species of birds can be seen. A boat cruise along the Vembanad Lake is the best way to experience the serenity of the enchanting backwaters. Luxury hotels situated in this area to make your stay more relaxing and comfortable.
Located in 'God's own country', as the state of Kerala is otherwise known, Kumarakom is a unique destination that epitomises the natural beauty of the region. Kumarakom comprises a small town sitting on the edge of a collection of small islands that are connected by what's known as the backwaters of Kerala. These interconnecting waterways feature canals, lakes and rivulets that are rich in natural life and provide picturesque scenery, as well as supporting a large collection of wildlife species.
Birds are what Kumarakom is perhaps most famous for, with an entire area designated a protected reserve and large numbers of indigenous and migratory species available for viewing. Boat trips offer visitors the chance to get closer to the habitats of these birds without destroying anything of their delicate ecosystem.
The small town has its very own beach resort, which is just perfect for relaxing on days when the weather's a bit hot to do anything else. Nearby, is the town of Kottayam, famous for its religiously diverse population, comprised of Syrian Christians, Hindus, Moslems and Buddhists. The town features a number of interesting religious structures, including several churches, Hindu temples and a mosque.
Daytrips on the popular Kettuvallam cruisers are an essential part of any Kumarakom holiday, allowing visitors to see some of the wider beauty of the state of Kerala, while observing the daily lives of fishermen and village people. Shorter boat trips on smaller vessels are also available around Kumarakom's immediate area.
The town does not suffer from the same extremes of heat that some other Indian destinations experience, making it a pleasant destination to visit throughout the year; although it's widely accepted that the period from November through till March is the most the appropriate time climatically for most visitors.
A small visitor infrastructure provides accommodation and necessary services and amenities for tourists without spoiling the traditional integrity of the area. Hotels include budget accommodation as well as big-name establishments.
Kumarakom can be a little tricky to get to as its location sometimes necessitates a combination of transport including plane, train and boat. Kerala state has three international airports from which access to Kumarakom is possible, if not a little short of smooth.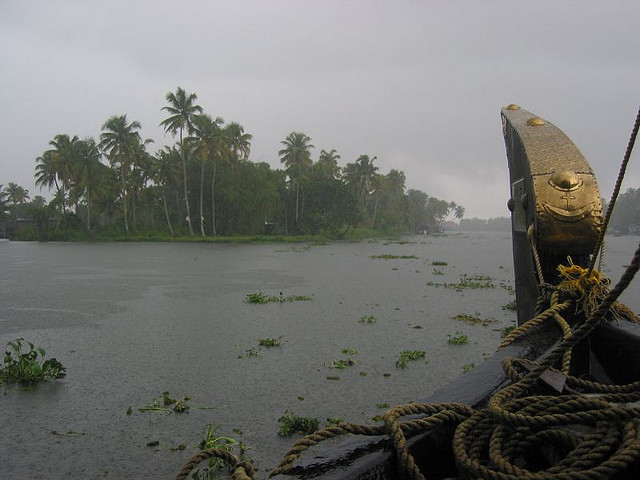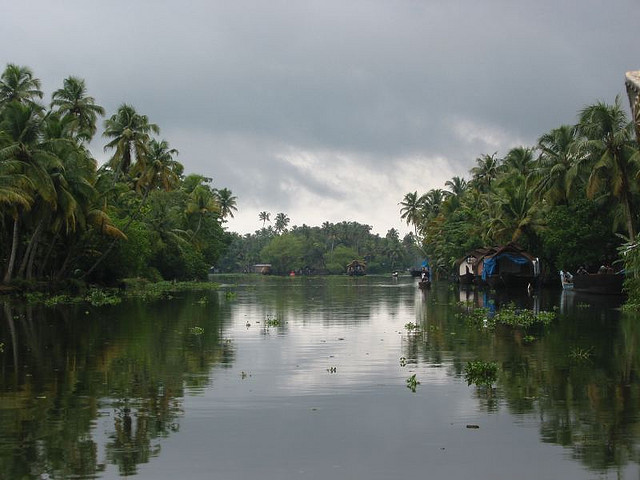 History
Kumarakom is a minor destination comprised of a collection of small islands in the state of Kerala. Before its popularity as a tourist town, Kumarakom was an area located near a marshy mangrove on the edge of the Vembanad lake. In 1878, George Alfred Baker, a missionary from Essex, England, set about clearing the mangrove and replacing it with coconut plantations. Baker was so taken aback by the beauty of Kumarakom that he decided to make it his home and in doing so he became the catalyst for development in the area.
'Development' however, is a term used very loosely because the greatest appeal of the area is perhaps its underdevelopment or its lack of masses of manmade constructions that might otherwise spoil its tremendous natural beauty. The potential of Kumarakom's bird sanctuary has of course been realised; strict laws prevent the destruction of this area and hence maintain its strict natural integrity.
Kumarakom can be found in Kerala, a state that wasn't officially established until November 1956. The region's early history saw settlers such as the Negrito people focused in three areas, then known as: Malabar, Cannanore and Kasargode. The Negrito people still inhabit the mountainous areas in the south of the country today. After the Negritos came the Austriches and then the Dravidians; the latter still having a significant effect on modern culture in Kerala.
After the Portuguese discovered the route to India from Europe by sea, a wave of visitors arrived, some settling permanently into the area and contributing to Kerala's mix of followers of Christianity, Islam and Hinduism. Keralites celebrate the official recognition of the state on 1 November every year, a day they refer to as Kerala piravi meaning the 'Birth of Kerala'.
Accessibility
Air: The nearest airport to Kumarakom is Cochin International Airport at Nedumbassery. Airport is nearly 85 km away from Kumarakom, and Tourist taxi charges about Rs 1600 to cover this distance. Cochin airport is well connected to many major cities in India and abroad, especially connected directly to gulf countries.
Rail: Kottayam is the nearest railway station which is about 16 km away from Kumarakom. Taxi fare from Kottayam to Kumarakam is about Rs 3500. Kottayam is well connected by rail to all important cities in India.
Road: KSRTC buses are plenty from Kottayam to reach Kumarakom. Kotatyam is connected to all cities in Kerala by KSRTC buses. Private deluxe A/C buses connect Kottayam with many cities in South India, including Chennai, Mangalore, Bangalore and Trivandrum.
One can reach Kumarakom by boat from Muhamma, near to Alleppey. State owned boat services and private house boats ferry form Muhamma to Kumarakom Jetty.
Shopping
Kumarakom is not an ideal shopping destination. In Kumarakom, you will find handcrafted gift items typical of the state of Kerela. Earings, brass lamps, kathakali masks etc. can be picked up as souvenirs.
Accommodation
Stay at Kumarakom hotels is enticing. There are a number of hotels and resorts located at some wonderful spots in the town. The hotels and resorts situated on the lake reflect the colors of joy and tranquility and are the preferred ones by the tourists. Some known hotels of Kumarakom include Coconut Lagoon, Kumarakom Lake Resort, Lakshmi Hotel and Resort, Lake Palace Resorts, Taj Garden Retreat, Backwater Ripples
Attractions
Backwaters: Various canals, lagoons, and waterways surround Kumarakom's small cluster of islands. These numerous water areas make up what is known as the Backwaters. Tourists love to rent a houseboat there. Each houseboat commonly contains a living room, one bedroom, a bathroom, and a patio of sorts on deck. A local oarsman will pole the houseboat for you as you explore the beautiful scenery in the region.
Numerous types of flora and fauna can be seen in breathtaking panoramas as you with on the deck. Larger houseboat companies will even let you tether several houseboats together to house a larger tourist group.
Things to do
Yoga and Meditation in Kumarakom
The upcoming Yoga and Meditation centres have resulted in the growing popularity of the region. More and more foreign tourists are turning up at these centres. These places are intended to provide the much needed spiritual uplift.
Kumarakom Lake Resort in Kumarakom is a renowned place for undertaking Yoga and Meditation classes. Visit Kumarakom and take Yoga and Meditation classes in Kumarakom Lake Resort to know about your innerself and to bridge harmony with mother nature. Yoga and Meditation will remove ego from your body and you will feel relaxed.
District
Kottayam district
Termperature
Summer 20-32°C, Winter 16-32°C
Best time to visit
September to April
Famous For
Backwaters, Ayurveda