Kollur is a small town situated at the base of the Kodachadri Peak in Western Ghats of Udupi district. It is about 40 Kms from Kundapur town and 130 Kms from Mangalore. It is situated on the banks river Sauparnika. Goddess Mookambika is the main god here. Kollur is one of the sacred and important pilgrimage centers of Karnataka. It is one of the seven pilgrimage centers believed to have been built by Parashurama in the name of goddess Parvathi.
Pilgrims visit this temple from all over India. The goddess is called as Thai Mookambika in Tamilnadu. Jyothirlingam is another name of ShivaLinga, which is the main statue here. Mookambika here is in a seated posture holding a conch and divine disc with three eyes and four arms. The lingam is divided into two unequal parts by a golden line and is visible by the reflected sun light.
Kollur is regarded as one of the Seven Muktistala pilgrimage centers in Karnataka. They are Udupi, Subrahmanya, Kollur, Kodeshwara, Kumbasi, Sankaranarayana and Gokarna.
One of the famous pilgrimage city in South India, Kollur is located marvelously on the banks of the perennial river Sauparnika and is perfectly placed at the foothills of Kudajadri mountains in western ghats. The small town of Kollur is renowned for the Mookambika temple, a temple dedicated to Goddess Devi, the Goddess of Vidya (the knowledge). Kollur is the place of worship of Shakti.
Legendary tales say that it was Adi Sankaracharya installed the Devi idol at this place. It is believed that Adi Shankaracharya had continuous mediation in Kudajadri hills and Devi appeared before him. Devi agreed to fulfill his wish and he wished that Devi to be placed in a place in Kerala for his worship. Devi agreed but when they reached Kollur, Sankaracharya got a doubt whether Devi is with him. He looked back and then Devi asked him to install her there and worship at that place.
Kollur is believed to be one of the seven pilgrimage destinations established by the sage Parasurama, one of the incarnations of Lord Vishnu. Kollur offers a perfect blend of Hindu religious traditions coupled with modern amenities.
Kollur, a part of the Mookambika wild life sanctuary, is admired as a place with natural scenic attractions. The breathtaking views of the nature and the lusting green landscapes add the attraction of this holy place. There are many eye catching attractions in this small hamlet. Thousands of tourists and pilgrims throng to this place all through the year.
http://www.flickr.com/photos/freakyyash/4465798056/in/photostream/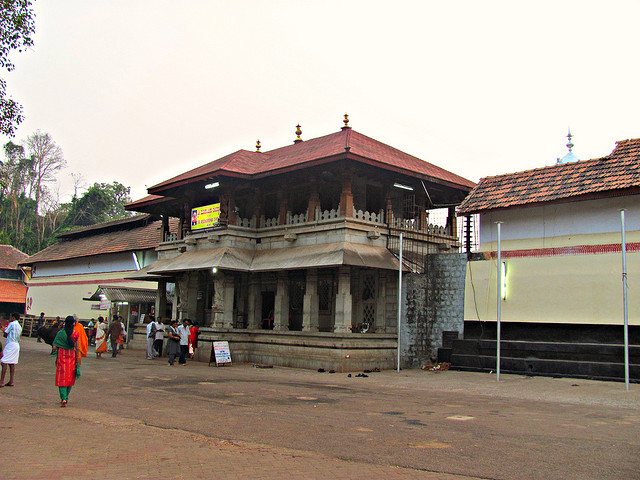 History
The origin of the temple has a long history. Kamsasuran a demon who lived here wanted to become very powerful through his penance. Worried about this Devi along with the help of Shiva, Veerabadra and Ganesha made him dumb and he was later called as Mookasuran. Mooka (In Kannada means dumb). Seeing this the goddess got worried and killed him with her Chakra on the midnight of Shukla Astami from then on Devi is known as Kollur Devi Mookambika.
Accessibility
Air: The nearest Airport to Kollur is Mangalore International Airport Bajpe, which is at a distance of about 150 km away. There are domestic flights operated from Mangalore to many major cities in South India. Pre-paid taxis are available from airport to Kollur, taxis will charge about Rs 2,000 to cover about 150 km.
Rail: The nearest railway station is Kundapura at a distance of 40 km. Many short and long distance trains stop here. One can reach Kollur from the railway station by taxi. Taxi charge is about Rs 600.
Road: Karnataka State Road Transport Corporation runs regular services to Kollur from the nearby cities. One can get tourist buses as well to access Kollur. There are regular buses from Udupi to Kollur, which are about 90 km apart.
Famous For
Kollur is regarded as one of the Seven Muktistala pilgrimage centers in Karnataka.