Khandala is a popular hill station in the Western Ghats, about 5 km from Lonavala and 7 km from Karjat. It is located at one (top) end the Bhor Ghat, a major valley on the road link between the Deccan Plateau and the Konkan plain. The place is famous for pleasant weather throughout the year, beautiful vistas of the Western Ghats, ancient caves to explore, and myriad streams and waterfalls. This hilly region also offers ample opportunities for trekking and hiking and other outdoors activities.
Image Credit: http://www.flickr.com/photos/dinesh_valke/2661400128/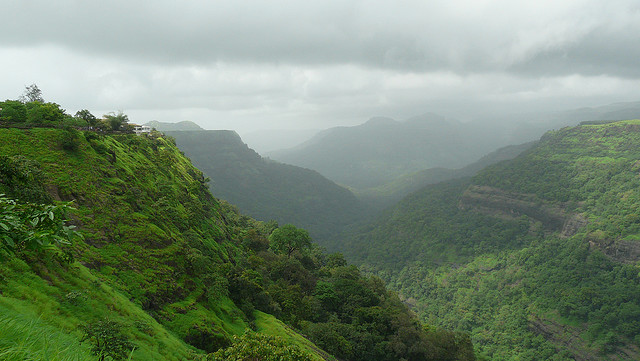 History
The history of Khandala states that the origin of the hill station is obscure. Khandala had once been a part of Chattrapati Shivaji''s empire. After the Marathas, the territory of Khandala passed under the Peshwas. When the British came, the territory was taken over by them in 1811.
Accessibility
By Air: Nearest domestic airport is Pune, which is at a distance of 66 km from Khandala. Nearest major international airport is Chatrapati Shivaji International Airport, Mumbai, which is nearly 110 km from Khandala.
By Rail: Lonavala is the nearest railway station which is connected to Pune and Mumbai by regular local trains.
By Road: Khandala hill station is well connected to other cities in and around by state owned public transport buses. Many private owned buses also provide transport service between Khandala and neighboring cities, including Mumbai and Pune.
Shopping
Khandala is well known for the fast foods such as Chikkis, Jams, Chiwda, Wafers and various types of Sevs.
Accommodation
The Maharashtra Tourism Development Corporation runs a resort at Karla, and another at Rye Woods, Lonavala.
Best time to visit
October to May