Kangra, located at the confluence of Majhi and Bener streams, is a pleasant town in the magnificent Kangra valley, lies between the Dhauladhar range and the Shivaliks. It is renowned for its handicrafts and artifacts including paintings and marvelously embroidered shawls are world known. There are also many rock-cut temples displaying the architectural excellence of the region.
http://www.flickr.com/photos/felixdance/5101735619/in/photostream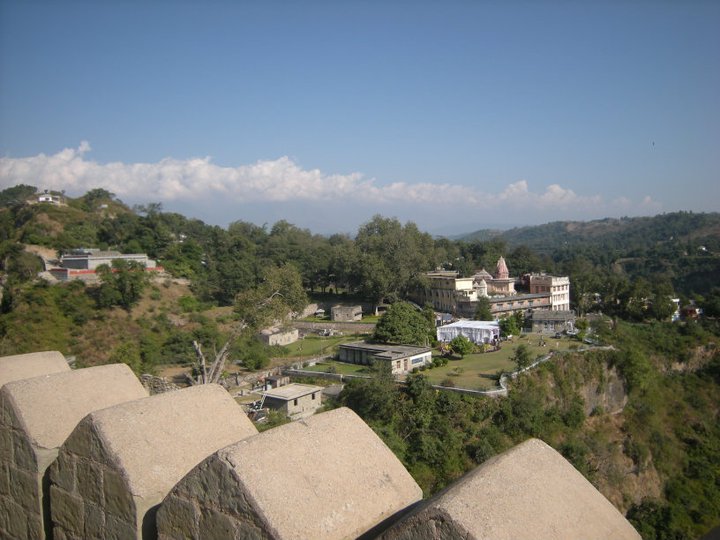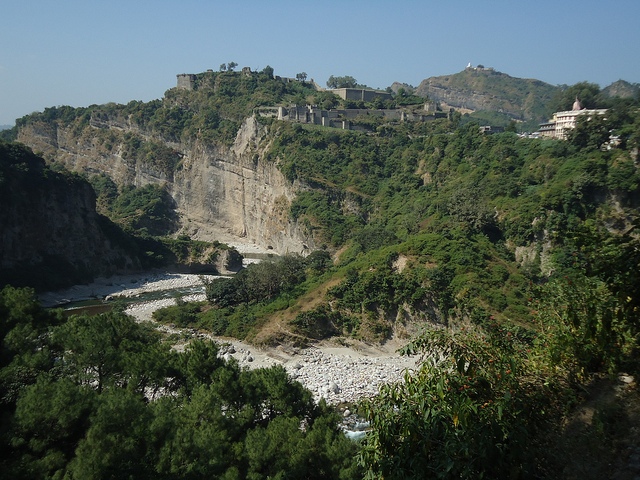 History
The town of Kangra has a chequered past. It has been sacked a number of times because of the wealth accumulated within the Vajreshwari temple. The immense wealth of this temple attracted Mahmud of Ghazni, the famous plunderer from Central Asia. He looted an enormous treasure trove of gold and silver and jewelry from this temple in AD 1009. The Tughlaq rulers of the Delhi Sultanate again plundered it in 1360. However, the town made a good recovery, and during the reign of the Mughal emperor Jahangir in the early 17th century, this temple was paved with plates of pure silver. This area was ruled by local rulers and was later annexed by the British, who established a garrison in Kangra.
Accessibility
Air: The nearest airport to reach Kangra is Gaggal airport, placed at distance of 13 kms from Kangra city. Other nearby airports accessible from Kangra are Chandigarh 255 kms, Amritsar 208 kms and Jammu 200 kms. Taxi cabs are available from all these airports to Kangra. The taxi fare varies depends on the season. Typically taxi charges are Rs.300 (Gaggal), Rs. 2500 (Jammu), Rs. 2000 (Amritsar) and Rs. 2500 (Chandigarh).
Rail: The nearest broad gauge railway station to Kangra is at Pathankot placed at a distance of about 90 km from Kangra. Taxi services are available from Pathankot to Kangra at a fatre of about Rs. 1000.
Road: Kangra is well connected by buses. State owned buses connect Kangra with all major cities in the state and the neighboring state. Buses ply between Kangra and Dharamsala, Palampur, Pathankot, Jammu, Amritsar and Chandigarh
Things to do
Trekking: Trekking in Kangra valley is an amazing experience for those who spend the time with nature's praise worthy gifts of landscapes, springs, mountain ranges and lush green environments. There are many trekking trails in Kangra that are very challenging for the novices and interesting for the experienced trekkers.
Treks commence usually from Kangra Valley and go to mountain peaks and rock-cut temples. There are treks from Kangra to the adjoining Chamba Valley. Laka Pass trek, also known as Inderhara trek, and the Minkiani Pass trek are very popular among the tourists. These treks commence from Dharamshala or McLeodgunj.
Five important trekking routes in Kangra valley are Dharamshala-Laka Pass, McLeodgunj-Minikiani Pass-Chamba, Dharamshala-Talang Pass, Baijnath-Parai Jot and Bhim Gasutri Pass.
Termperature
Summer 8 to 30°C, Winter -10 to 10°C
Best time to visit
Mid-May To Mid-October