Jamnagar, located in the northern fringes of the coast of Kathiwar, is an industrial city and is also dotted by many religious shrines. Historically known as Nawanagar, which means 'the new city', was one of the princely states of Saurashtra. It is located on the confluence of the two rivers Nagmati and Rangmati. It is famous for pearl fisheries, tie & die fabrics and bandhini work.
http://www.flickr.com/photos/bhautikjoshi/107505395/in/set-720575940745…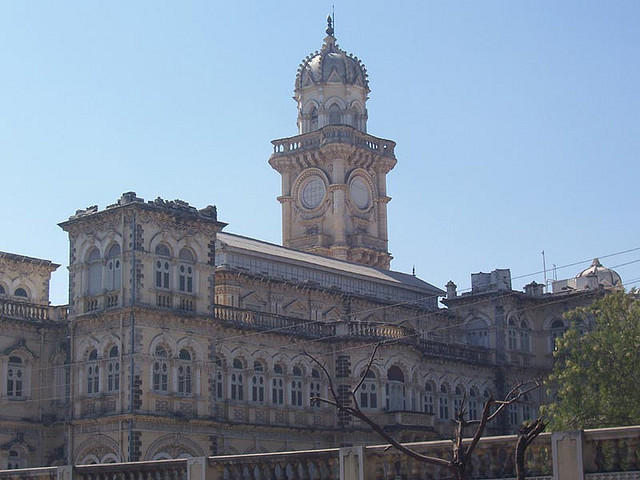 History
Jamnagar in its present location was founded by Jam Raval in A.D. 1540 on the erstwhile 'Nagnah' port. Darbargadh, presently the area in the inner city, seems to be the original town founded by Jam Raval in 16th century. The foundation stone in one of the buildings here still bears the testimony and also the historic Darbargadh Palace, which was built on a high plane over the area between Nagmati and Rangmati rivers.
Accessibility
By Air: Indian Airlines & other private airlines fly to Jamnagar, connecting it to most important cities of India.
By Rail: Jamnagar is on the Western Railway network and is well-linked with the rest of the country. The express trains provide convenient daily connections to Jamnagar from Ahmedabad.
By Road: Jamnagar has a good road network with good network of National and State Highways. The State Transport Corporation connects it to all the major cities and towns of Gujarat and other states of the country: Ahmedabad (308 kms), Rajkot (92 kms), Dwarka (798 kms), Junagadh (101 kms), Porbandar (193 kms).etc
Shopping
The 'Bandhani' has become one of the hallmarks of ornamentation in Jamnagar. Bandhani in Hindi means tie-and-dye. This form of art is primarily noticed in all kinds of dress materials.
Apart from these, manufactured articles like bangles ornamented in brass, Beetle nut crackers, Paperweights made from agate, Kumkum, Kajal, Surma, and brass covered wooden chests are some of the popular items which can be found while Shopping in Jamnagar.
All in all, Shopping in Jamnagar is altogether a delightful experience. The hustle and bustle surrounding the shops adds color to the atmosphere. The essence of a traditional market places are perfect examples of the mode of shopping people used to follow in olden days. The shouting of hawkers who occupy a substantial portion of the pavements and the bargaining of the customers are typical characteristic feature of an Indian Market Place which can be observed while Shopping in Jamnagar.
Accommodation
There are a big number of good hotels in the city of Jamnagar, which have been set up according to the ever growing needs of the leisure as well as business travelers. Some of the important Hotels in Jamnagar, Gujarat are:
First Class Hotels
Express Hotel
Hotel Regency
Hotel Vishal International
Orbit Park Inn International
Budget Hotels
Hotel New Aram Jamnagar
Hotel President Jamnagar
Termperature
Summer 22-40°C, Winter 12-33°C
Best time to visit
October to March