Idukki is a beautiful hill station located in Kerala. Idukki is the place you want to be to unwind and relax and forget all tensions of the world. The name Idukki has been derived from the Malayalam word "idukku", which means narrow gorge. Traveling to Idukki is an experience in itself as the place offers a great combination of traditional and modern comforts. Check out our various related sections that shall provide information on when and where to travel in Idukki. Three big rivers namely Periyar, Thodupuzhayar and Thalayar surround this place. These rivers are helpful in creating electricity and an estimated 66% of Kerala's electricity is generated here by the various hydel power projects set up by the state.
There are many places of interest that are worth the visit in Idukki. The famous wildlife sanctuaries located in this place are a paradise for nature lovers and photographers. The hill station offers plenty of opportunities to treat your eyes. The mist clouds on hills, the velvety green landscapes and the early morning dew drops, all lend that magical charm to your holiday in Idukki. Take a trek on the steep hills or ride an elephant while going for a plantation tour. Soak yourself completely in the tranquil surroundings of Idukki and feel fresh, re-energized and rejuvenated again.
Located in the middle part of Kerala, the District is bound on the East by Madurai District of Tamil Nadu State while on the West by Ernakulam and Kottayam Districts of Kerala. In the South it is the Pathanamthitta District, while on the North it is bound by Trichur and Coimbatore Districts of Kerala and Tamil Nadu States respectively.
It lies between 9 degree 15' and 10 degree 21' of north latitude and 76 degree 37' and 77 degree 25' of east longitudes.
With an area of 5,087 sq. km. Idukki ranks first among the districts in the state in respect of area, forming 13 percent of the total area of the state. It extends by 115 km. from south to north and 67km. from east to west.
A landlocked district, Idukki is one of the most nature rich areas of Kerala. High ranges and wooded valleys are girded by three main rivers - Periyar, Thalayar and Thodupuzhayar and their tributaries. The river Pamba also has its origin here. As a tourist destination, Idukki offers diverse attractions like wildlife sanctuaries, hill stations, spice plantation tours, mountain treks, elephant rides etc.
Idukki has a large population of tribals, the main tribes being Muthuvan, Malayarayan, Mannan, Paliyan, Urali, Ulladan, Malavedan and Malampandaram. The tribes of Kerala have unique customs and beliefs and maintain an ethos which is distinctly different from that of the mainstream culture.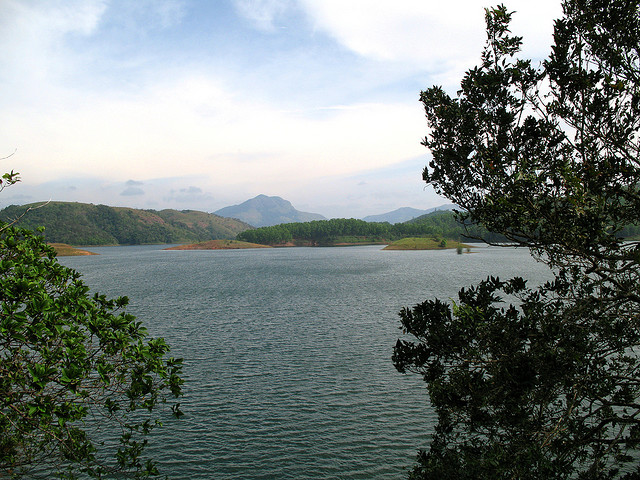 History
The name 'Idukki' is supposedly derived from the word, idukku which means a narrow gorge. This very well could be the origin of the name since narrow gorges can be very easily spotted in this hilly region of Kerala.
As for the history of Idukki is concerned, there is very genuine information available. Discovery of Stone Age dolmen indicate at an existence of a civilization at that point of time. Close to Thodupuzha is Karikode which is believed to be the headquarters of the Vadakkumkoor Raja. A fort in Karikode and a mosque near it was built by the Vadakkumkoor Raja. There is also a temple built in Chola style and a 13th church (in Thodupuzha). Evidence also suggest that Thodupuzzha was a thriving business centre of Idukki from where ivory, teak, rosewood, sandalwood, peacock etc., were exported to foreign countries.
Kuzhumoor, the capital of the erstwhile Chera kings in Sangam Age, according to historian is the present Kumliy. Later, Poonjar Kingdom established itself in Idukki and brought under it a major portion of the district.
Post independence, Idukki became a part of the Kerala state in 1956. And the district of Idukki itself came into existence in the year 1972 when Devikulam, Peerumedu and Udumbanchola taluks were carved out from Kottayam district and Thodupuzha taluk from Eranakulam district.
Accessibility
Air: Madurai (Tamil Nadu): 140 km Kochi: 190 km Thiruvananthapuram : 265 km Kozhikode: 315 km Chennai (Tamil Nadu): 570 km
Rail: Kottayam: 114 km (4 hrs) Madurai: 136 km (3 1/2 hrs) Changanasseri: 114 km (4 hrs) Theni: 60 km (1 1/2 hrs)
Road: Kottayam - Kumily 110 km (4 hrs) Munnar - Kumily 110km (4 hrs) Madurai - Kumily 136 km (3 hrs) Thiruvananthapuram - Kumily 265 km (8 hrs) Thekkady - Kumily 4 km (10 min) Kodaikanal - Kumily 149 km (5 hrs) Idukki - Kumily 65 km (2 1/2 hrs) Alleppey - Kumily 160 km (5 1/2 hrs) Ooty - Kumily 390 km (11 hrs)
Termperature
Summer 22-40°C, Winter 20-32°C
Best time to visit
Throughout the year