Hyderabad, popularly known as the 'City of Nizam', is almost 500 years old and is located on the Deccan Plateau with most of the regions have rocky terrain.
The city of Hyderabad was originally established on the southern banks of the river Musi. Now, the so-called original Hyderabad city is called as the historical Old City, dwelling to the Charminar and the Mecca Masjid. Hyderabad has a twin city known as 'Secunderabad'. Hussain Sagar Lake divides and beautifies the milieu of these two cities.
Also known as 'Biryani City' and the 'City of Pearls', known for its rich history and culture, which is seen replicated in its monuments, mosques, temples, cuisine, arts & crafts and has come a long way with its heritage, to balance it with the modern times. IT sector has penetrated into the city to such an extent that Hyderabad is often recognized as 'Cyberabad' with high-tech and modern buildings.
http://www.flickr.com/photos/rogueanthro/4964172445/in/set-721576248931…
http://www.flickr.com/photos/fraboof/2165289833/
http://www.flickr.com/photos/fraboof/2165831782/
http://www.flickr.com/photos/94801434@N00/3843888814/
http://www.flickr.com/photos/puppala/3021459451/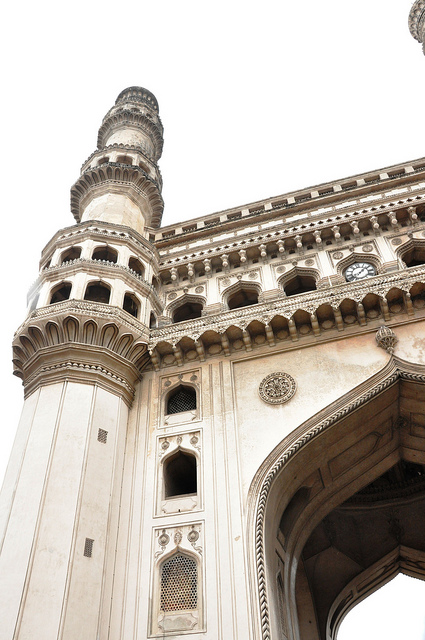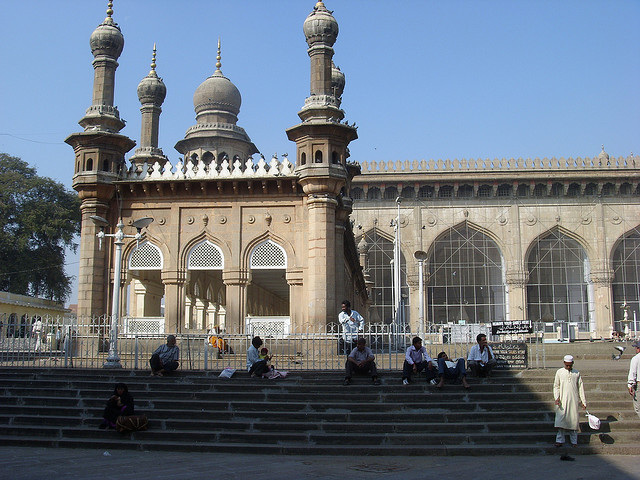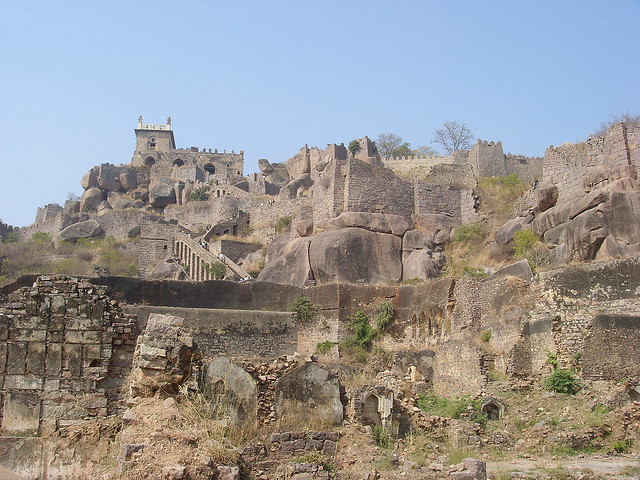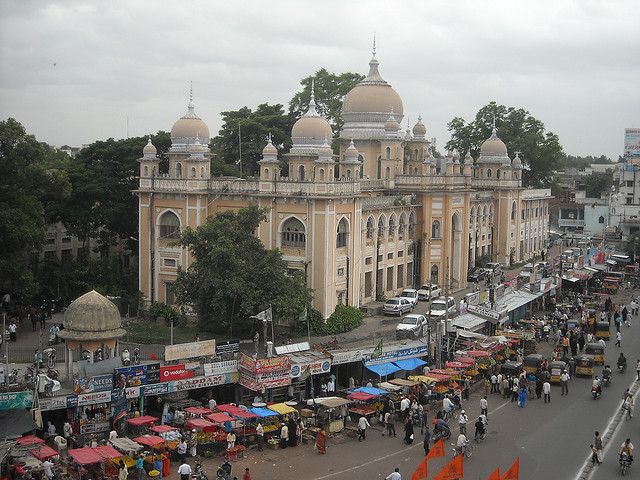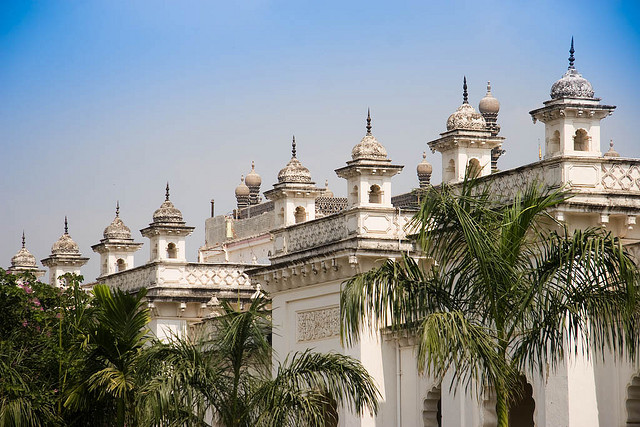 History
The city's history begins with the establishment of the Qutb Shahi dynasty when Quli Qutb Shah seized the power from the Bahamani Kingdom in 1512, establishing the city of Golconda. Owing to water scarcity and frequent epidemics of cholera and plague, Quli Qutb Shah wanted to establish a city outside of Golconda. Charminar became the center of this new city and there were four major roads arising from the Charminar along the four cardinal directions.
The wealth and strategic location of Hyderabad and Golconda attracted Aurangazeb. After a tough eight-month siege, Quli Qutb Shah gave in, and in 1687, the Moghul Empire was established. During the Moghul rule, the city experienced partial ruins and lost its importance. However, having no mighty emperors after Aurangazeb, the Moghul emperor soon lost its glory and hold, and then began Asaf Jahi dynasty. Asaf Jah I proclaimed himself the Nizam of Hyderabad and established independent rule of the Deccan. The city regained its importance and became the capital city of the Asif Jahi dynasty until Andhra Pradesh was merged into the Indian Union 1948.
Accessibility
Air: Indian Airlines has flights connecting Hyderabad with all major cities in India. The nearest airport Begumpet airport is situated on the main road between Begumpet and Parade grounds (Secunderabad), roughly 5 Km from Secunderabad Railway Station.
Rail: The world's second largest railway under one management the Indian Railways carries more than ten million people every day. Main railway stations are Begumpet Station, Hyderabad Station and Secunderabad Station.
Bus: The AP State Road Transport Corporation (APSRTC) has a busy district service that connects Hyderabad to every city, town and almost all villages.
Shopping
Hyderabad is an ultimate, shopping paradise and any trip to the city is incomplete without some shopping. Shopping in the markets of Hyderabad will be a fascinating experience for you. While shopping in Hyderabad you can buy birdiware, banjar mirrors, lac bangles, kalamkari fabric, leather puppets, venkatigiri sarees, perfumes and the famour pearls. Most popular shopping centres of Hyderabad include Basheerbagh, Abids, Nampally, Begum Bazaar, Osmanganj, Charminar, Patthargatti, Laad Bazaar, Mahatma Gandhi Road, Narayanguda etc.
Shopping in Hyderabad will be a fascinating experience for the tourist. Hyderabad is famous for its bidriware, lac bangles, banjara mirrors, ikat and kalamkari fabric, pochampalli and venkatgiri sarees, leather puppets, kondapalli toys, perfumes and pearls A major trading center for centuries, it has been influenced by cultures from all directions - largely because its former rulers controlled both of India's coastlines.
Basheerbagh-Abids-Nampally can be considered to be the most prominent shopping area in Hyderabad.Some of the biggest showrooms for jewellery, textiles, handicrafts, footwear, readymade and general goods are located in this area.
Begum Bazaar, now known mainly for brassware shops was one time a large commodities center. Osmanganj is a thriving wholesale market.
Close by is Mozaam Jahi Market with its fruit vendors, and Sabzi Mandi, the vegetable market. Charminar-Patthargatti-Lad Bazaar is the oldest commercial area in the twin cities and a traditional seat for silversmiths and pearl dealers. This is also the largest and the best area for Zardozi (gold-silver thread and sequin work on fine cloth). Mahatma Gandhi Road - General Bazaar - Rashtrapathi Road is the major shopping district in Secunderabad.
The M.G.Road complex has several new, trendy apparel show rooms, boutiques and gift emporia. Connecting R.P.Road and M.G. Road is the General Bazaar lanes with shops selling imitation jewellery stores, stationery and paper and shops selling tailoring materials, wool and threads. Off to the east of R.P.Road is Market Street, the heart of which is the teeming, noisy but colorful Monda Market, the biggest vegetable market in the city. Narayanguda-Chikkadpally area comprises a long stretch lined on either side with shops and commercial enterprises. Secretariat Road-Khairatabad is another interesting shopping area with a variety of shops, mainly textile showrooms. Sultan Bazaar-Koti-Troop Bazaar is a colorful and extremely busy commercial center with heavy traffic throughout the day-- from large modern showrooms to pushcarts on the streets selling wares ranging from vegetables and sweets to silks and shoes.
Accommodation
Hotels in Hyderabad range from the exclusive to the ordinary. Hyderabad, famous as the "city of pearls" is now a growing business and tourist center. For the business traveler, there are business, luxury and deluxe hotels with modern comforts and amenities. Hyderabad hotels suit the budget travelers too as the room tariffs in Hyderabad are comparatively lower than the other metropolitan cities of India.
Hyderabad also affords the pleasure of visiting the historical tourist attractions in the city for those who want a peep into the four hundred year old history of the city. The city is equally modern with shopping malls, eating places and entertainment facilities.
Luxury Hotels
Kakatiya Sheraton and Towers (5 Star)
Taj Krishna (5 Star)
Tulip Manohar Hotel (5 Star)
Taj Banjara Hotel (5 Star)
Taj Residency (5 Star)
Hotel Green Park (4 Star)
Hotel Amrutha Castle (4 Star)
Hotel Golkonda (3 Star)
The Central Court Hotel (3 Star)
Quality Inn Residency Hotel (3 Star)
Budget Hotels
Aditya Deluxe Hotel
Aditya Park Inn
Aghai Hotel
Begumpet Palace
Belman Hotel
Bottles and Chimney
Brindavan Resorts
City Light Hotel
City Park Hotel
Class Apart, Banjara Hills
Club View Hotel
Comfort Inn City Park Hotel
Resorts
Dhola Ri Dhani
Dodsal Hotels and Resorts
Emmanuel Resorts
Family World
Fateh Maidan Club
Garden Retreat Resorts
Golkonda Resorts and Spa
Hola-Ri-Dhani
IES Clubs and Resorts
Things to do
Boating
Go boating in the Hussain Sagar Lake. Built as early as 1562 by the Qutb Shahi emperors, the lake separates the twin cities of Hyderabad and Secunderabad. An island anchored in the center of the lake hold a monolithic statue of Buddha.
Termperature
Summer 30-40°C, Winter 14-22°C
Best time to visit
October to February
Famous For
Capital of Andhra Pradesh