Guruvayur (also written Guruvayoor and sometimes referred to as Guruvayunkere) is a bustling pilgrim town and a municipality in Thrissur district of the Indian state of Kerala. It lies 25 km to the northwest of Thrissur city.
Guruvayur is a beautiful town near Thrissur in Kerala. While also known for its scenic beauty, the town is synoymous with its temples and is therfore called as "Dwarka of the South". Guruvayur is one of the most important pilgrimage destinations in South India along with Tirupati and Sabarimala.
Most significant amongst the temples at Guruvayar is the Sree Krishna Temple (also known as the Guruvayarappan or Guruvayar Temple). The idol of Guruvayar at this temple is believed to be 5000 years old and was worshipped by Lord Brahma at Dwarka and later gifted to Lord Vishnu during his incarnation as Lord Krishna. The temple situated in the centre of the town, is a major venue for Hinudu marriages in Kerala. Only Hindus are allowed inside the temple and one has to follow some strict rules here. Apart form the main deity, shrines of many other deities are found in the temple complex.
Close to Guruvayur is Punnathur Kotta, an elephant camp, where the jumbos are trained for temple festivals. There are about 60 elephants here, of which about 40 are trained for Utsavam festival of Guruvayur Temple.
Guruvayur is also an importnat base for many classical performing arts of South India. Kathakali, the world famous dance whih has been developed from Krishnanattam Kali, a classical dance has its base here. the Guruvayur temple administration runs the Krishnattam Institute. the South Indian classical Carnatic muic also has its roots here.
Thrissur, whih is about 25 kms and the closet town to Guruvayur is famous for the Vadakunnath Kshetram temple on a hillock, dedicated to Lord Shiva.
Guruvayur is the abode of Lord Guruvayoorappan, one of the pretty forms of Lord Vishnu. It is bustling town with pilgrimage activities in the Trissur district of Kerala. Guruvayur is the most famous religious destination in Kerala. Thousands of devotees throng to this city irrespective of months and seasons. The temple enshrines Balagopalan, the child form of Lord Krishna. The temple is believed to be many centuries old.
The name Guruvayur is derived out of three words - Guru (Brihaspathi), Vayu (Wind God) and Oor (Land), It is believed that Guru found a floating Krishna Statue during the start of Kaliyuga and he installed this image with the help of Vayu at this place.
Non Hindus are not allowed in this temple. There are many mythological stories associated with this temple. The temple customs are closely related to a period where Samuthiri Kings ruled parts of Kerala. Krishnattam Kali, a variety folk dance of Kerala originated in the premises of Guruvayur temple. Guruvayur is known as a major venue for promoting Carnatic music. There will not be any Carnatic musician who has not done a performance in the stages in Gurunayur.
There are many attractions in the city and nearby areas. The elephant sanctuary at Punnathur Kotta, the Mammiyur temple, ISKCON centre and Chowallur beach are all very attractive. Guruvayur temple is renowned as a special venue for Hindu marriages, as many people believe that starting the married life in the front of Guruvayurappan is very auspicious.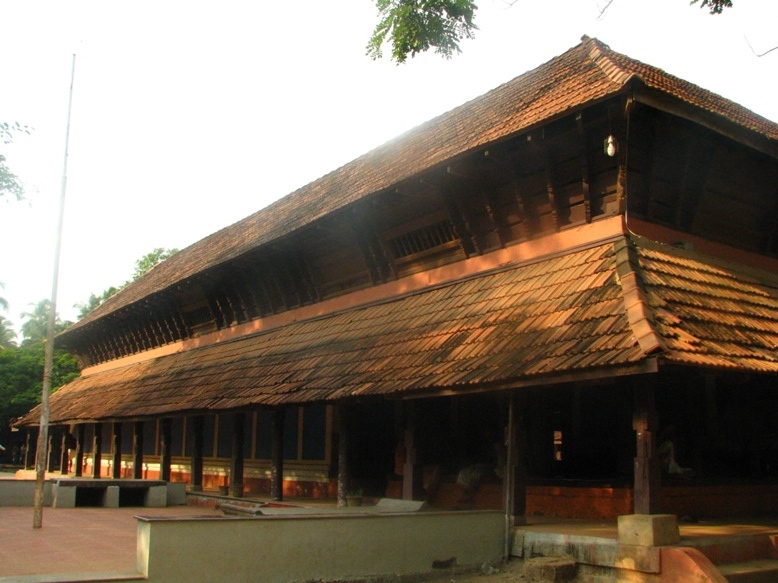 History
Little is known about the history of Guruvayur prior to the 1700's although legend suggests that the idol of Lord Krishna at the temple is over 5,000 years old. Since the 1700's several attempts were made to loot the town and destroy its temples.
In 1716, the Dutch attacked the town and set the Guruvayur Temple on fire. It was reconstructed by 1747. In 1766 Haider Ali raided the town but chose to spare the temple. However, his son Tipu Sultan, who was a fervent Muslim, took to aggressively convert Hindus to Islam. He stormed the Guruvayur Temple with the intent of destroying it. Luckily, a fortituous downpour stopped the fire from causing significant damage. Thereafter, Tipu Sultan chose to leave the temple alone claiming that he had a dream where he was told to not destroy it.
From when the British defeated Tipu Sultan and took control of the region, Guruvayur, and its temples, were allowed to flourish. It wasn't till 1946 that "Untouchables" were allowed into the temples.
Accessibility
Air: The nearest airport to Guruvayur is Nedumbassery International Airport at Kochi, at a distance of 65 km. Taxi services are available from Kochi to Guruvayur costing about Rs 800. Kochi airport is well connected to all major airports in India and also connected to many foreign cities. Direct flights are available to Chennai, Delhi, Mumbai and Bangalore.
Rail: Guruvayur Railhead connects to Thrissur. Thrissur is the major railhead nearest to Guruvayur and is located at a distance of about 27 km. Taxi services are available from Thrissur to Guruvayur for a charge of Rs 400. Thrisuur is well connected by trains to all major stations in India.
Road: State owned transport bus services are available from all cities in Kerala to Guruvayur. Private bus services are available from Kochi, Thrissur and North Paravur. Super deluxe buses connect Guruvayur with other important cities like Kochi, Kozhikode, Trivandrum, Palaghat, Chennai, Salem, Coimbatore and Bangalore.
Shopping
All surrounding Guruvayur temple, there are many shops. Shops selling traditional Puja materials to high end electronic items are available in plenty here. The east gate of the Guruvaur temple is clustered by numerous hotels, lodges and shops. Shops are open all through 24 hours here.
One can get devotional materials, dress materials, antiques, toys, electronic items and eatables from the shops. There are many shops selling photographs, mural paintings, embroidery items, handicrafts and fancy items. Kerala style clothes and Jewelries are also available from the shops around the Guruvayur temple. There are big competitions among the shop owners and hence the customers get items at moderate prices.
A variety of handicrafts of Kerala are available in Guruvayur.
Accommodation
Guruvayur offers a host of accommodation options to suit the different budgets and tastes of various tourists. From luxurious to budget hotels, all are available here.
Attractions
Sreeveli (Religious Procession)
The important 'uchcha' pooja takes place at midday. During the 'diparadhana' the well decorated idol glows in the warm light of the temple lamps. The deity is highly regarded for its healing powers. An important offering here is the 'Thulabharam'- In which a devotee is weighed against bananas, sugar, jaggery, coconuts among others, and these are donated to the temple.
Pooram Festival
The famous Pooram Festival (April/May) is celebrated at the Vaddakkunnath Temple. There are nightlong fireworks and a magnificent elephant procession. Shivratri (in March/April) is also celebrated with great fanfare. During Onam, the harvest festival (August/September), the entire state wears a festive look.
District
Trissur district
Termperature
Summer 23-37°C, Winter 17-25°C
Best time to visit
October to March