Gandhinagar, situated on the west bank of the Sabarmati River, is the capital city of the state and proudly boasts its identity as one of the few planned city in India. It is the commercial and the cultural hub of the state and looks beautiful with the organized and architectural design. It is known as second planned city in India after Chandigarh. The city is well known for its Educational and Research Institutes.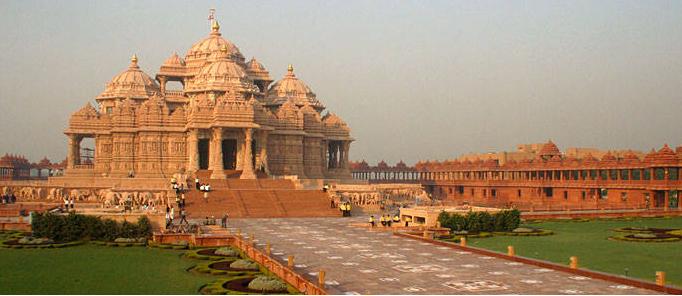 History
Gandhinagar emerged as the new capital for the state of Gujarat after establishment of the city around 1960s and got an identity of its own when the state of Mumbai was divided into two separate states of Gujarat and Maharashtra. Mumbai since then became a part of Maharashtra and Gandhinagar became a part of Gujarat as a state. The city owes it name to the Father of the Nation, Mahatma Gandhi and boasts of its status as city which held a great importance during the struggle for the nation's independence. Mahatma Gandhi belonged to this place and the historical background of Gandhinagar proves the point that many national movements which were planned to gain the nation's freedom started from Gandhinagar.
Accessibility
By Air: The nearest airport is in Ahmedabad and there are regular flights scheduled for all domestic and certain international destinations as well.

By Rail: both Gandhinagar and Ahmedabad are well connected by railways with all parts of India.

By Road: There are State as well as private owned bus services that connect Gandhinagar with all parts of Gujarat.
Shopping
Shopping in Gandhinagar is incomplete without the purchase of Khadi clothing. This fiber has an enormous historical significance in the political history of India as Mahatma Gandhi popularized the use of this hand spun fiber to mark a protest against the exorbitant prices charged by the British for their cotton manufactures from Manchester.
Hence, Gandhinagar is a perfect place to buy all clothes made from cotton as well as its derivative fibers. The Shops in Gandhinagar sell a wide variety of cotton articles that range from shirts, trousers, and suits for men as well as sarees, salwars, kurtas for women. All these items can be bought at rates cheaper than most other Cities in Gujarat.
Moreover, the markets of Gandhinagar are also known to sell a host of other articles both of personal use as well as for decoration. The pottery and other handicrafts of this region also deserve a mention.
Accommodation
Gandhinagar offers plenty of accommodation option for tourists. Ranging from luxurry to budget category, the hotels in Gandhinagar provides a pleasant stay to guests. You may also stay in Ahmedabad where you find a wide range of hotels. Some of the famous hotels of Ahmedabad are mentioned below.
Deluxe Hotels : Le Meridien (Khanpur), Hotel Taj Residency Ummed (Hansol), Hotel Cama Park Plaza (Khanpur) and Fortune Hotel Landmark by Welcomgroup (Ashram Road).
Standard Hotels : Hotel Comfort Inn Sunset (Hansol), Inder Residency (Ellisbridge), Quality Inn Rivera (Khanpur), The Chambers (Ellisbridge), The Westend (Ellisbridge), Hotel Fortune.
Termperature
Summer 22-40°C, Winter 10-22°C
Best time to visit
October to March