Dharamsala,often known as "Little Lhasa", is established by the British between 1815 and 1849 as a hill station. The place gained popularity only after 1959 when the Dalai Lama and other Tibetan refugees fled to India and were offered to stay at Dharamsala by the Government of India and popularly known as the residence of the Dalai Lama and a center of Tibetan Buddhism.
Dharamshala has many meanings, a "rest house", an "inn attached to a temple", or a "spiritual dwelling or sanctuary". It is the most beautiful place in the Kangra Valley, cloaked in nature's pristine beauty endowed with pine-clad hills, beautiful streams and rivers, lofty peaks, ancient temples and pagoda-shaped monasteries. It is surrounded by dense green forests of pine and deodar trees and the Dhauladhar ranges, divided in to three parts - Upper Dharamsala (called McLeod Ganj Complex - famous worldwide for the teachings of Dalai Lama), Middle Dharamsala (called Kotwali Bazar) and Lower Dharamsala (called Kaccheri area).
http://www.flickr.com/photos/felixdance/5102258084/in/photostream
http://www.flickr.com/photos/infanticida/6217917260/in/photostream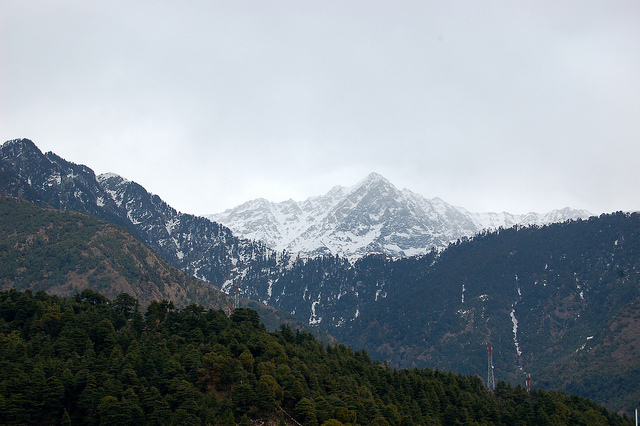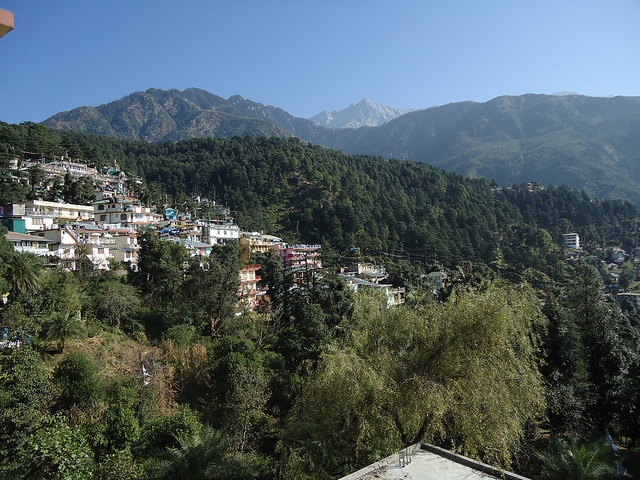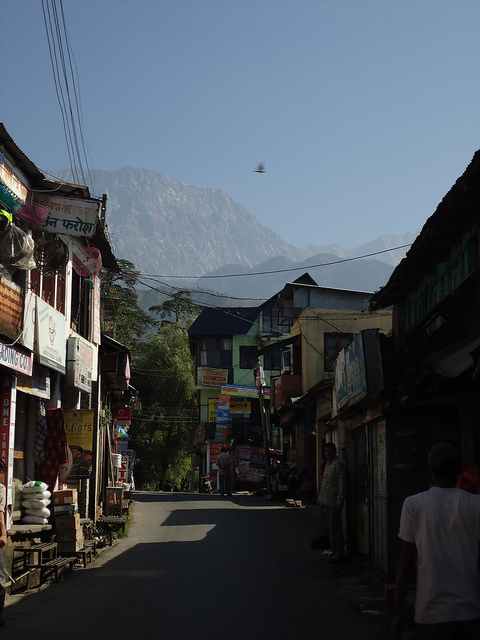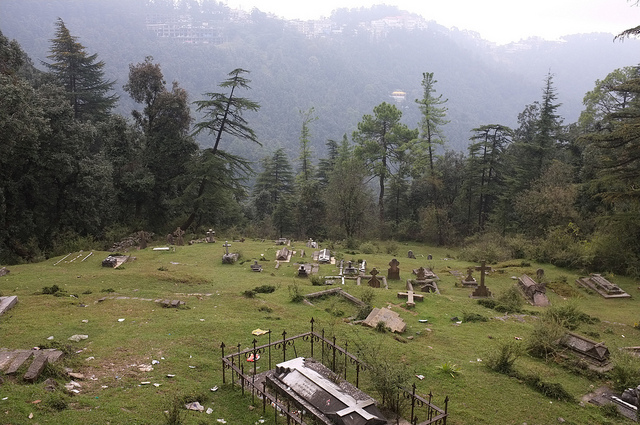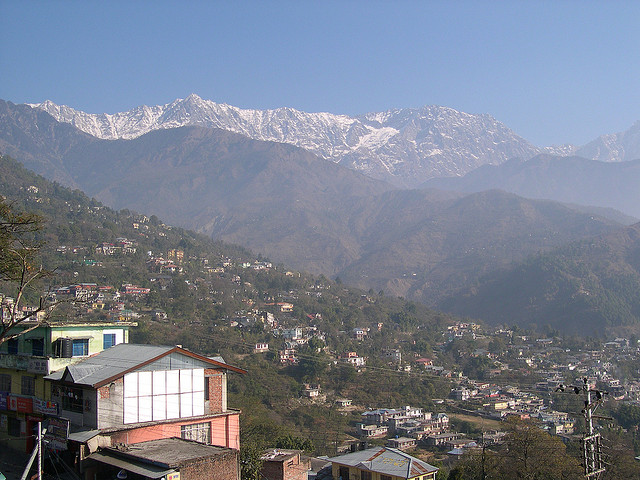 History
Once a British hill resort, its importance declined and it became a sleepy little hill town. Founded by the British between 1815 and 1847, Dharamshala remained a low-profile hill town till the influx of Tibetan refugees along with the Dalai Lama since October 1959. India welcomed the religious leader and offered him and his people sanctuary and a place to stay in Dharamshala. Ever since, a continuous flow of refugees has transformed the town into a miniature Tibet with Buddhist temples, schools, crafts organisations, meditation centres, library and medical centre. The upper area of McLeodganj was founded in 1848 and named after David McLeod, the Governor of Punjab. Today though, there is little that remains as reminder of its British association.
Accessibility
Air: Gaggal airport in Kangra valley is the nearest airport. The airport is 12 km away from Dharamsala, which costs about Rs 350 by Taxi cab. This airport connects domestic flights to Delhi. International travelers have to get connection through Delhi Airport, which is about 520 km away from Dharamsala. Delhi Airport is connected to all major cities in India and most of the foreign cities.
Rail: Nearest railway station is Kangra Mandir at a distance of 22 km from Dharamsala. All trains won't stop here. The major rail junction is Pathankot, which is about 85 km away from Dharamsala. Pathakot is well connected to all major cities in India.
Road: Regular bus services are available in Dharamsala connecting the nearby cities. Direct private luxury buses are available from Delhi (520 km), costing about Rs 1600.
Shopping
Shopping in Dharamsala is a delightful experience for tourists. Among the variety of items, the local handicrafts of Dharamsala are very popular. Visit the town's famous Kotwali Bazaar for local handicrafts, Tibetan handicrafts, carpets and several other items.
The shopping areas selling Tibetan handicrafts items are mostly in McLeodganj. The Green Shop run by the Tibetan Welfare Office sells recycled products and handmade cards and paper. Other shops and outlets have a range of handicrafts products including woollens, carpets, metalware, thangkas and jewellery.
The popular items for shopping in Dharamsala are: wooden carvings, silk and woven woolen scarves and Tibetan handicrafts.
Like all Himalayan regions, Dharamsala also has dense forests abundant in wood. Exquisite handicrafts fashioned out of wood, bamboo and cane would definitely arrest your attention. Check out the diverse artifacts and utilities while shopping inn Dharamsala.
Woven woolen garments available here are warm and comfortable. Sweaters, cardigans available in trendy designs and reasonable prices, should feature in your shopping list in Dharamsala.
The Tibetan community has a tradition of handicrafts, which are available in profusion. Look for the trinkets and knick-knacks, which serve well for personal use, gifts and interior decoration.
Jogibara Road is the main place for shopping in Dharamsala.
Accommodation
There are several private hotels and tourist lodges in both areas of Dharamshala and Macleodganj with the latter being preferred by tourists.
The Grace hotel and the Royal Palace Resort in Macleodganj and the karnika Resort in Dharamshala are popular choices for accommodation.
Plenty of accommodation options are available in Dharamsala that includes HPTDC's hotels, private hotels, guest houses, PWD and forest rest houses. All the hotels in Dharamsala are equipped with contemporary facilities and provide a comfortable stay to guests.
Deluxe Hotels : Asia Health Resorts, Grace Cottage, Anand Palace, Surya Resort, Spring Valley Resort.
Heritage Hotels : WelcomHeritage Grace Cottage (Kotwali Bazaar), White Haven Estate (Chilgarhi).
Standard Hotels : Hotel Dhauladhar (Kotwali Bazaar), Hotel Bhagsu (McLeodganj), Hotel Kashmir House (Khara Danda Road), Chonor House (McLeodganj), Hotel Tibet (McLeodganj), Yatri Niwas, Clouds End Villa, Him Queen (McLeodganj), Banjara Camp (Bhagsu Valley) etc.
Fantastic landscape and the association with His Holiness Dalai Lama make Dharamsala a coveted destination. The quaint sleepy monasteries and ever-smiling people would cast a charming spell upon you here.
Although a hill station, it is very different from the other hill stations in Himachal Pradesh. There are a good number of hotels in Dharamsala. But if you look for world-class opulence and the five star luxuries, you might get disappointed.
Arranging accommodation in Dharamsala is not a problem at all. There are both luxurious and budget hotels in the place, catering to all the visitors. Some of them are:
Asia Health Resorts
Royal Palace Resort
Snow Hermitage Resorts
Anand Palace Best Western
Anupam Resort
Spring Valley Resort
Club Mahindra Kangra Valley Resort
Nishaad Resorts
White Heaven Estate
Grace Cottage
Most of the hotels in Dharamsala are rather economy class hotels, which offer decent accommodation, clean premises and hygienic food. Prices are sure not to burn a hole in your pocket. In some of the leading hotels in Dharamsala you can also find swimming pool, good restaurants with bar and arrangements of recreation and amusement.
Things to do
Adventure Activities: Dharamsala and the area around provide an ideal base for a variety of adventure sports. Himachal's Mountaineering Institute has a branch at Dharamsala, which offer mountaineering equipments and training courses as well. The Dhauladhar ranges located close to Dharamsala offer a huge variety of trekking options and rock climbing.
Fishing: Fishing or angling remains a favourite leisure activity of those who visit Dharamsala. Visit the 20 km stretch of the river Beas between Nadaun and the Pong Dam to enjoy the fishing.
Trekking
Dharamshala is also the base for trekking in the forested Dhauladhar range, for which equipment can be hired here. The best season for treks is from April till June and again between September and October.
Termperature
Summer 8 to 30°C, Winter -10 to10°C
Best time to visit
Mid-May to Mid-October