Chitrakoot, means the 'Hill of many wonders', falls in the northern Vindhya range of mountains spread over the states of Uttar Pradesh and Madhya Pradesh (in Uttar Pradesh it is in Chitrakoot District and in Madhya Pradesh is falls under Satna District). It is a town with great historical and archaeological importance, where the ritualistic past is elegantly cosseted in its flamboyant temples and shrines. It is believed to be the place where Lord Rama and Sita spent their 14 years of exile and where the Sage Atri and Sati Anasuya meditated. The holy town is set on the banks of the River Mandakini, also known as the Payaswaini River. The riverside is lined with ghats and the town dotted with temples dedicated to several deities of the Hindu pantheon.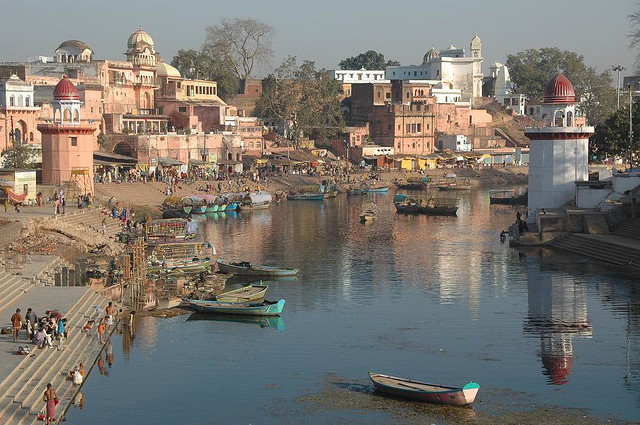 History
The Chitrakoot's spiritual legacy stretches back to legendary ages. It was in these deep forests that Rama and Sita spent eleven of their fourteen years of exile and the great sage Atri and Sati Anusuya meditated. Here the principal trinity of the Hindu pantheon, Brahma, Vishnu and Mahesh, also took their incarnations.
Chitrakuta's spiritual legacy stretches back to legendary ages: It was in these deep forests that Rama, Sita and his brother Lakshmana spent eleven and half years of their fourteen years of exile; the great sage Atri, Sati Anusuya, Dattatreya, Maharshi Markandeya, Sarbhanga, Sutikshna and various other sages, seers, devotees and thinkers meditated; and here the principal trinity of the Hindu pantheon, Brahma, Vishnu and Mahesh, took their incarnations.
It is said that all the gods and goddesses came to Chitrakuta when Rama performed the Shraddha ceremony of his father to partake of the shuddhi (i.e. a feast given to all the relatives and friends on the thirteenth day of the a death in the family). The first known mention of the place is in the Valmiki Ramayana, which is believed to be the first ever Mahakavya composed by the first ever poet. As Valmiki is said to be contemporaneous with (or even earlier than) Rama and is believed to have composed the Ramayana before the birth of Rama, the antiquity of its fame can well be gauged.
Valmiki speaks of Chitrakuta as an eminently holy place inhabited by the great sages, abounding in monkeys, bears and various other kinds of fauna and flora. Both the sages Bharadwaja and Valmiki speak of Chitrakuta in glowing terms and advise Rama to make it his abode during the period of his exile. Lord Rama himself admits this bewitching impact of this place. In the 'Ramopakhyana' and descriptions of teerthas at various places in the Mahabharata, Chitrakuta finds a favoured place. In 'Adhyatma Ramayana' and 'Brihat Ramayana' testify to the throbbing spiritually and natural beauty of Chitrakuta. Various Sanskrit and Hindi poets also have paid similar tributes to Chitrakuta. Mahakavi Kalidas has described this place beautifully in his epic 'Raghuvansha'. He was so much impressed with its charms that he made Chitrakuta (which he calls Ramgiri because of its time-honoured associations with lord Rama) the place of exile of his yaksha in Meghdoot.
Tulsidas, the saint-poet of Hindi has spoken very reverently of this place in all his major works-Ramcharit Manas, Kavitawali, Dohawali and Vinaya Patrika. The last-mentioned work contains many verses which show a deep personal bond between Tulsidas and Chitrakuta. He spent quite some part of his life here worshipping Rama and craving his darshan. It was here that he had what he must have considered the crowning moment of his achievements—i.e. the darshan of his beloved deity Lord Ram at the intercession of Hanumanji. His eminent friend, the noted Hindi poet Rahim (i.e. Abdur Rahim Khankhana, the soldier-statesmen-saint-scholar-poet who was among the Nav-Ratnas of Akbar) also spent some time here, when he had fallen from favour with Akbar's son Emperor Jahangir.
Accessibility
Air: The nearest airport is at Khajuraho which is at a distance of 175 km from Chitrakoot. Daily flights are available from Chitrakoot to Delhi, Agra and Varanasi. Taxi services are available from Airport to Chitrakoot at Rs 2,300.
Rail: The nearest railway station is at Chitrakoot Dham at distance of 11 km from the heart of the city. Chitrakoot Dham lies on the Jhansi-Manikpur main line and is well connected to all major cities in India through Jhansi junction.
Road: Regular state owned bus services connect Chitrakoot with Chitrakoot Dham, Jhansi, Harpalpur, Satna, Mahoba, and Chhatarpur. The major bus stand is at Karwi at distance of 8 km from Chitrakoot. Buses connect Chitrakoot with Ahmedabad (132 km).