Bhopal, also known as the "City of Lakes", is the capital city of Madhya Pradesh, lies on the Malwa plateau, just north of the upper range of the Vindhya Mountains, surrounded by smaller hills like Shamla and Idgah Hills. It is also the gateway to other Madhya Pradesh attractions including Kanha National Park, Bhimbetka, Ujjain and Sanchi. Originally, Bhopal was a Hindu state, founded and ruled by the famous Parmara king Raja Bhoj. Bearing to this legendary ruler, the place was named as 'Bhojpal' and later became 'Bhopal'.
Image Credit:
http://www.flickr.com/photos/75898774@N08/6813426087/in/photostream/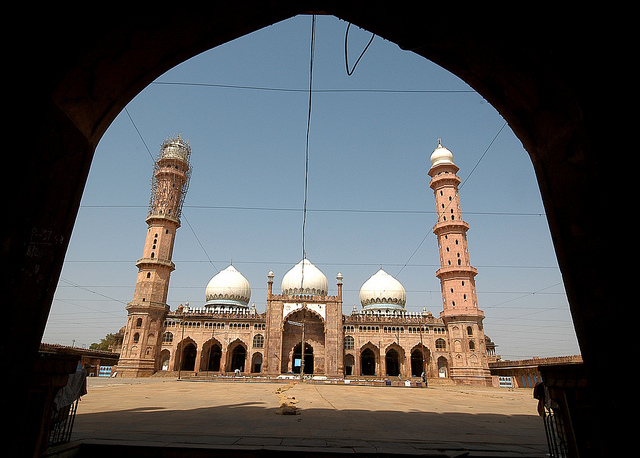 History
Being one of the oldest cities of the country, Bhopal has a glorious past. The History of Bhopal tells tales of interesting, heroic and amazing incidents. It can take pride in its excellent blend of Islamic and Hindu cultures. Various dynasties have ruled the city over the years, contributing to its architectural and historical richness.
The History of Bhopal takes us back to the eleventh century when Raja Bhoja – the great ruler built a city called Bhojpal. According to the historians, it was the original Bhopal City. Later on, the Mughals captured the city and ruled it till the beginning of the eighteenth century. The Afghan soldier – Dost Mohammed established the princely province of Bhopal in 1723. Well supported by the tribal queen – Rani Kamalpathi, he was able to ward off the neighboring Rajput kings.
When speaking about the History of Bhopal, the contribution of the Begums cannot be written off. The females of the royal family ruled the state for almost hundred years. They led austere lives, followed their religion faithfully and were able administrators. Begum Nawab Sultan Jahan was one of the greatest Begum rulers of Bhopal.
Sultan Jahan's son Hamidullah inherited the throne in the year 1926. Under him, the Bhopal State signed the 'Instrument of Accession' and became the part of the Indian Republic in 1947. The sleepy town of Bhopal has today transformed into a swanky modern city.
Accessibility
Air: Bhopal Airport, also known as Raja Bhoj Airport, is 15 km away from the heart of the city. Taxi Cab will charge about Rs 150, one way. Bhopal airport is connected to Mumbai, Indore, Gwalior and Delhi. International flights to Gulf cities like Sharjah and Dubai are operated from Bhopal.
Rail: Bhopal Railway Station is a major railhead in Mumbai – Delhi broad gauge. It has connection trains to all major cities in India. Daily Shatabdi expresses shuttle between Bhopal and Delhi.
Road: Lots of bus facilities, public and private, are available in Bhopal. All cities in the state are connected to Bhopal by bus services. Overnight deluxe buses from Delhi, Gwalior and Jabalpur are available to Bhopal. Deluxe buses charge Rs. 3-4 per km.
Shopping
Bhopal is a shopper's destination. Being the capital of the city, it is considered to be full of options and choices by default. The important markets sell practically everything that you will be looking for. There are superfluity of shops that offer products at very economical prices. The markest in Bhopal are very colourful and display the local culture of the city. The new market and Chowk are the best places to look for silver jewelry, bead work, embroidered velvet items and leather goods. The narrow allies of the Chowk are an ideal place to hunt for the traditional handicrafts of the region. Do not miss buying the beaded cushions.
There are government emporiums also that sell unique handicrafts of the state. Mrignayani Emporium and Handicrafts Emporium are the places for souvenirs and they also have a good collection of local handicrafts. Looking for silk, go to MP State Emporium in TT Nagar. Bhopal too has multi storeyed shopping malls from where tourist can buy all kinds of luxury items.
Shopping in Bhopal is a delightful experience and tourists should now miss the shopping on their trip to the city. Main shopping area in Bhopal is the Chowk, located in the heart of the old city. Here the shops deal in traditional handicrafts, gold and silver jewellery, fashioned bead work, embroidered velvet purses. New Market is another famous shopping centre of Bhopal where you can buy clothes, shoes and several other items. Bhopal has a number of Government owned shops selling regional handicrafts. Visit the Mrignayani Emporium and MP Handicrafts Emporium to buy the traditional handicrafts of Madhya Pradesh.
Shopping in Bhopal is quite a fascinating experience .The markets in Bhopal have a picturesque ambience lined by old havelis and mosques. The two main markets in Bhopal are the Chowk and New Market.
Mrignayani Emporium and Handicrafts Emporium are two good places for souvenirs hunting and they also stock a good collection of local handicrafts. Women's Co-op Zari Centre, Pir Gate sells bags with some exquisite zari work (rich embroidery done with gold and silver thread) and chiffon sarees.
Bhopal is known for its tussar silks, a combination of cotton and silk which is very flimsy. It is said that Emperor Aurangzeb insisted that his daughter wear seven layers of it! MP State Emporium, GTB Complex, TT Nagar, specializes in chanderi saris and fabrics as well as tussar and other raw silks.
Accommodation
Bhopal is dotted with a number of good hotels which offer world class services to guests. There are a lot of hotels along Hamidia road on which the tourist office is situated. Some of the famous hotels of the city which offer pleasant stay to guests include :
Heritage Hotels : Welcomheritage Noor-Us-Sabah Palace, Jehan Numa Palace and Imperial Sabre.
Standard Hotels : Lake View Ashok, The Residency, Amer Palace, Surendra Vilas, Hotel Palash, Rama International, Ramson's International, Hotel Ranjit, Red Sea Plaza, Hotel Richa, Hotel Sangam, Hotel Shalimar Deluxe, Shimla Palace and Hotel Surya.
Hotels in Bhopal offer well-furnished and comfortable rooms and cater to all kinds of travelers. One can find cheap, medium and high-end accommodation in the hotels across Bhopal.
Some of the prominent hotels in Bhopal are:
Heritage Hotels in Bhopal
Jehan Numa Palace Hotel
Hotel-noor-us-sabah
Four Star Hotels
The Residency Hotel
Three Star Hotels
Hotel Lake View Ashok
Hotel Amer Palace
Arch Manor Hotel
Nisarga Hotel
Other Star Hotels
Hotel Surya
Termperature
Summer 25-47°C, Winter 9-24°C
Best time to visit
October to March