Bhimashankar, around 200 km from Mumbai, is one of the twelve Jyotirlingas along with Tryambakeshwar and Grishneshwar in Maharashtra. It is also the source of the River Bhima, which flows southeast and merges with the river Krishna. The place is also known for the Bhimashankar Wild life Sanctuary located here in the Sahyadri hills of the Western Ghats.
http://www.flickr.com/photos/ganuullu/5871924182/in/set-721576273215202…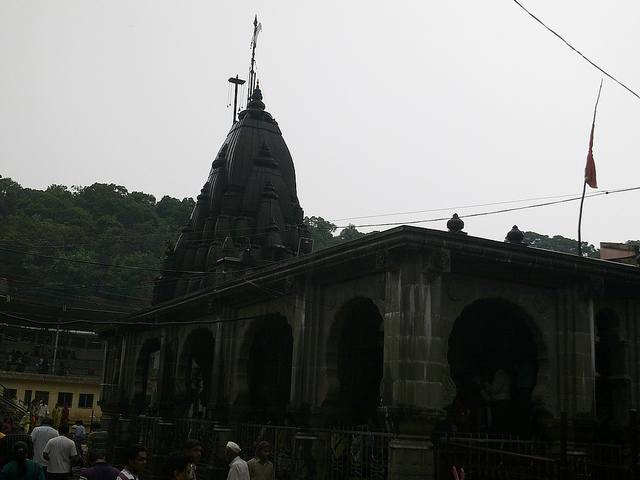 History
According to the popular mythological legend it is the place where Lord Shiva descended in the form of Bhima to slay the notorious demon Tripurasura. It is believed that the sweat that dripped from his body gave birth to the Bhima River at the place. Some people say that the temple was built by Nana Phadnis partially and rest of the construction was carried on by his wife after his death. Bhimashankar got its name from the river Bhima.
Accessibility
By Air: The nearest airport to Bhimashankar is at Pune, which is about 95 km. Nearest International Airport is Mumbai Chathrapati Sivaji Airport, which is 250 km away.
By Rail: The nearest railhead to Bhimashankar is Pune (95 km) that is well-connected to various cities of Maharashtra and other places of India.
By Road: Bhimashankar can be reached on road as well as beautiful trek through jungle.
Things to do
Trekking: The Sahyadri, with their furrowed shape, stony mountains and elevations, historic hill fortresses, vast lakes and broad forest region are a practical heaven for trekking. The hill promises outdoor adventure to all lovers of dangerous undertaking.
Rains in the Sahyadris are great and the weather during the rainy season is the best time for trekking. Hiking also has special charm on these mountains. This mountain gives ample chance for rock climbers to gain experience in rock climbing. The route is equally enjoyable to both beginners and experienced climbers.
Sahyadri extends every thing that is best. It is advisable to carry enough drinking water while trekking.
Location
50 km from Khed near Pune.
Best time to visit
Oct - Mar
Famous For
one of the twelve Jyotirlingas